Thailand temples: get lost with us while we explore Thai spirituality!
Here we go, Thailand adventures part two! This time we moved up north, exploring an area that, while still being known by tourists, is quite different from Bangkok. Many temples, a few tribal villages and some pretty intense experiences!
---
Chiang Mai: a hub for the temples of Thailand
Moving north, we spent several days in Chiang Mai, which we enjoyed very much. There, we took it easy, got lazy, ate and drank coffee in the same places and, for a fortnight, pretended to live there.
For the first time IRL, we met with Jine, a friend that we made through our Instagram account. Jine is a gentleman from Bangkok who knows a lot about temples, art, religion and sacred symbols. Talking to him opened our eyes and doors to the complex reality of Thai culture.
Wat Phra That Doi Suthep
Wat Phra Doi Suthep is a stunning temple nestled on the mountain of Doi Suthep. It's over 1000 metres above sea level, and it is home to an ancient Buddha image carved from marble. The Buddha is is located in a 24 metres tall golden stupa, decorated with an intricate design of vines, flowers, and other natural elements.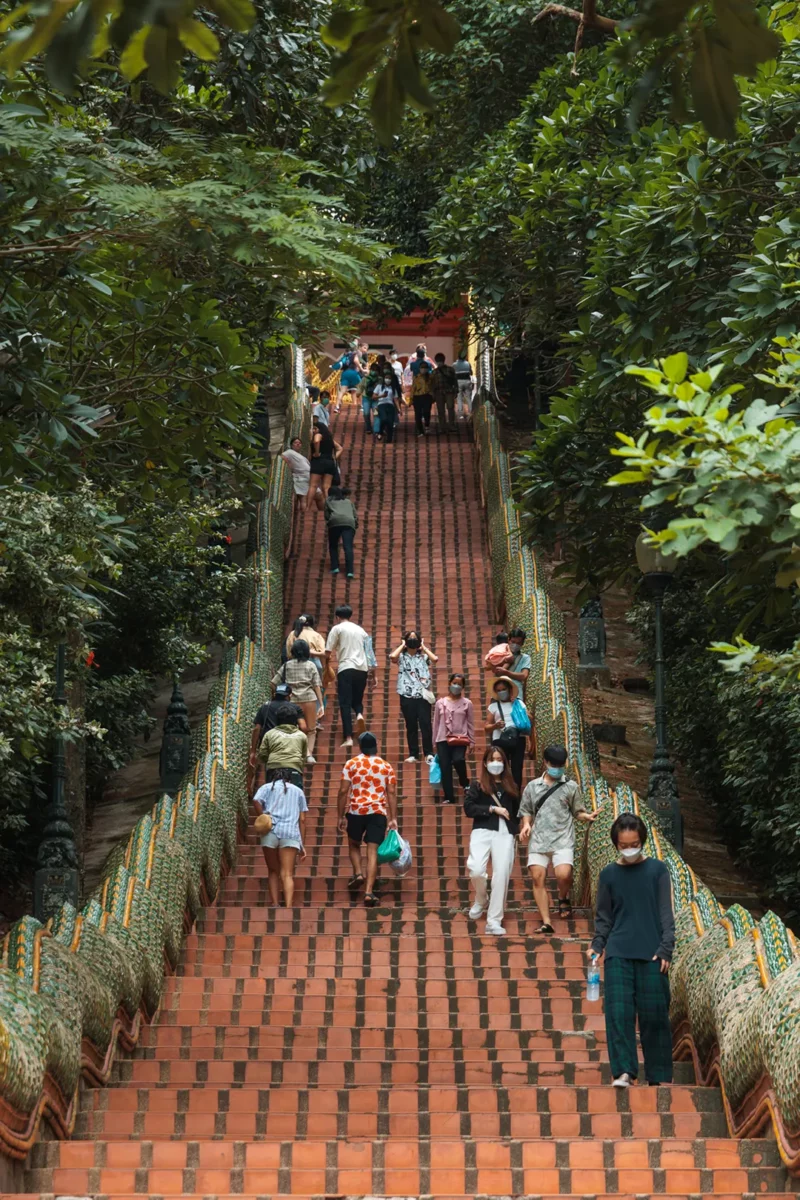 The colours are vibrant and the lines are clean. The gold is very prominent, and the place leaves quite an impression on every first visitor.
Thailand seems to have a predilection for gold and sparkles when it comes to sacred places. After so many gold-covered temples of unquestionable beauty, we found that we prefer simplicity, natural materials and the communion between spirituality and nature. Read more about Doi Suthep.
Hmong Village
Formerly known as Baan Doi Pui, this is a small village located in Doi Suthep-Pui National Park. It hosts one of Thailand's mountain tribes, the Hmongs.
A swarm of uphill and downhill lanes wind their way through this village full of open-air stalls and shops. Over the years, this place has developed entirely towards tourists.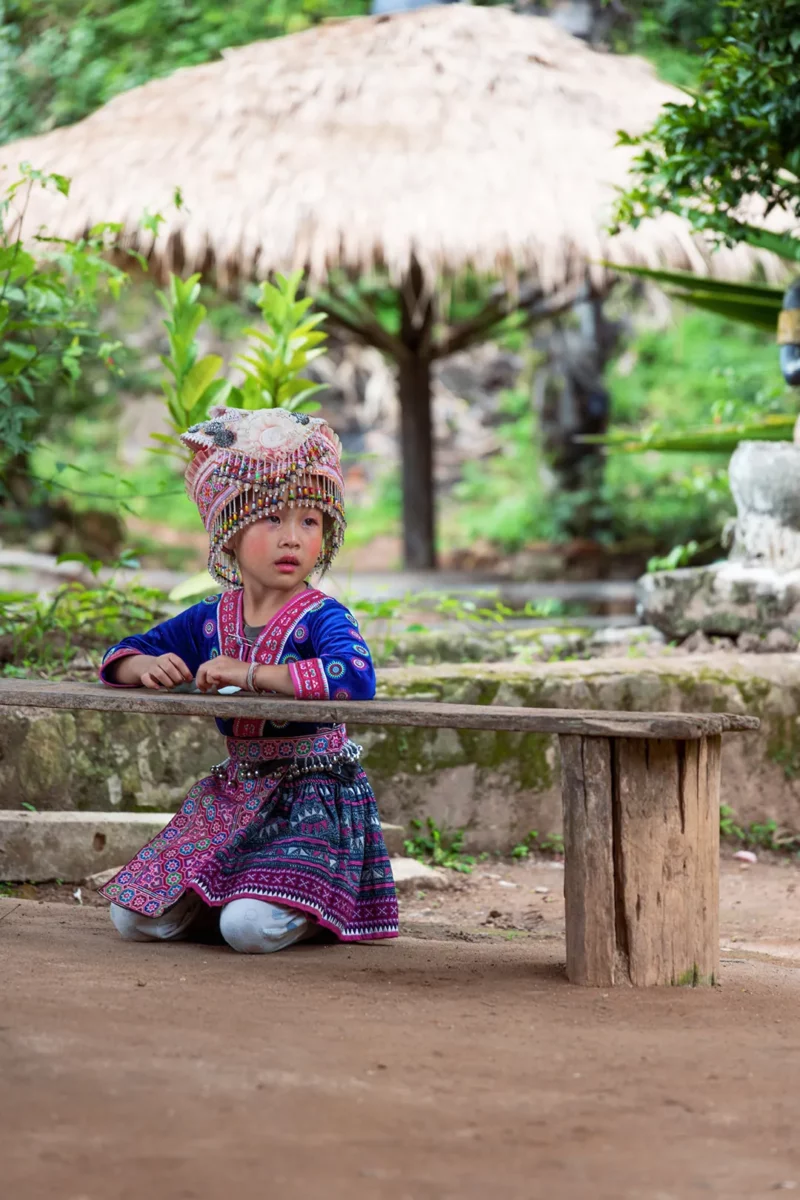 Women sit at their stalls embroidering entire outfits as they wait to sell mass-produced clothes. Children chase each other and greet us, wearing colourful traditional clothes complete with headgear. Some offer to guide us, others don't even see us, busy as they are arguing with their sibling.
It is strange to see how, often, the attempt to become more attractive to tourists results in a loss of value, for both locals and tourists.
After lunch we took a long walk through the village's magnificent flower garden, a protected place where hundreds of species of flowers are cultivated in the famous terraces typical of these hilly areas.
Wat Pha Lat
Speaking of communion between nature and spirituality, on that day we visited Wat Pha Lat, on the way to Doi Suthep.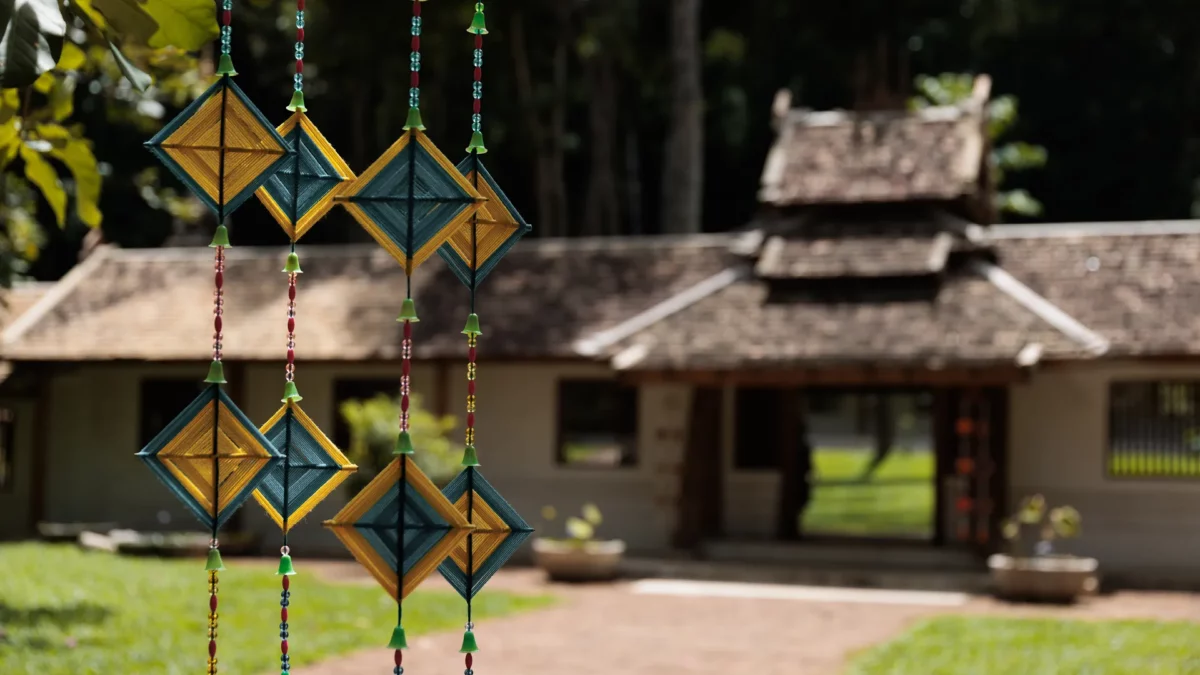 Wat Pha Lat is an absolutely magical place that took a different direction to show the connection between human beings and sacredness.
It is a jungle-temple. Small Buddhas sit laughing amidst the grass and flowers. The steps around the off-white statues wear a luxurious coat of moss. The the temple is built entirely of wood.
Trees, lianas and bamboos accompany us on this visit. We sit for a long time, looking down on the city from above, lulled by the sound of the river flowing between us. Feeling enthralled? We wrote a full article on it, save the read for later!
Chiang Rai: a hub for temples in Thailand
On a short visit to Chiang Rai we visited the White Temple and the Blue Temple, two very special places in contemporary religious tradition.
Far removed from the idea of a humble place of prayer in which to abstract and connect with the divine, they looked more like two spiritual amusement parks.
Wa Rong Suea, the blue temple
The "Temple of the Dancing Tiger" existed before the Blue temple. Legend has it that tigers used to roam free in this sacred place. It was impossible, though, to find information about the original temple.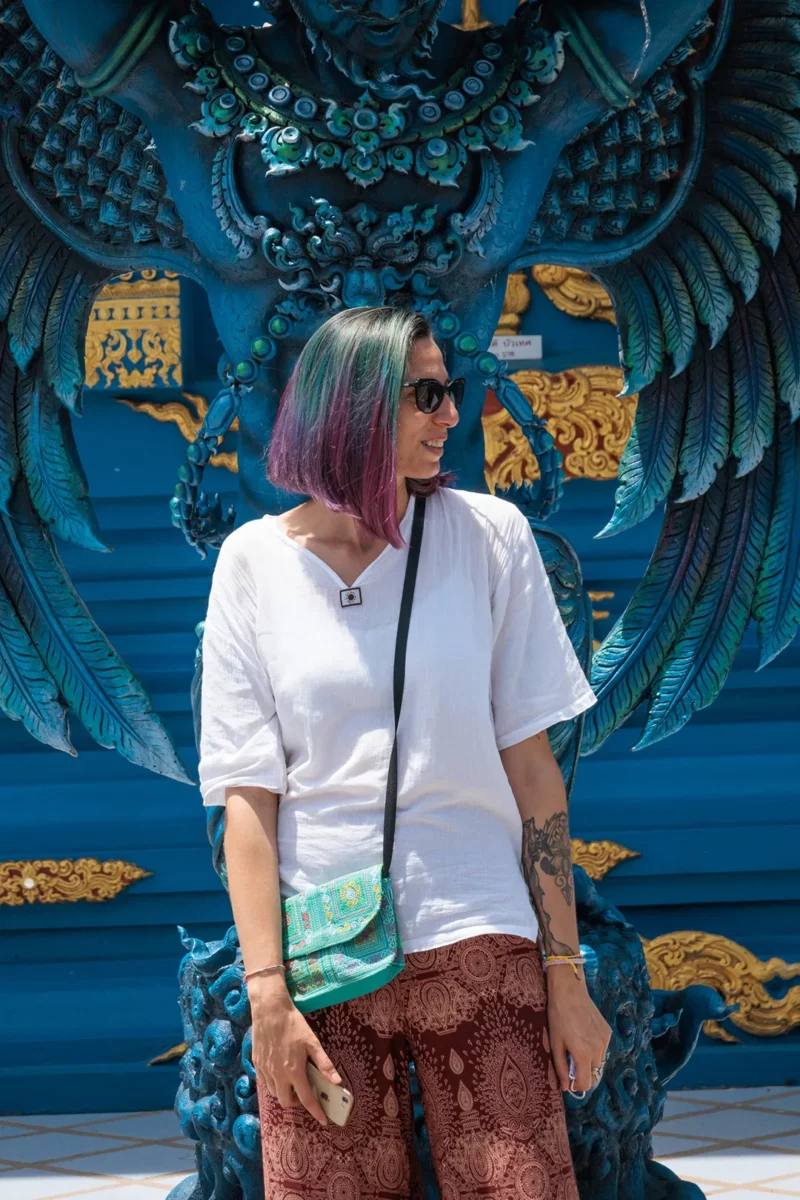 It feels like this place came straight out of a fantasy novel. The dragons have a video-game after taste. The blue hue is, at times, overwhelming. The statues representing the deities seem like 3D cartoons of their sacred selves. Everything is truly impressive. And yet, as we wrote already elsewhere, something feels off. Read more about the blue temple.
Wat Rong Khun, the white temple
This one particularly impressed me, I must admit. An Italian journalist described it as a meringue. And, indeed, it looks like a surreal castle made of the white, crunchy delight and suspended in mid-sky.
Here, too, there is a sense of exaggeration, leaning towards apocalyptic scenarios, with heads hanging from trees, superheroes and zombie hands rising from the earth to prevent you from reaching the temple, the sacred. This place is a metaphor, its creator is a visionary artist, a deep practitioner of Buddhist religion and meditation.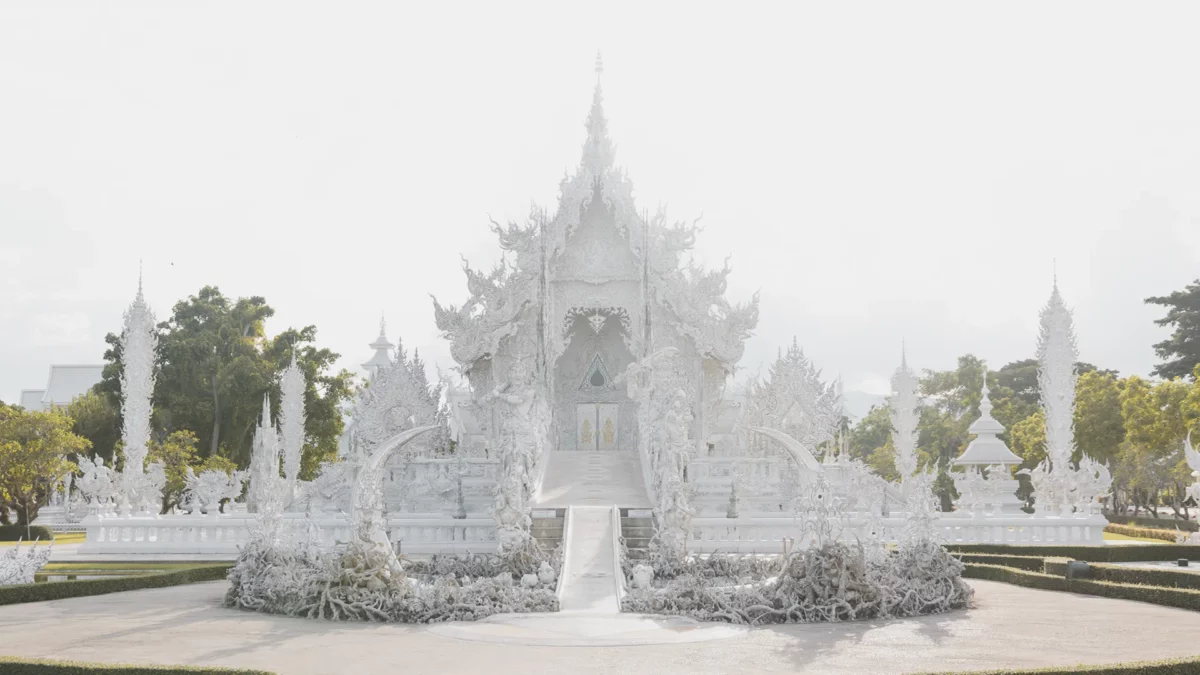 He wanted to dedicate this temple to the crisis of ideals and the corruption of spirituality that religion has witnessed over the last 40 years.
It is not easy to explain without going into detail, but it was as if there was a rupture between aesthetics and meaning. A bridge of meaning that was broken by building such a deliberately provocative place.
And this is especially true of the blue temple, impressive and electric, but lacking the sense of the divine that one feels in any sacred place, regardless of one's religion (or lack of). Read more about the white temple.
First encounter of the compassionate kind
The first time we saw Guan Yin, it was memorable. We were on our way to a temple, when this white lady popped up from among the clouds. She was huge and beautiful, so we decided to get closer and see who she was.
We didn't know about her at the time, and it was great to just marvel at her peacefulness and bask in her shadow.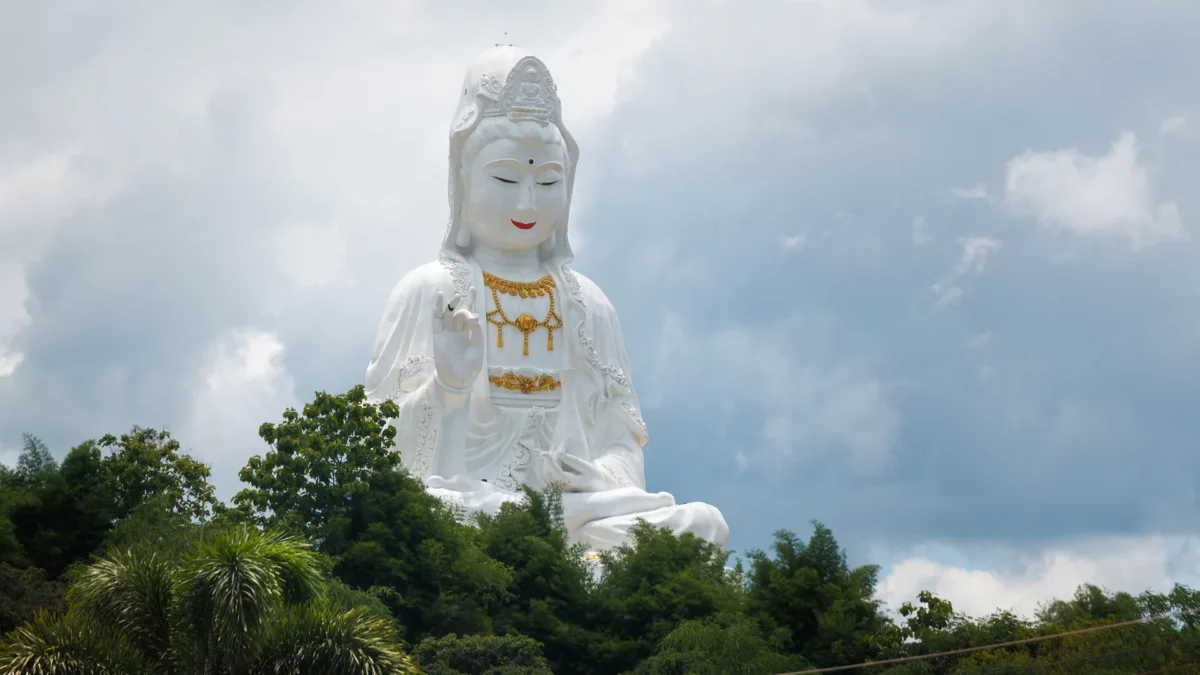 Guan Yin belongs to different Hinduist, Buddhist and Taoist traditions. She is a bodhisattva, a being who has delayed her own enlightenment to stay here and help others.
The goddess of compassion and mercy, she appeared in human form as a beautiful woman with long hair and a white robe. We were moved by her beauty and tranquillity. Read more about Guan Yin
How did we move around?
By train, in the sun and in the rain!
We've taken a lot of trains lately, day and night. We enjoyed the full immersion in local culture as we travelled through the countryside. The sights, the lights (or lack of), the scenery and landscapes of each place we pass through were so different from city to city.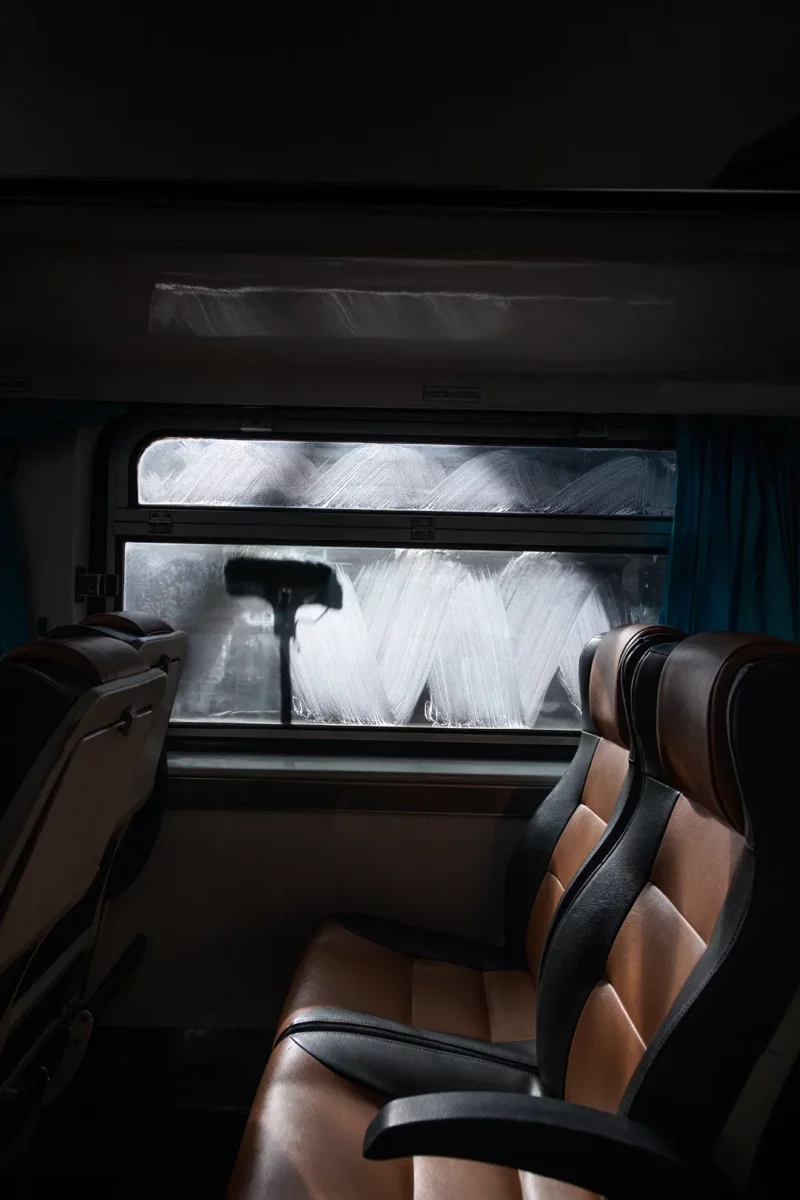 We have been able to see remote parts of the country that we never would have seen otherwise. Plus, it's been a great way to observe the locals undisturbed, share some food with them, trying to exchange a few words even when English is not an option.
It's an amazing way to travel, and it's wonderful to rediscover it right here, in the great South East.
Mae Hong Son loop and Huay Pu Keng
Jyl spent a week alone on a scooter, crossing the villages, peaks, and forests that surrounds the famous Mae Hong Son loop. He did approximately 600 kilometres, 4000 turns, lots of ups and downs from Chiang Mai and back to Chiang Mai.
On the way, he stopped for two days in the controversial village of Huay Pu Keng. This is the original village of the Burmese Karenni tribes.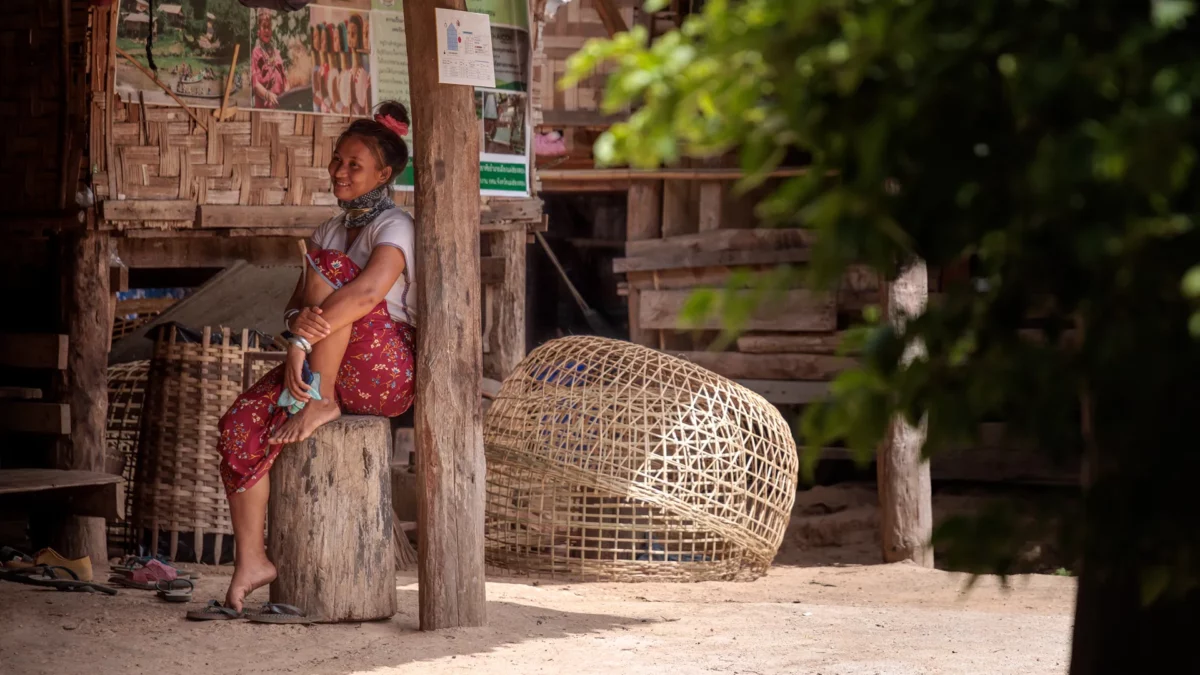 There, he had the chance to talk and meet people who have fled conflict and decided to trade their traditions for a safe haven. There is a lot to say about everything that surrounds the Kayan Lawi (Also known as the long-neck people). If you are in the mood for a good read, go check out our in-depth article.
At the end of the week I took an open-air bus and joined Jyl in Chom Thong, where we went to say what we thought would be a goodbye to our friend Jine. But, of course, life had other plans, and that would not have been a goodbye!