Bangkok travel blog. A journey through the hustle and bustle of the vibrant capital of Thailand.
We recently left for a new country, saying goodbye to Cambodia that has hosted us during these months, to land in the fascinating and vibrant Siam, better known as Thailand, and we are excited for all that awaits us.
Already a week in Bangkok. 12 km of walking and 5 litres of water a day, we tried new foods in the bright and busy streets of Chinatown. Then we visited glittering temples that would make even Lady Gaga's clothes seem modest. We travelled on an overpriced tuk-tuk, tried the local buses, met and interviewed an entire family of Chinese descent, and chased giant Buddhas…
Bangkok
It's all about food
Here you wish you'd have at least 3 mouths and 3 stomachs, in order to taste all the inviting street food. I ate more Pad Thai than I can count. Rice noodles with a sauce based on tamarind puree, fish sauce, roasted peanuts, egg, lemongrass and bean sprouts. And then there is the Tom Yum Soup, a spicy soup with tomato, shrimp, coconut milk and kaffir lime leaves.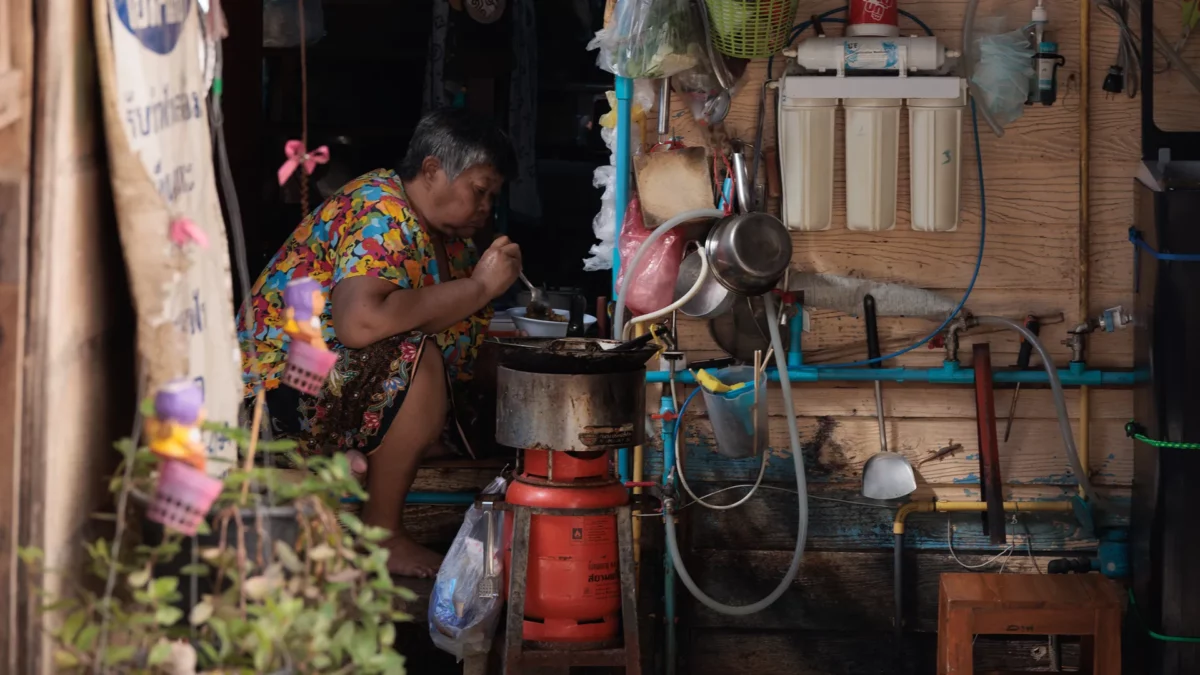 And then the squid grilled in the street, the mango sticky rice, the glorious Khao Soi, a coconut and curry noodle soup popular in northern Thailand, but also in Laos and Myanmar. So far it's Jyl's favourite dish, who ate a shameful amount of it. It consists of noodles and chicken in a thick coconut broth rich of freshly-pounded spices, and garnished with a handful of crispy fried noodles.
Finding Buddha
We spent half a day chasing a 69-metre Buddha around the city. It wasn't lost – of course – but in a dense, populated city, and in tight neighbourhoods like Bangkok, it is not an easy task to find a patch of sky among the buildings in which to be able to see the golden statue.
We went up, down, up and down again on the subway. Wandering through tiny roads, we kept in mind where the Buddha was, hoping that, at the end of the alley, a hole would open up from which to observe him. We asked if we could go up to the outdoor parking of a luxury condo, but security wouldn't let us.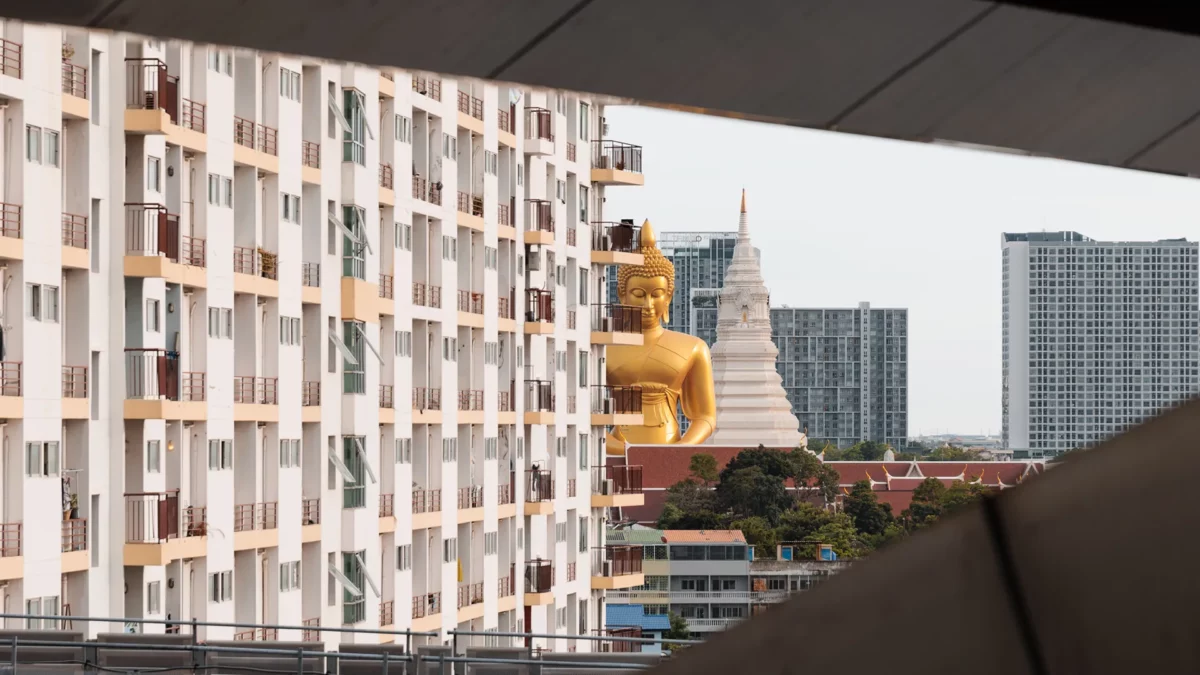 And sometimes, as it happens with Rubik's cube, redoing a movement that you thought you have already done, leads to finding the right interlocking. And so we were able to admire the Buddha taking in fresh air among the skyscrapers and, perhaps, reminding everyone that there is more to life than staying in those skyscrapers to work like madmen.
Temple hopping and the Grand Palace
Thailand is a country of many temples,…
… More than 40,000, actually, and each one is unique.  Many of those temples also house museums or art galleries. Here, visitors can learn about the history of Buddhism in Thailand and other aspects of local culture.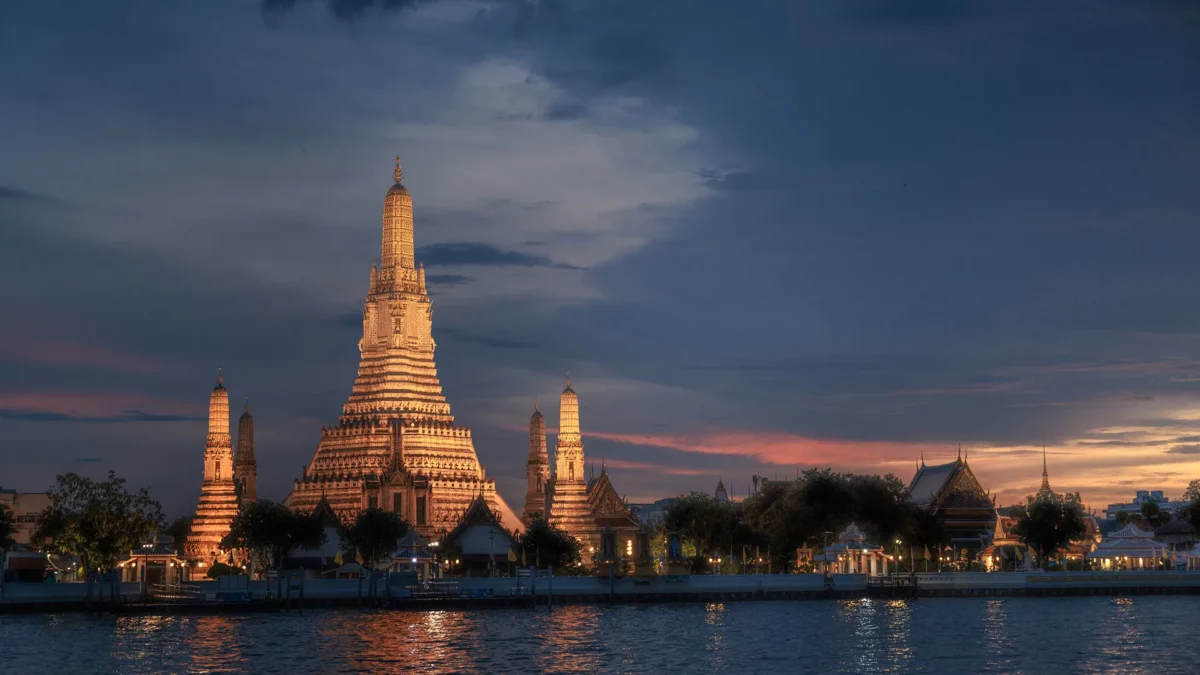 Bangkok's Grand Palace
One of the most complete experiences you can have in this respect, is to pay a visit to the Grand Palace. It is a complex of palaces and temples, as well as the official home of Thailand's king. The palace is definitely a place where you can feel the history of Thailand and its people. It was originally built in 1792 as a residence for King Rama I. It has since become an important centre of Thai culture, tradition, and religion. You'll find many shrines and temples within the palace grounds, including the Temple of the Emerald Buddha and the Temple of the Reclining Buddha—two of the most famous Buddhist temples in all of Thailand.
A sumptuous and precise beauty, so clean that it looks like a product of 3D animation, so magnificent that it gives one the impulse to kneel down, even to those who do not know that one must kneel before the Buddha.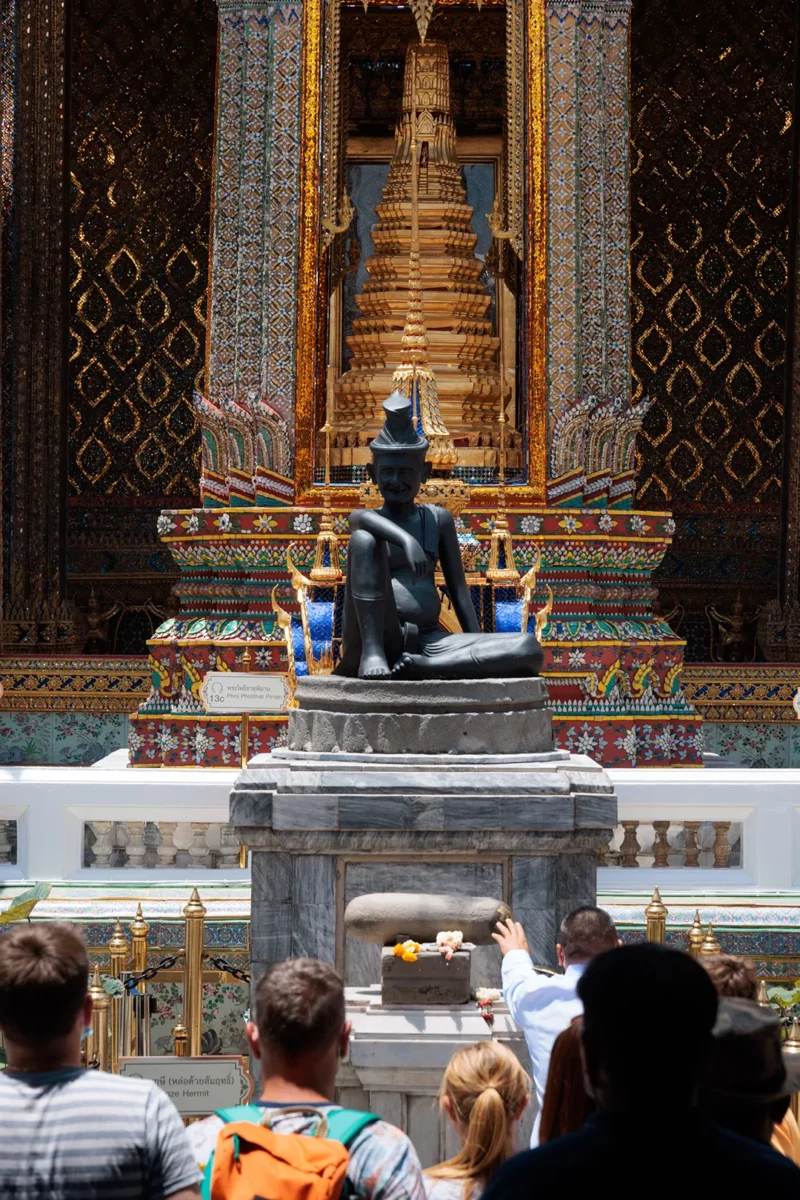 A kind of magic
The gold and precious stones glitter intensely in the June sun. The silence smells of incense and prayers. Religiously disengaged from these places as we are, we can see them with different eyes from those who frequent them as places of worship. This is, understandably, one of the few temples with an entrance fee. In addition to a huge temple complex and a museum, there was a performance of Khon, the traditional Thai dance. 
This time is the Ramakien on stage. An epic derived from a Sanskrit literary text from ancient India that spread throughout South-East Asia over the centuries.  As the live ensemble narrates the tales with traditional music, the entire show magically comes to life, in an exciting, engaging and gentle performance.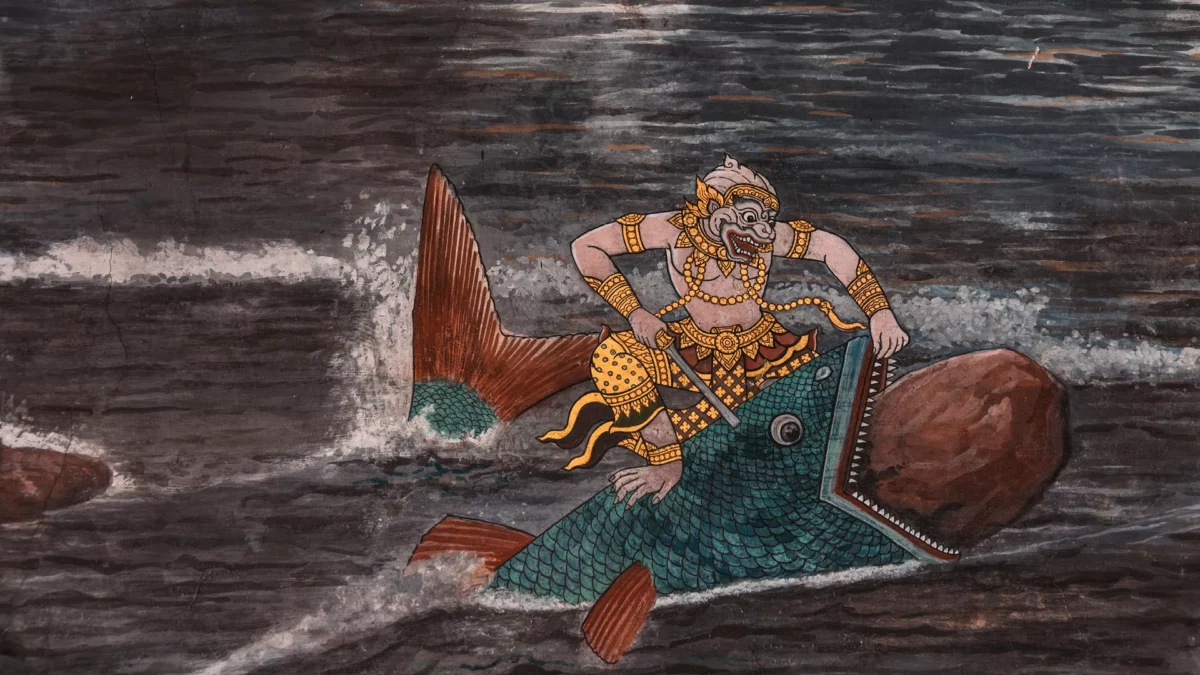 Chinatown Kids
On the off chance that you get tired – if even possible – of obsessing over the same dishes, there is a solution that'll keep you busy for weeks to come: go to Chinatown, and go empty stomach!
We cannot even begin to describe the amount, quality and colour of the food available! The street we took to get there passed through a market that had already closed. There was no living or dead soul, and our footsteps echoed in the dark. Everything seemed so still that we doubted that we had taken the wrong road.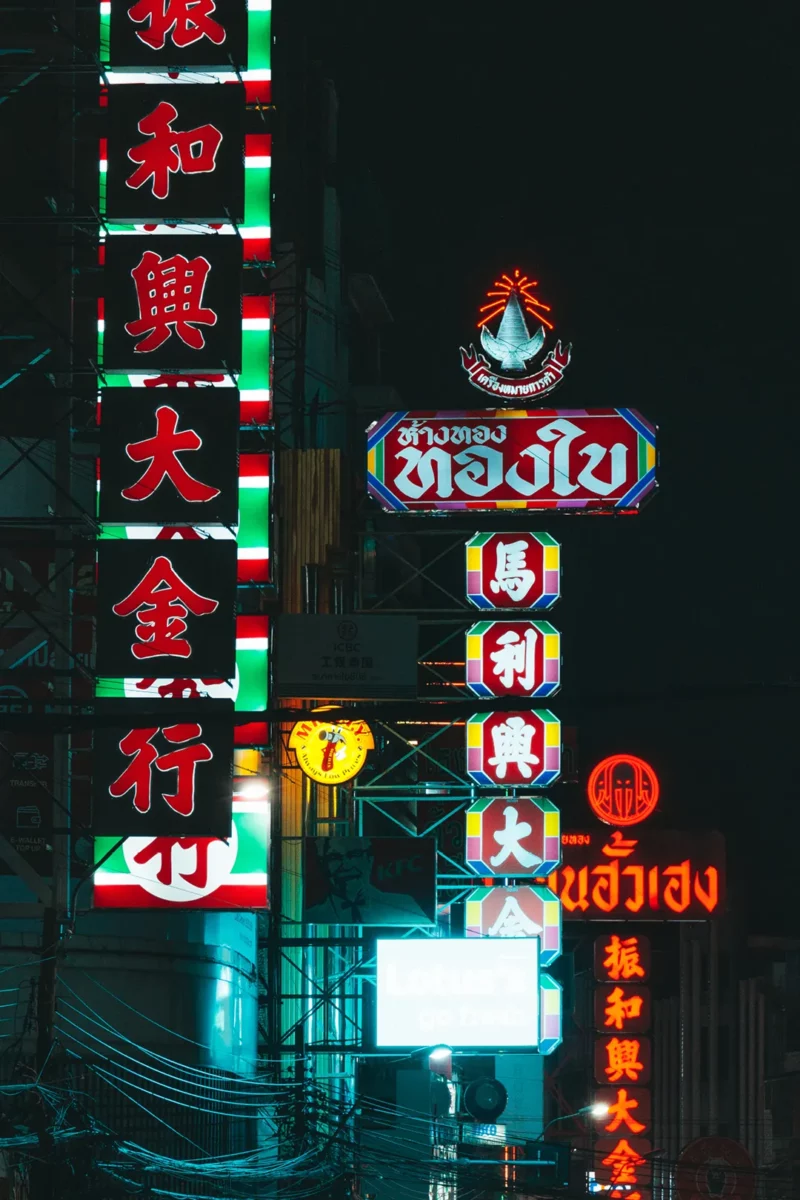 But then, around the corner, there it was, psychedelic and sweetened, oversaturated and inviting: Chinatown. The experience is multisensory: at some point you will find yourself, without even realising it, swinging along with four hundred other people, walking as if you were part of a giant millipede crawling all over Chinatown.
The Dragon
And you have no other way to move than in unison with the other four hundred people. The lights will draw you in, amuse you and confuse you, because if everything else disappears in Chinatown, if only the lights remain, you would see the impressive exoskeleton of a neon city dancing in the darkness, in a mixture of symbols, fonts, letters and colours.
The smells, the perfumes, the warmth of the grills and the whiffs of spices that come out of the cauldrons would bring the dead back to this world. Choosing what to eat will be a delicious torture, and you won't be able to tell what half the dishes you encounter are.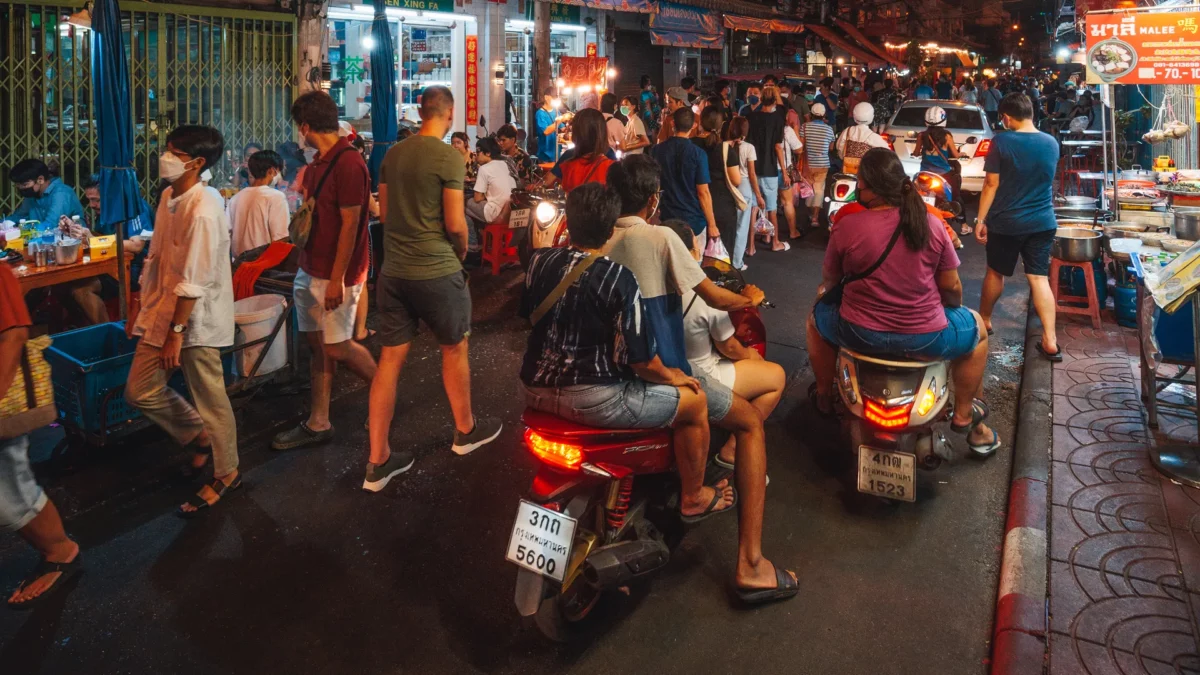 And in the end, tired and exhausted, a little dazed but happy, you will be rewarded by the flavours: spicy and sharp like fried seaweed, sweet and round like coconut cakes, spicy and marine like grilled fish with lemon and chilli sauce, or exotic and out of this world like shark fins, or bird's nest soup.
Chinatown is to eat, to walk, to savour.