As you venture into its striking blue premises, a surreal dreamscape unfolds. Everything here, from the statues to the temples, boasts the colour of the divine, of the summer sky before night falls. Wat Rong Suea Ten, known as the Blue Temple of Chiang Rai, it's said to be born on the historical site of the "Temple of the Dancing Tiger".
It feels like a stretchmark in reality, a graphic novel in the midst of real life. The dragons have a video-game after taste, the blue hue is, at times, overwhelming, and the statues representing the deities seem like 3D cartoons of their sacred selves.
Once again, when it comes to contemporary spiritual art and architecture, the temples of Chiang Rai in Thailand offer unparalleled experiences, in every possible way. And the Blue Temple is no exception.
---
Wat Rong Suea, the Blue temple
It seems very common for travellers to visit the White Temple and The Blue temple on the same day. They are not too far from each other and offer an interesting window into the world of contemporary spiritual art. While in the white temple we had a multifaceted and complex experience, our expectations for the blue temple —crafted by Phuttha Kabkaew, a pupil of Kositpipat— remained uncertain.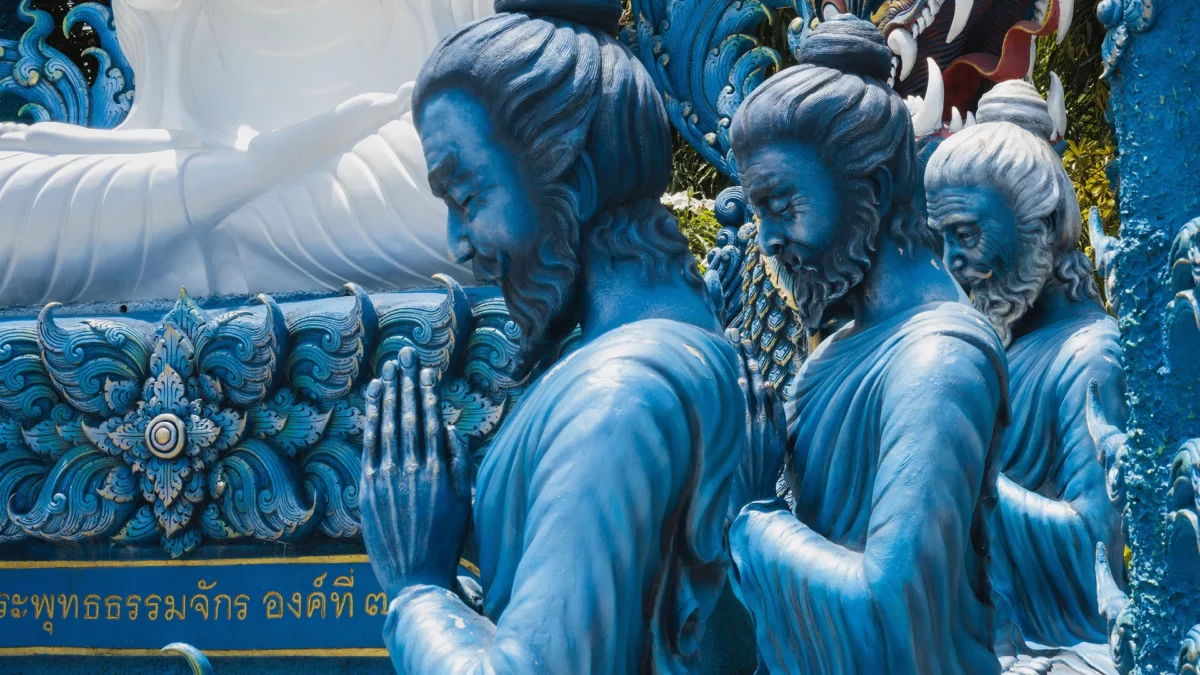 Legend has it that, a long time ago, tigers used to roam free and wild on this very land. Unfortunately, it was impossible to find information about the original temple. Sometimes I wonder if the energy of the past lingers, settling on the new places. Like dust on furniture, or like the memory of the soil recalling the roots of trees and flowers that once grew.
Entering through the gate, the colour translates into a physical sensation, as if you were stepping into a vivid hallucination. The closer you get to the Buddha, the more you feel like you're becoming blue too. While new details come into focus in a fractal pattern, things seem to get more confusing instead of becoming clearer.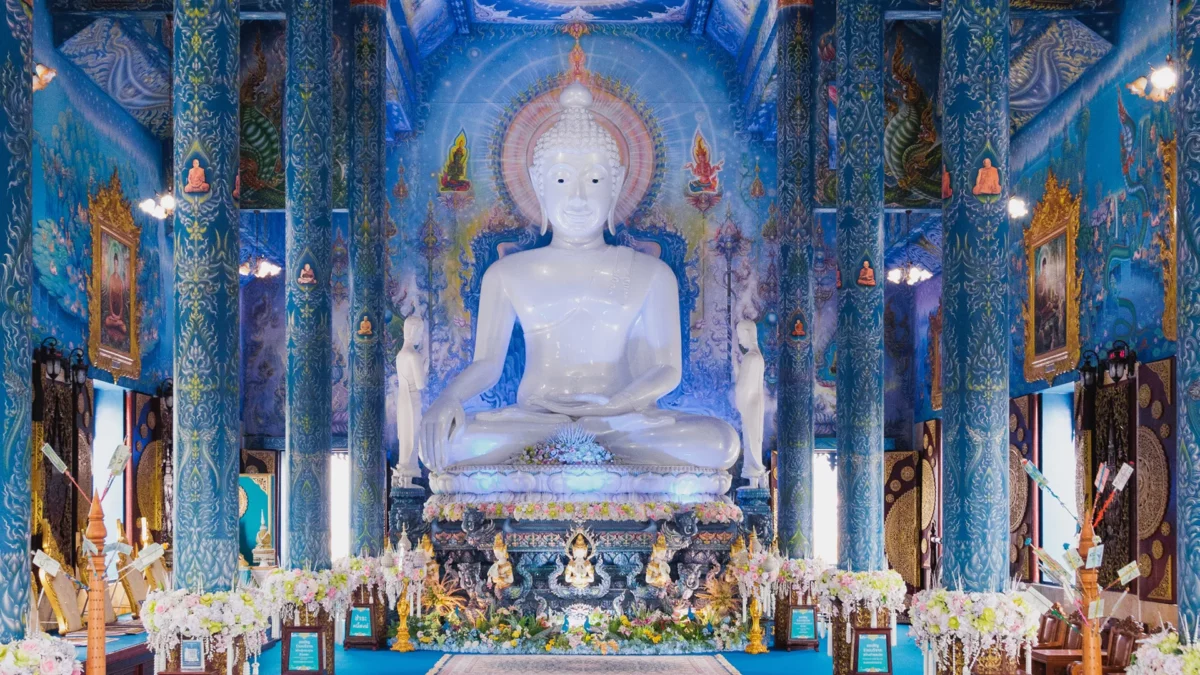 The shiny Buddha is peaceful as usual, lost in his enlightenment. He almost shimmers, white as he is, surrounded by all that blue. Fake plastic flowers everywhere and an opulence of neon blue/violet and gold. Praying monks floating on the walls, Thai angels with sapphire skin, and an overwhelming amount of symbols that come at you from every corner.
PANTONE P112-8
We walk dizzily among the statues, it's very hot today and the light is blinding. The sapphire stones seem like a variation on the theme of the heavens.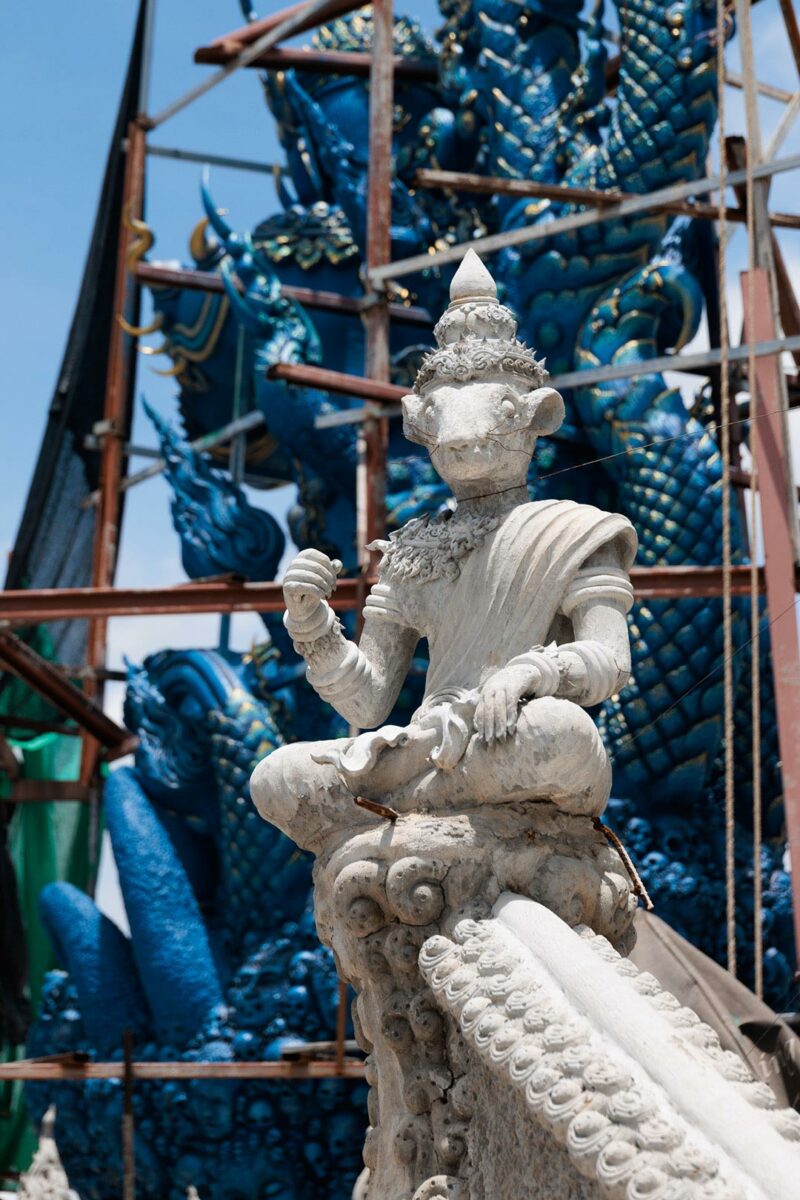 Scaly dragons of deep green and octanium burst out from the walls and run along the stairs. Disciples in prayers sit in a circle. Half-built, unpainted concrete statues surround the temple, and it's quite a different sight.
Buddhist symbolism reveres the colour blue as a representation of ascension, faith, and spiritual as well as intellectual life. Many Buddhists came here to pray and were happy to take pictures of themselves in their finest clothes.
Everything is truly impressive. And yet, something feels off.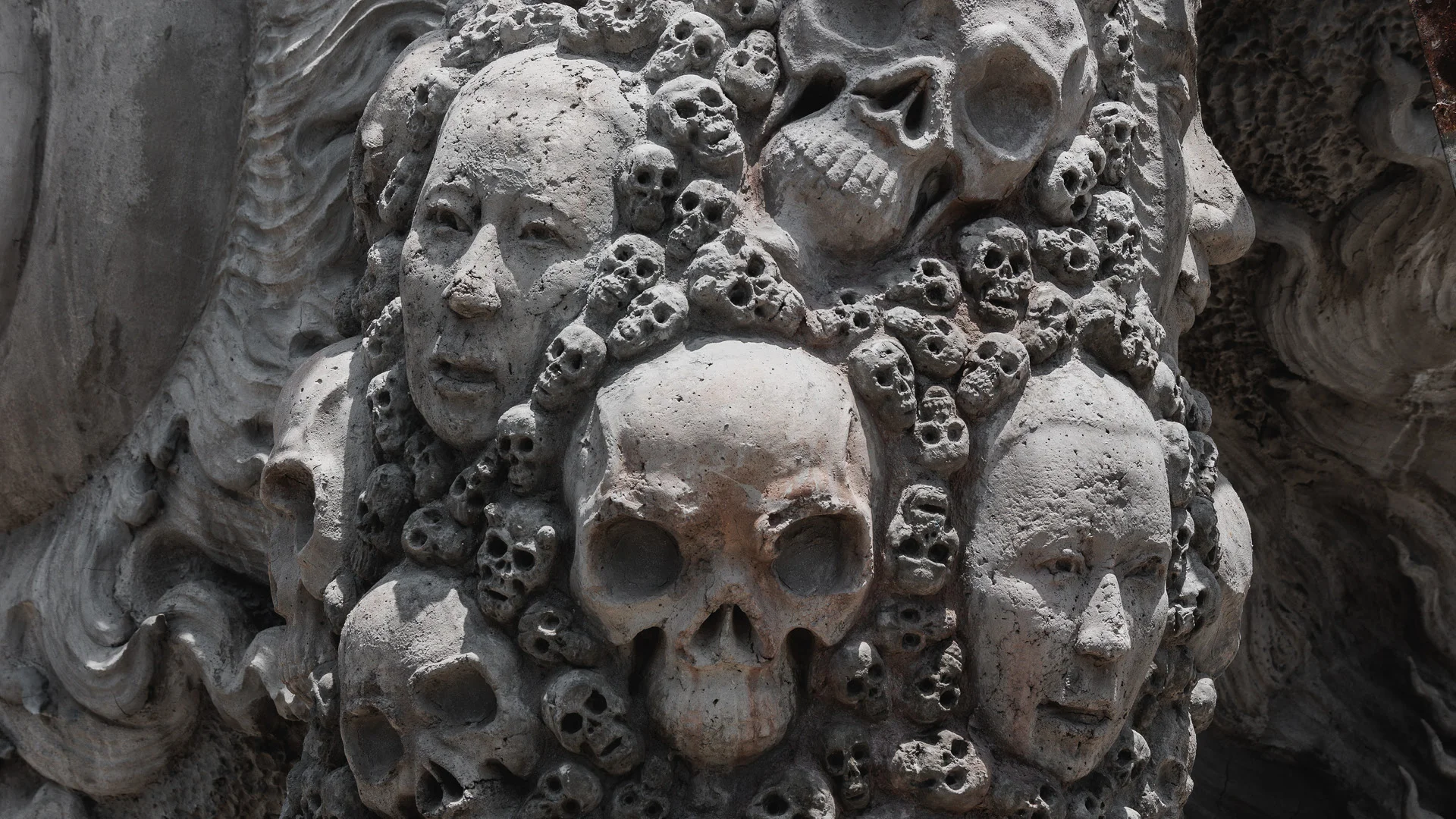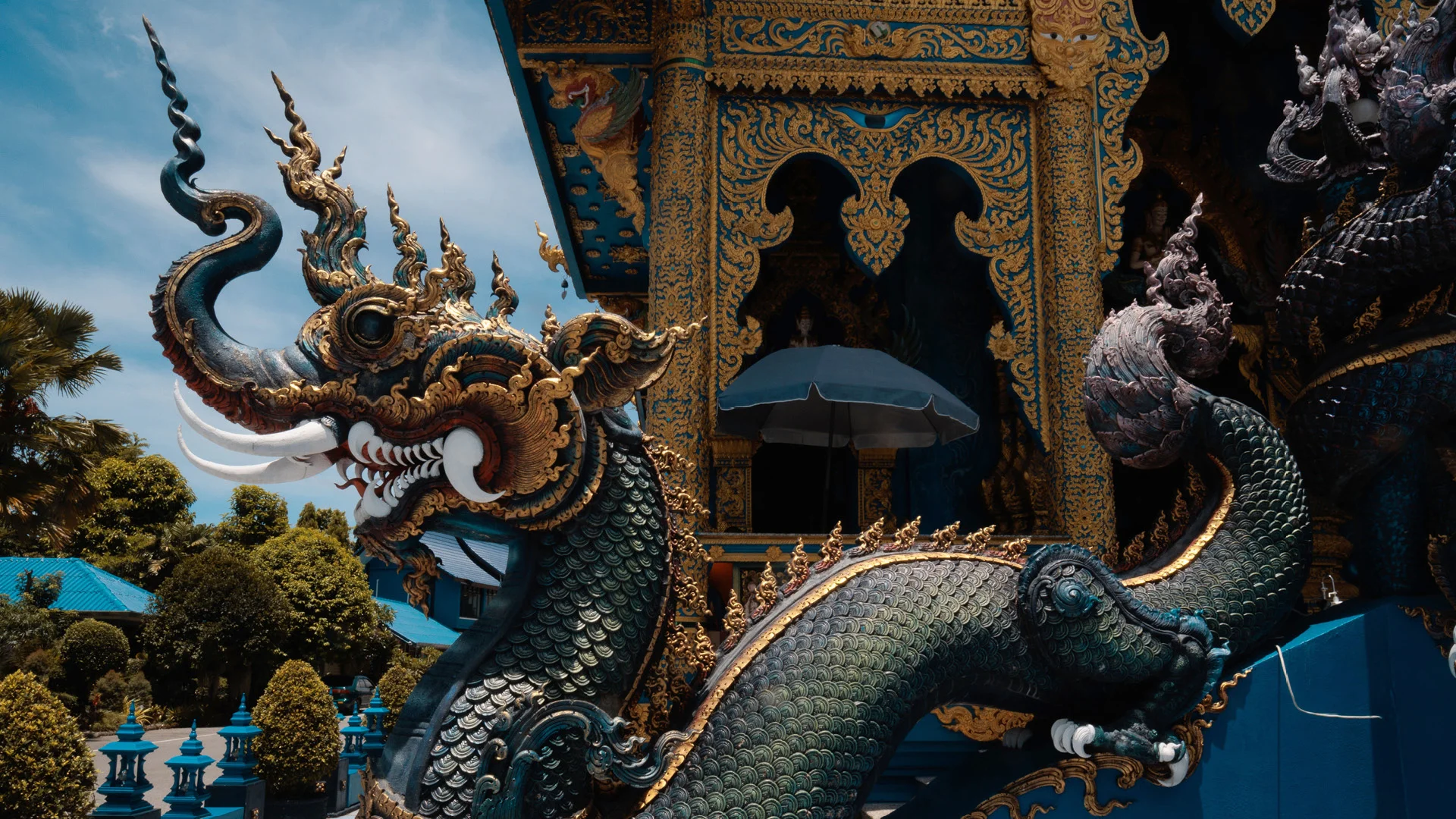 THT-Article-Images-Blue White-New-16
THT-Article-Images-Blue White-New-17
THT-Article-Images-Blue White-New-18
Past the blue daze, past the surprise at something so boldly "in your face", something – you're quite certain – you've never seen before, you start to wonder. Why can't I feel that sense of sacredness, of deep reverence, of hundreds of people before me kneeling in front of this statue and praying? What is it that is missing?
Lapis lazuli
We have a theory. Or actually, a mere idea, a humble one that reflects our experience. Kabkaew designed and constructed Wat Rong Suea Ten, the famous Blue Temple of Chiang Rai, with the intention of provoke amazement, captivating its visitors, and etching an immersive experience into their memories. And it succeeds.
Perhaps what is missing is the intention of sacredness, of silence, of inner contemplation. This left a void of meaning that was difficult for us to ignore. This is not to say that the sight of this place is not extraordinary, or unique. Simply, that sense of peace and communion that one feels in certain places was notably absent here.
It's hard to explain, but it's like something was forgotten. As if there was a rupture between aesthetics and meaning. As if, by building such a deliberately provocative place, a bridge was broken.  Have you ever had a similar experience? Being in a place that it's regarded as truly special but you're more drawn to that feeling of incompleteness you can't quite point your finger on it?
---
Om wasn't built in a day
The white temple and the blue temple were a milestone in our tour of Chiang Rai and Chiang Mai. As always, we found it helpful not to stop at the surface, wanting to understand and to know, to try and be more like travellers and less like tourists.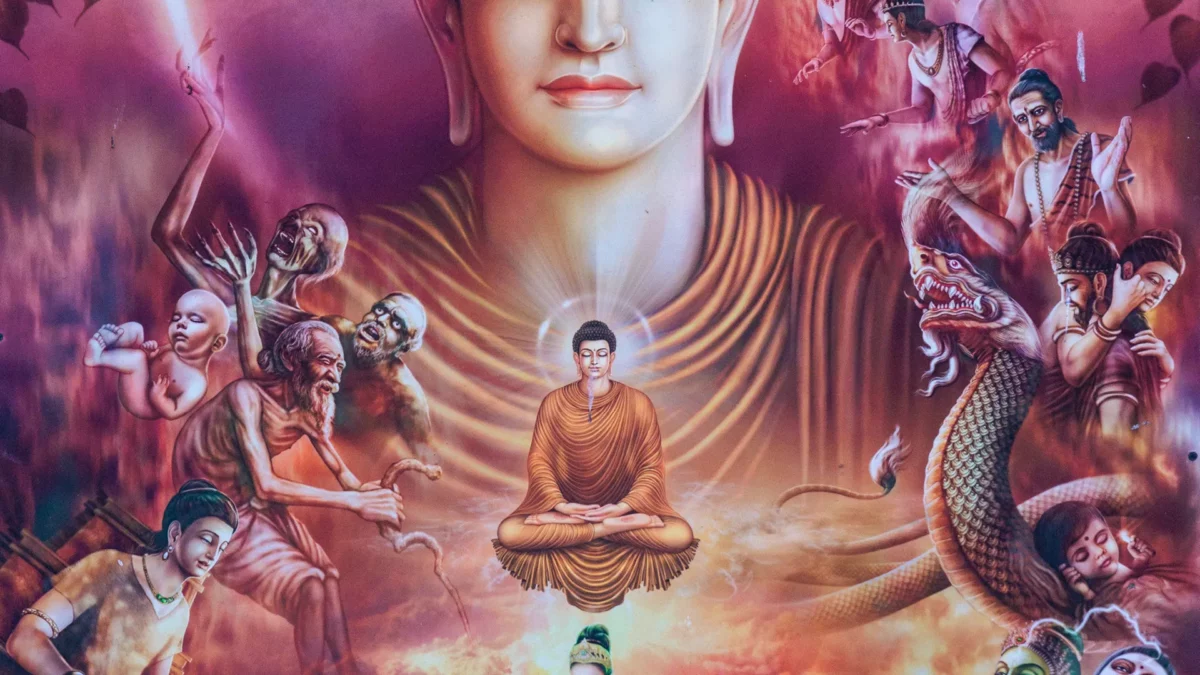 Does the Blue Temple's focus on aesthetics distract from the true essence of spiritual reverence? Or could this be the natural outcome of blending contemporary art with sacred spaces? The answer may differ for each individual, as they experience their own journey through this temple. Beauty and emptiness intertwine, as the dreamlike shades of blue surround us, urging us to reflect on the delicate balance between the tangible world and the spiritual realm.
For us, the blue temple of Chiang Rai remains a mystery, a slippery path in which we have lost our way, and a place we have failed to connect with. Although we are not sure what this place represents, it is a must stop on the itinerary of any traveller in the surroundings of Chiang Rai and Chiang Mai!
---
If you enjoy this article don't hesitate to pin it!