Entering Wat Pha Lat is like passing through a secret gate, stepping into another dimension. Colours seem more vibrant, outlines become softer, and the noises from outside disappear, even though we only walked past a gate and there are no walls around us.
A chorus of old spirits welcomes anyone who visits this place with the same embrace, along with moon-white statues and a dense, deep green array of plants and trees.
---
In our travels around Thailand, we've seen a lot of temples; some beautiful and luxurious, some imposing, others downright bizarre. But we've never seen anything like Wat Pha Lat. Nestled in the middle of a forest halfway through Mount Doi Suthep, this ancient temple is one of the most peaceful and magical places we have ever visited.
The mystical atmosphere is almost palpable, it's not just our imagination. As with everything that seems to be from another dimension, slightly to the left compared to real life, it's difficult to pinpoint what exactly makes this place so special.
Stepping through the portal
The road getting up to the temple encircles a mountain and it's full of turns; quite enjoyable if you ride a motorbike, a bit less if you suffer from motion sickness like me.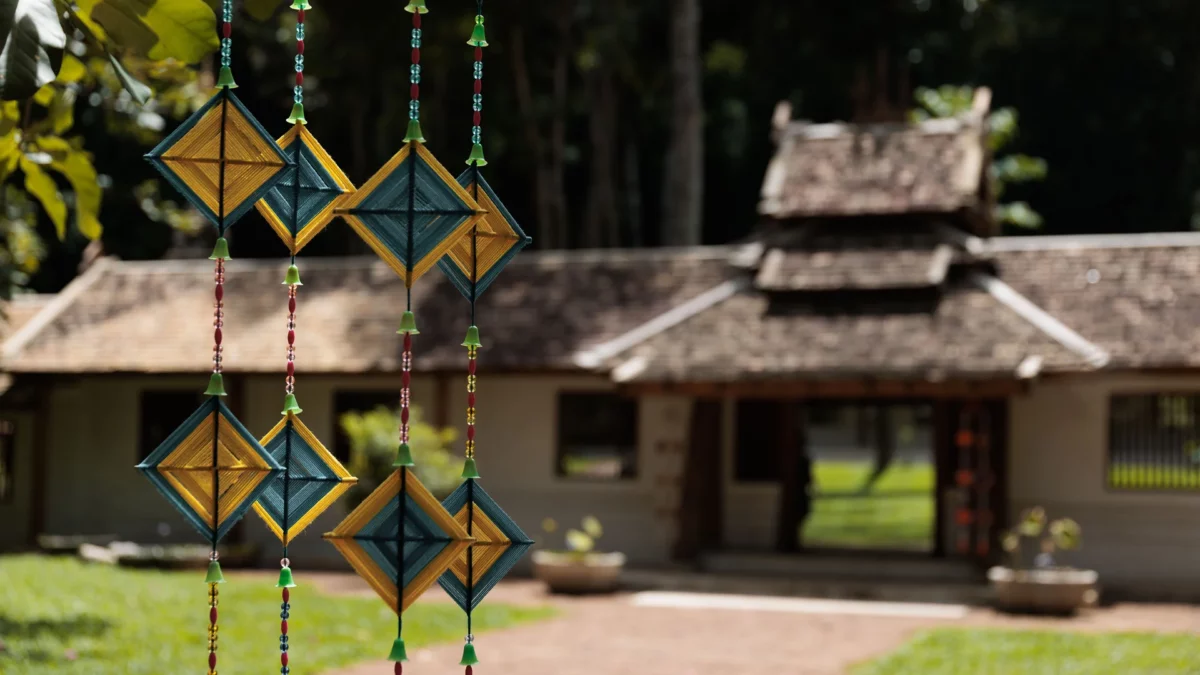 But there is actually another way to reach the temple: taking the monk's trail, a 2 km hike through the greenery. This one, obviously, takes longer than the paved road, but gives you the opportunity to bathe in the amazing sacred forest that leads up to the temple. It's an Invitation to slow down, take a mindful, meditative walk, while you prepare your spirit to enter the temple.
We tried both ways, and when you take the one through the forest, there is a way to continue and get to the top of Doi Suthep. Upon research, we learn that Wat Pha Lat was a resting place for monks who were walking from Chiang Mai to Doi Suthep before Khru Ba Siwichai, a highly respected Buddhist monk, initiated the construction of the paved road, which was finished in 1935.
Entering by the monk's walking trail, it is the Buddha statue that greets you first. You can't help but feel an immediate sense of tranquillity growing as you approach. The statue is perched on an open wooden structure, accompanied by an invitation to pray. We have left it at the end of this article for you to read. The entrance is a peaceful space surrounded by trees and greenery, where you can meditate or just relax with your thoughts.
Once you remove your shoes you can accept the invitation, walk to the statue and sit in front of it while you let your eyes rest and your mind settle.
The enchanted forest
The entrance to the temple is lined with trees and bamboo stalks. As if you were stepping into a scene from a Ghibli movie, trees, rocks and people seem to breathe in unison, like one single superorganism. There are jade green ferns on the edges of some statues, tall dark tree trunks towering above our heads, huge leaves dangling from old trees, providing the perfect frame for the simple beauty of this place.
While walking through these gardens of the mind, the life in it kept calling us: birds singing, cicadas chirping, and frogs croaking all around us, plus a rich underworld of silent, invisible life thriving among the soil and the branches.
The temple has become a haven for life. The statues are often tucked away in cloisters of foliage, the stone parts of the stupas are covered in soft, bright green moss, and a sharp smell of freshness pervades the air. Here, nature is not just an outline, it's an integral part of the temple, if not the temple itself.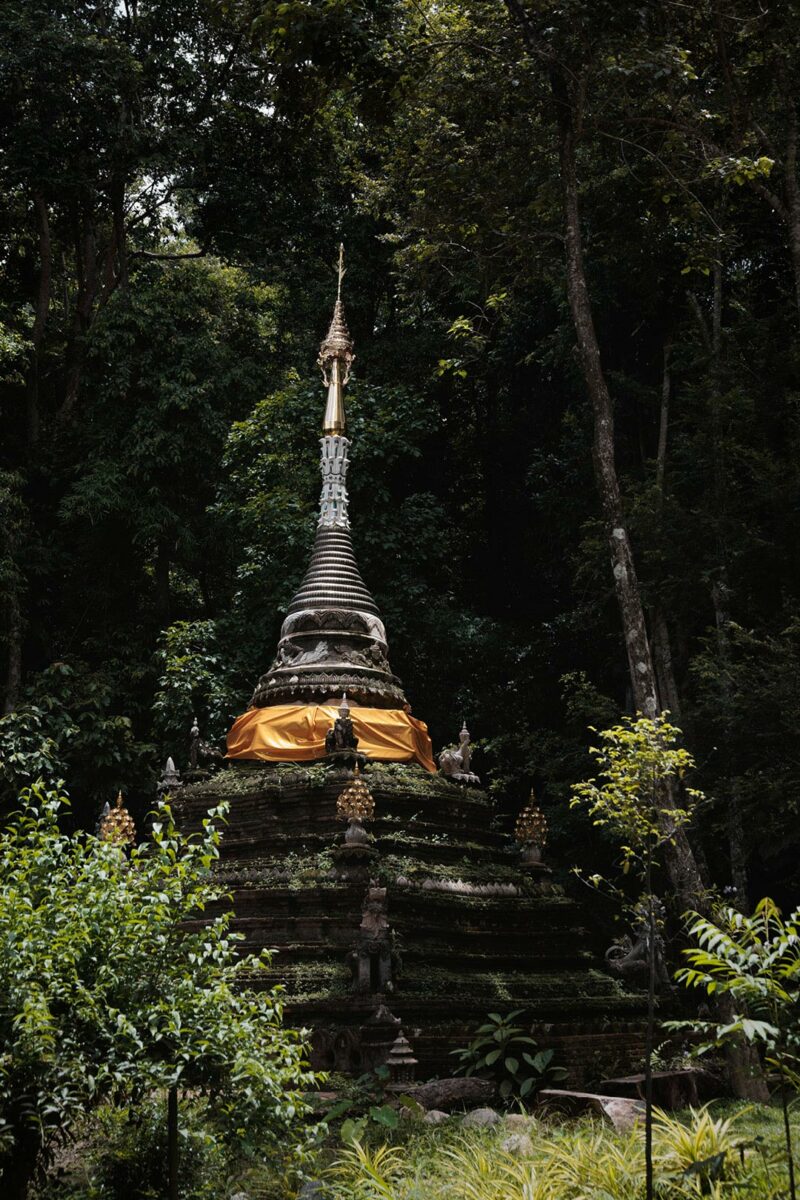 Immersed in this scenery, the main temple is made entirely of wood and stone, the statues are all white, and both the decoration and the sense of sacredness is left to plants and flowers, instead of being handed over to gold and gemstones.
Slow flow
In the middle of the site, overlooking the whole city, there is a little bridge, a passage from where you can admire the view of Chiang Mai in all its glory: mountains rising up against clear blue skies and greenery everywhere.
Among trees, wooden buildings, grey stone statues, and an airy, mossy silence, there is a river that flows into a placid waterfall. You can hear the stream of water as it falls continuously, giving us one more chance to be transported elsewhere.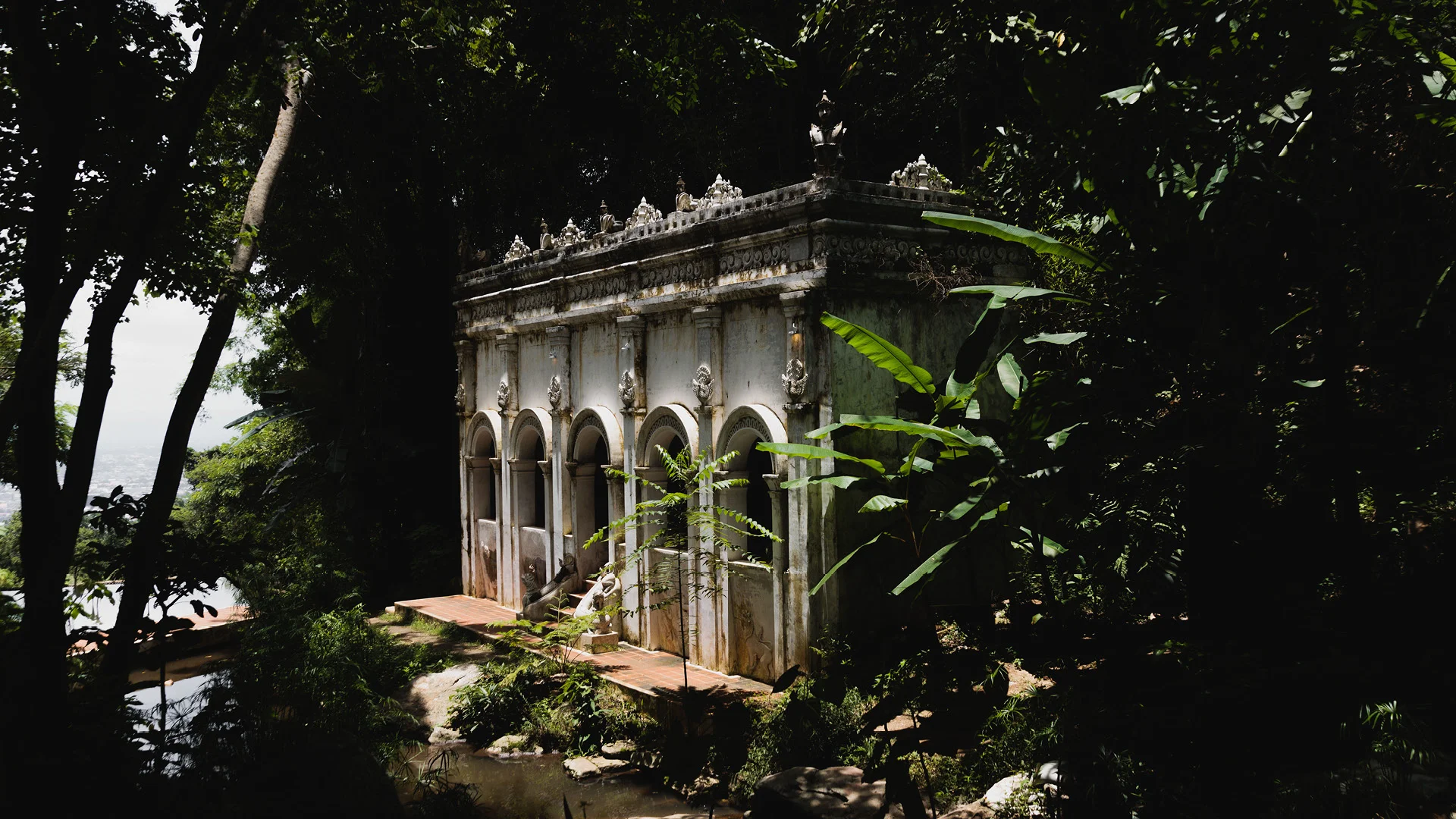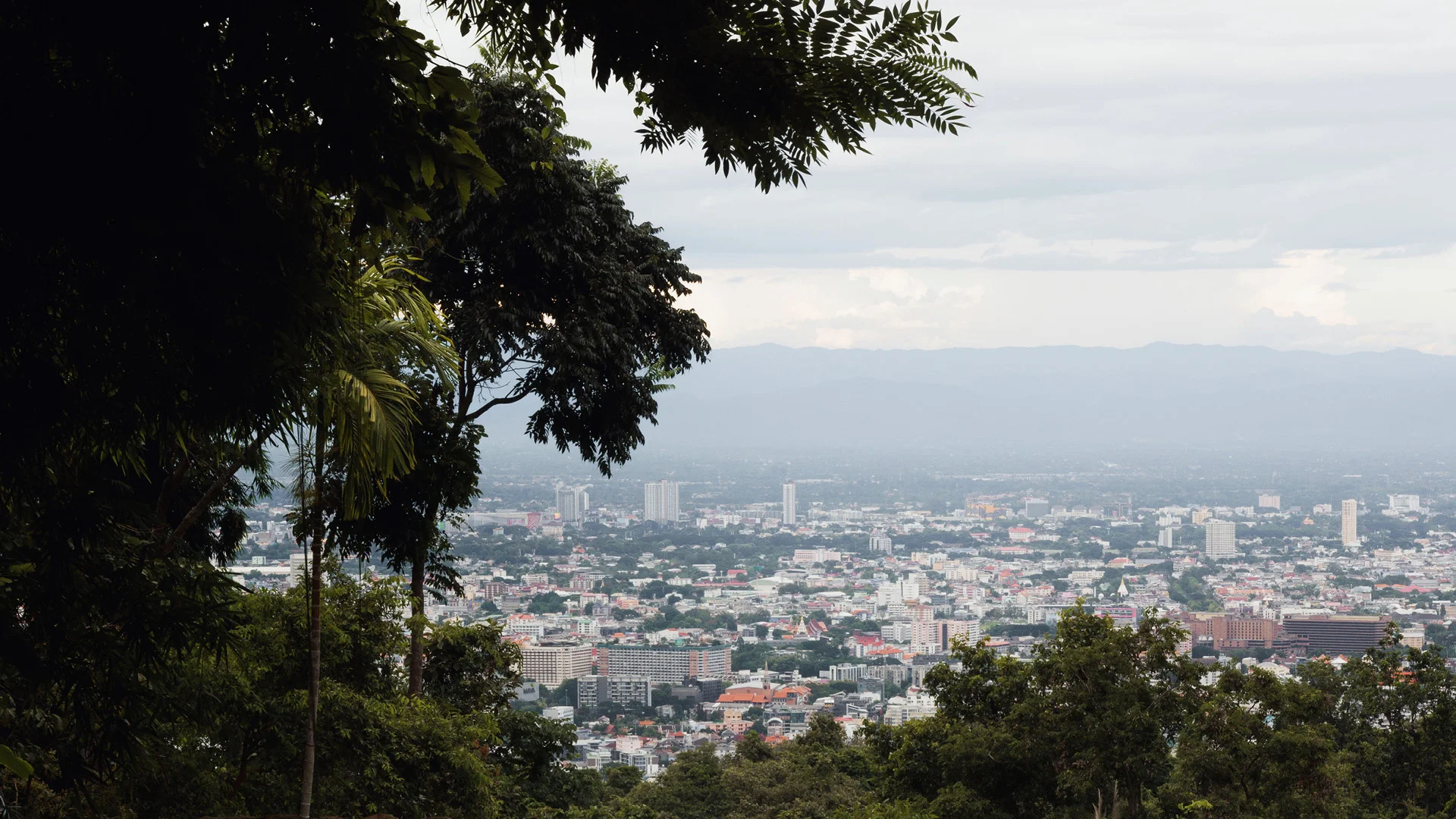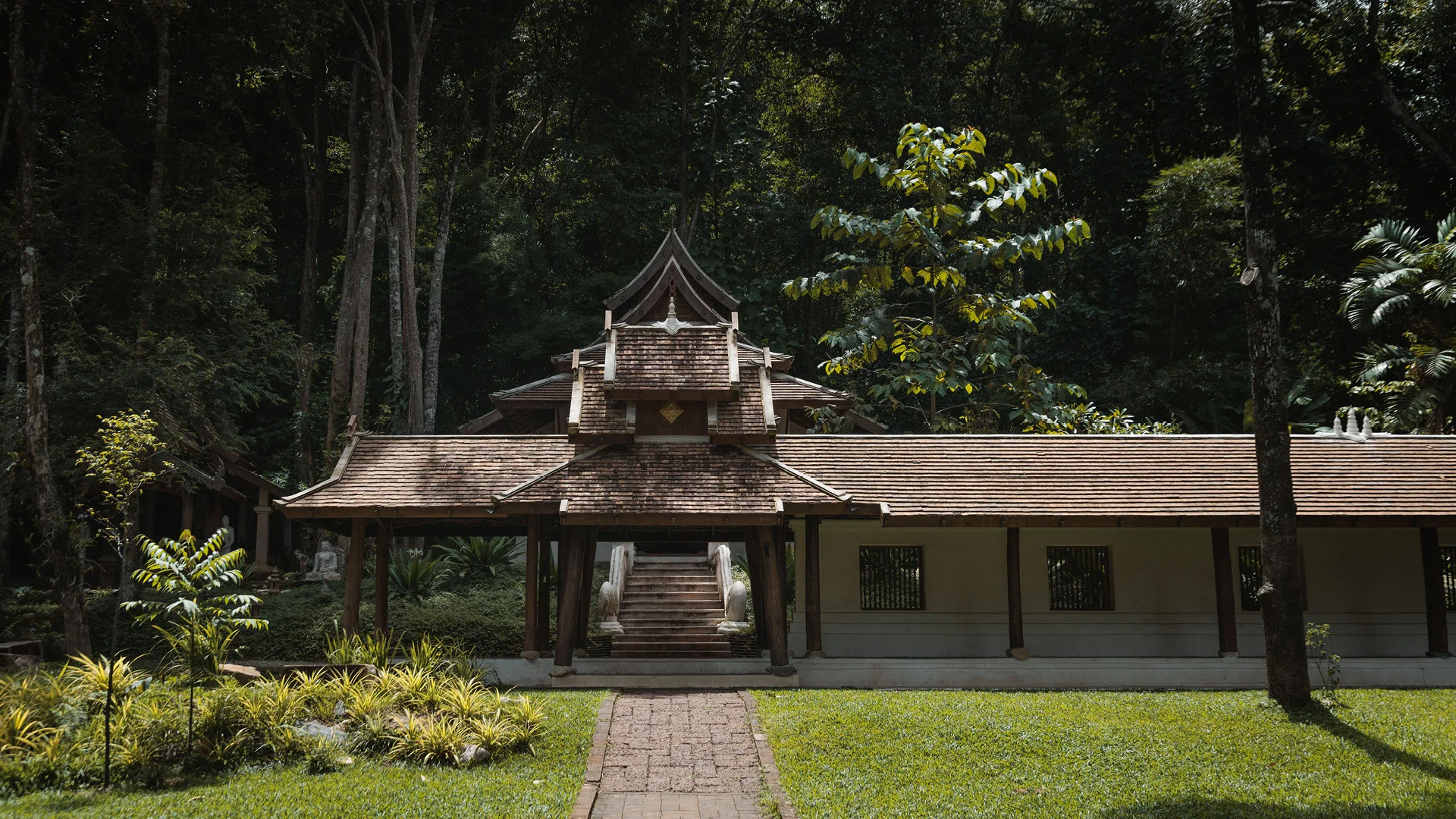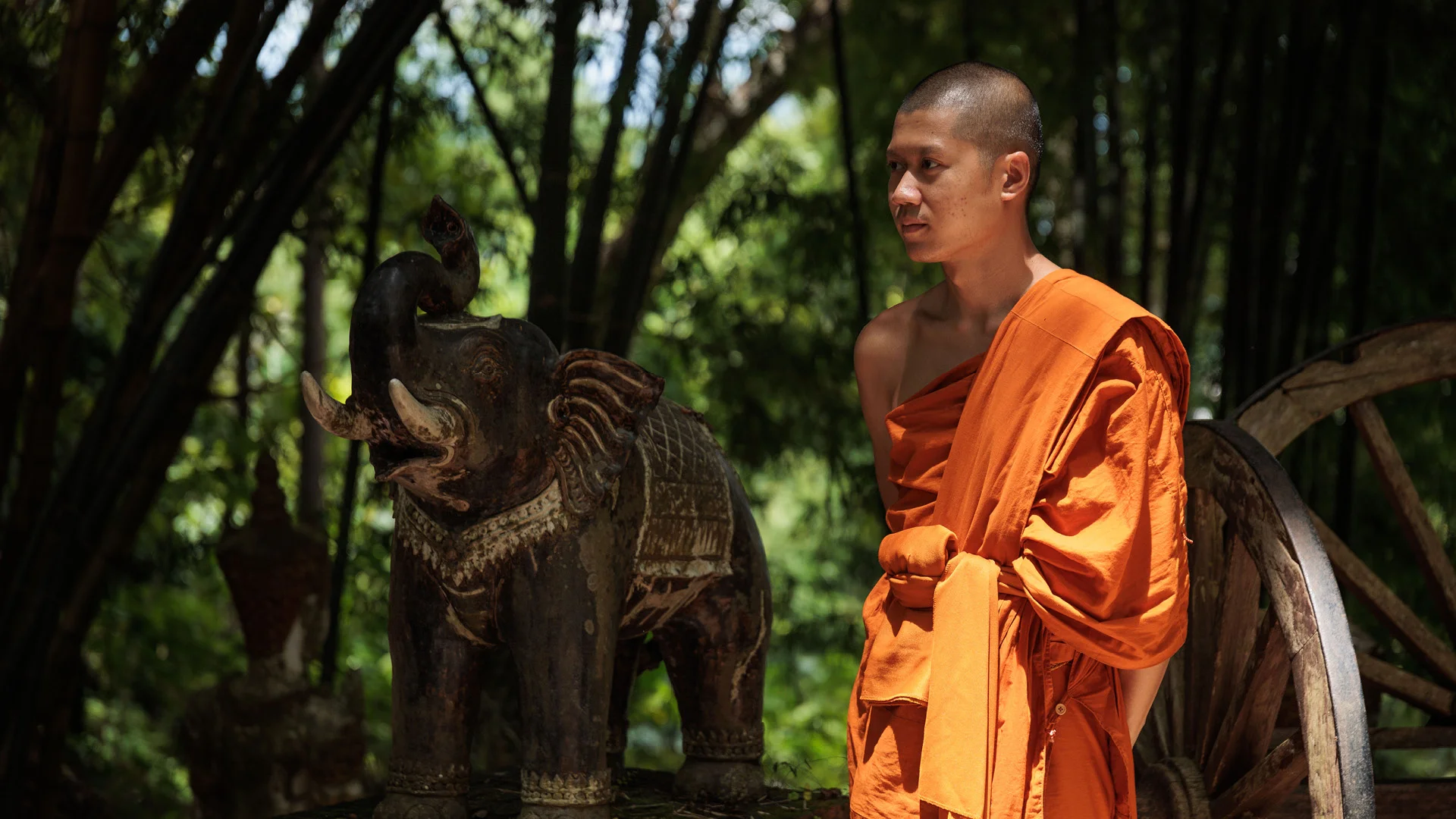 Jyl listens to the river and sits on a rock to meditate, eyes closed, I can feel the secret door opening in front of him, even if I cannot see it. It's a special moment, for each one of us, and we appreciate the ability to share it while also being alone.
Guardians of Wat Pha Lat
Since we arrived, we haven't seen many monks, even though we know they are here, somewhere.
Everything looks neat and fresh and the moss is free to grow only on the sides or the base of the statues. No one in sight, and yet it's like someone walks just behind us to silently sweep the floors, the passage and make sure everything is clean.
The statues are a cold shade of ice gray, contrasting with the dark green surrounding them, a choice of modesty that only makes them all the more powerful. The simplicity of their designs gives them an otherworldly look, like they've come from elsewhere, like they could be alive.
Small child Buddhas sit here and there in the grass, adorned with necklaces, flowers and money in their laps left as offerings, hidden in the bushes one statue is meditating, standing on a rock a young monk is holding a frangipani flower; an older Buddha with a lotus leaf atop his head is to be found in a nook, sheltered and looking rather peaceful.
At the foot of the stairs two guardians are watching over the city. One is Maitreya, the future Buddha, who is yet to come, seated cross legged with one hand up. The other one is Kuan Im, the Goddess of mercy, she is also know as Guan Yin, short for Guanshiyin, "The One Who Perceives the Sounds of the World". They are both bodhisattva, they reached enlightenment but decided to stay, to delay nirvana to be able to be here and help people. Somehow, I don't think it's a coincidence.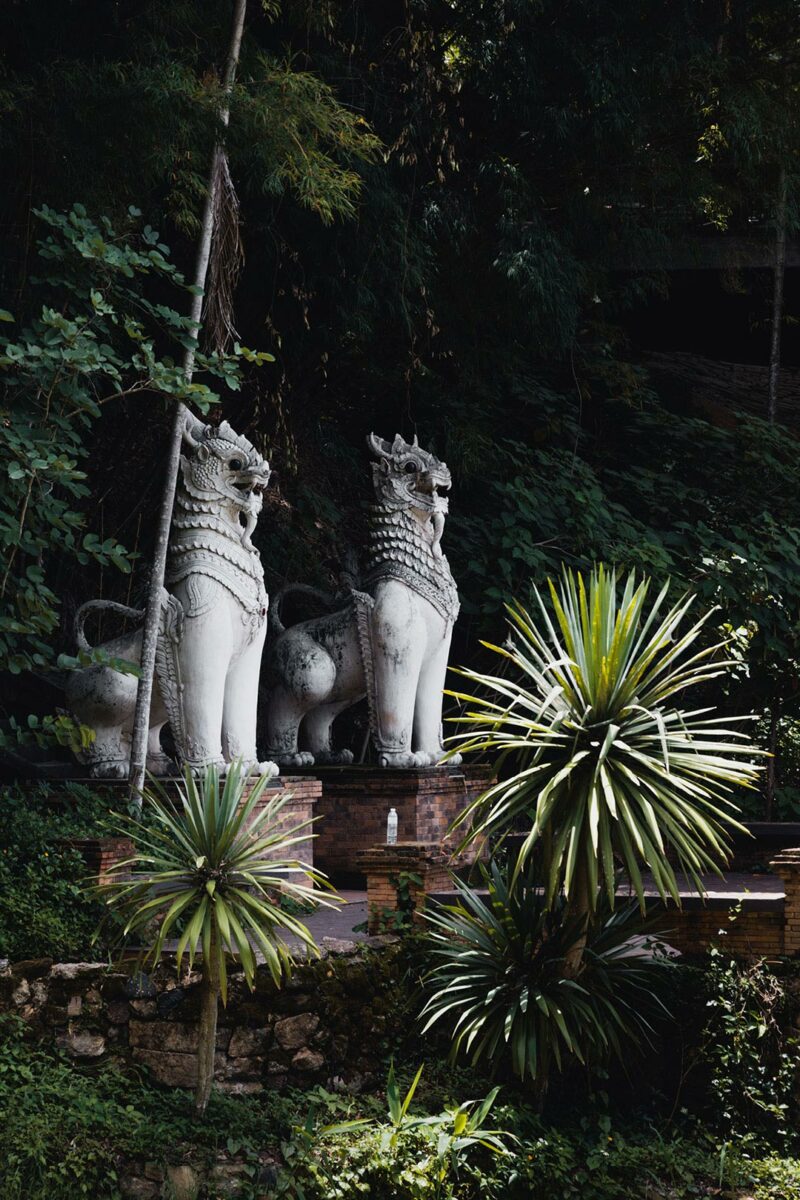 Each statue has its own story, its own life, and nature around come together to protect and cherish every one of them.
The invisible caretaker of the temple
Walking around the temple we are overcome with this sense of presence, of things happening just around the corner of our sight. The entire place vibrates with an energy of safety and silent aliveness; the little monk in the corner seems to be laughing because the stick insect is tickling his head! And all this makes us wonder: is this place spellbind?
What if, when no one is looking, the spirit of the statues awakens to take care of the temple? And what if there's truly some beyond understanding kind of magic that makes this place exist, suspended in time?
The legend of the elephant
The temple was built between 1355 and 1385, under the reign of King Kuena, who ruled this region at that time. Many legends surround its construction. One of them revolves around an auspicious elephant. On a day like many others, a monk found a relic. It was a bone and it was believed to belong to Gautama Buddha's shoulder.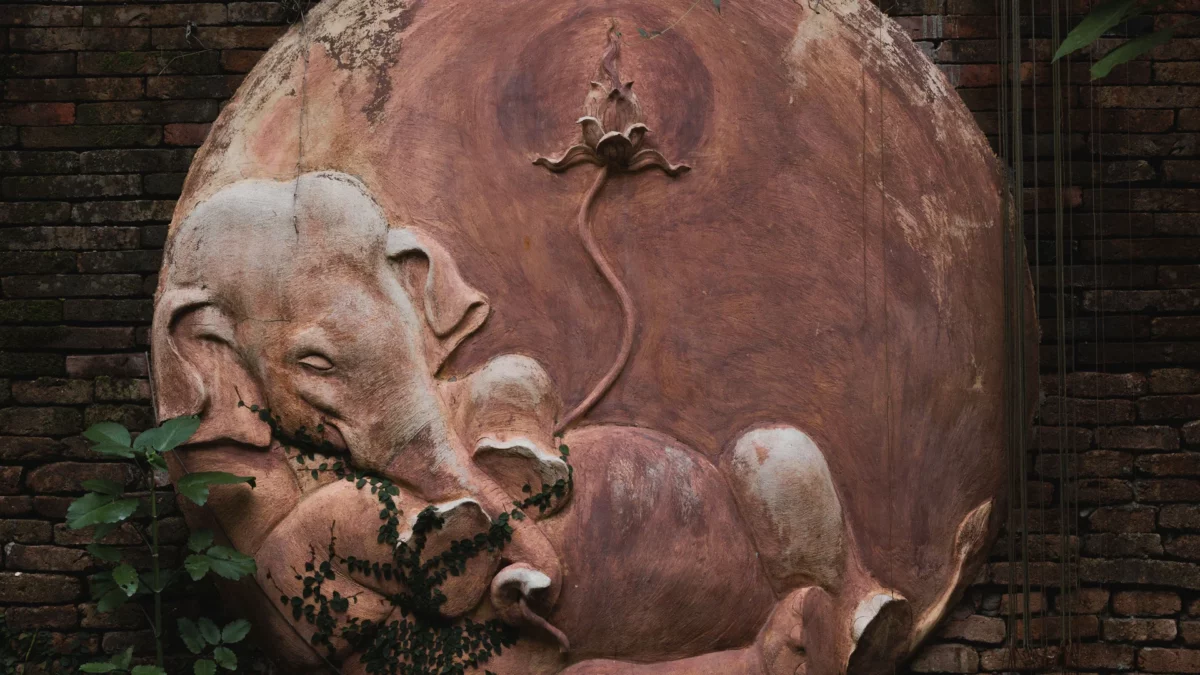 The relic had magical powers, it could disappear and reappear and glow in the dark. On the king's order, the monk instructed an elephant to carry the relic into the middle of the forest, and let the relic itself indicate where it wanted to be.
The elephant continued marching, making a couple of stops and, once it reached the top of Mount Doi Suthep, it died. The king then ordered three temples to be erected – one for each place where the sacred elephant had stopped. Wat Pha Lat and Wat Phra That Doi Suthep, were two of those three places.
Eventually, the temple fell into decay and was left to itself until 1934, when a wealthy Burmese businessman decided to restore it. You can see the Burmese influence in the architecture, especially in the main temple.
Wat Phra That Doi Suthep
It's impossible to talk about Wat Pha Lat without allowing a digression into Wat Phra That Doi Suthep, as their stories intertwine like the ones of two siblings. This one is a very important temple for Thais. Beautifully designed, it boasts the longest naga balustrade in Thailand. The nagas depicted there have 7 heads and, indeed, climbing these beautiful stairs makes quite an impression.
Once at the top, you first encounter an elephant statue in honour of the legend surrounding the temple's creation. Continuing on, a dazzling golden chedi towers in all its splendour for over 24 metres.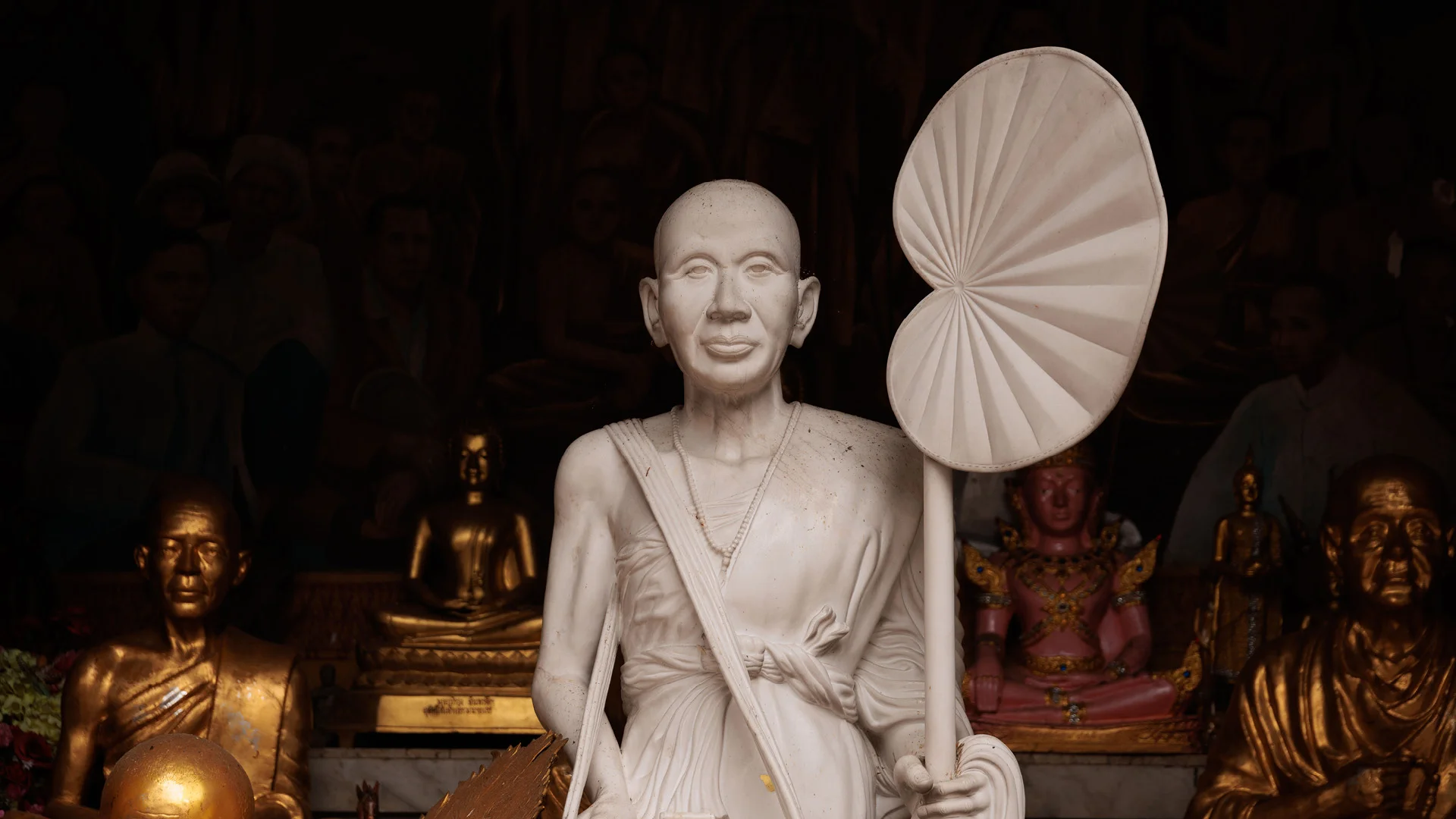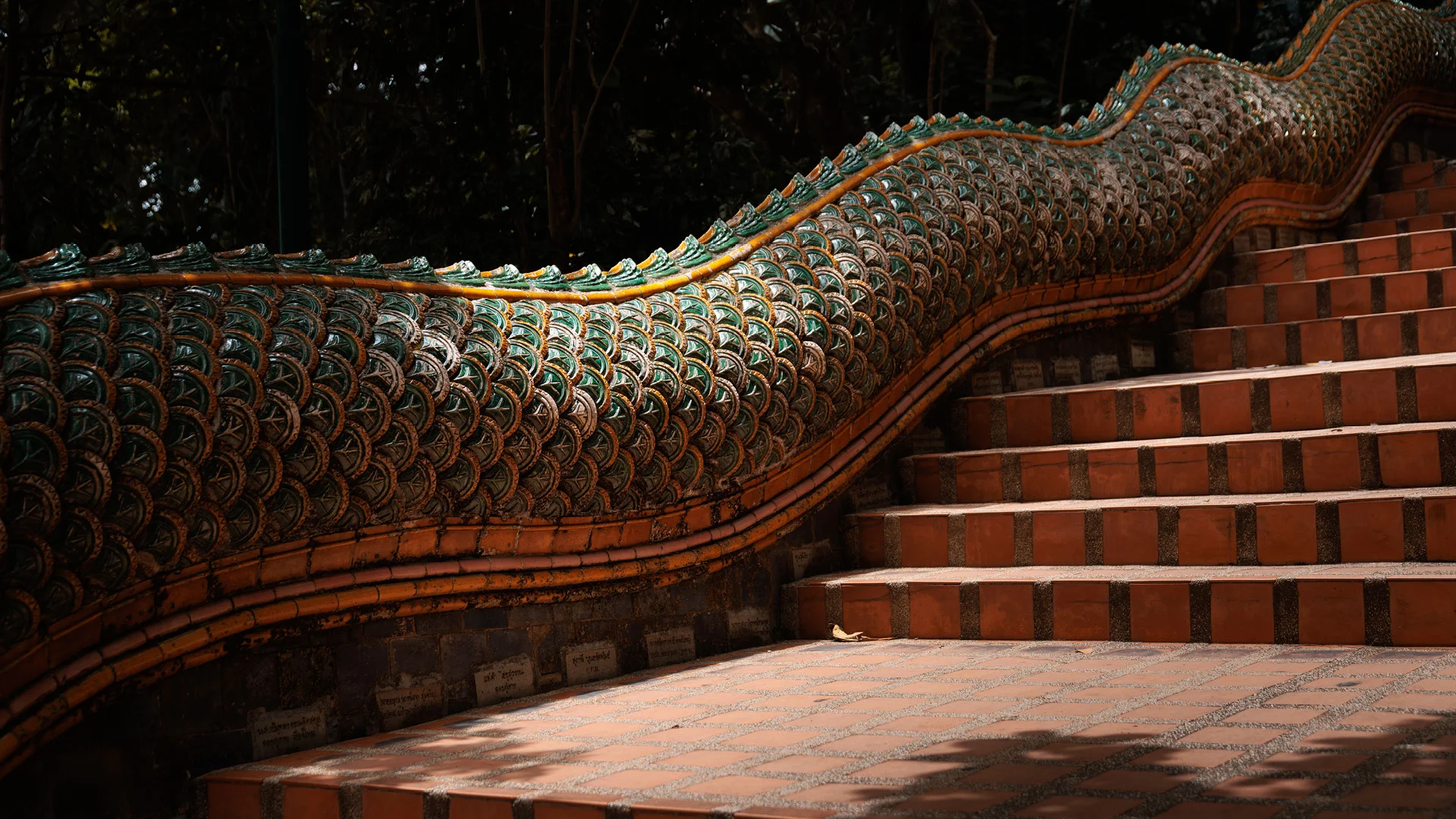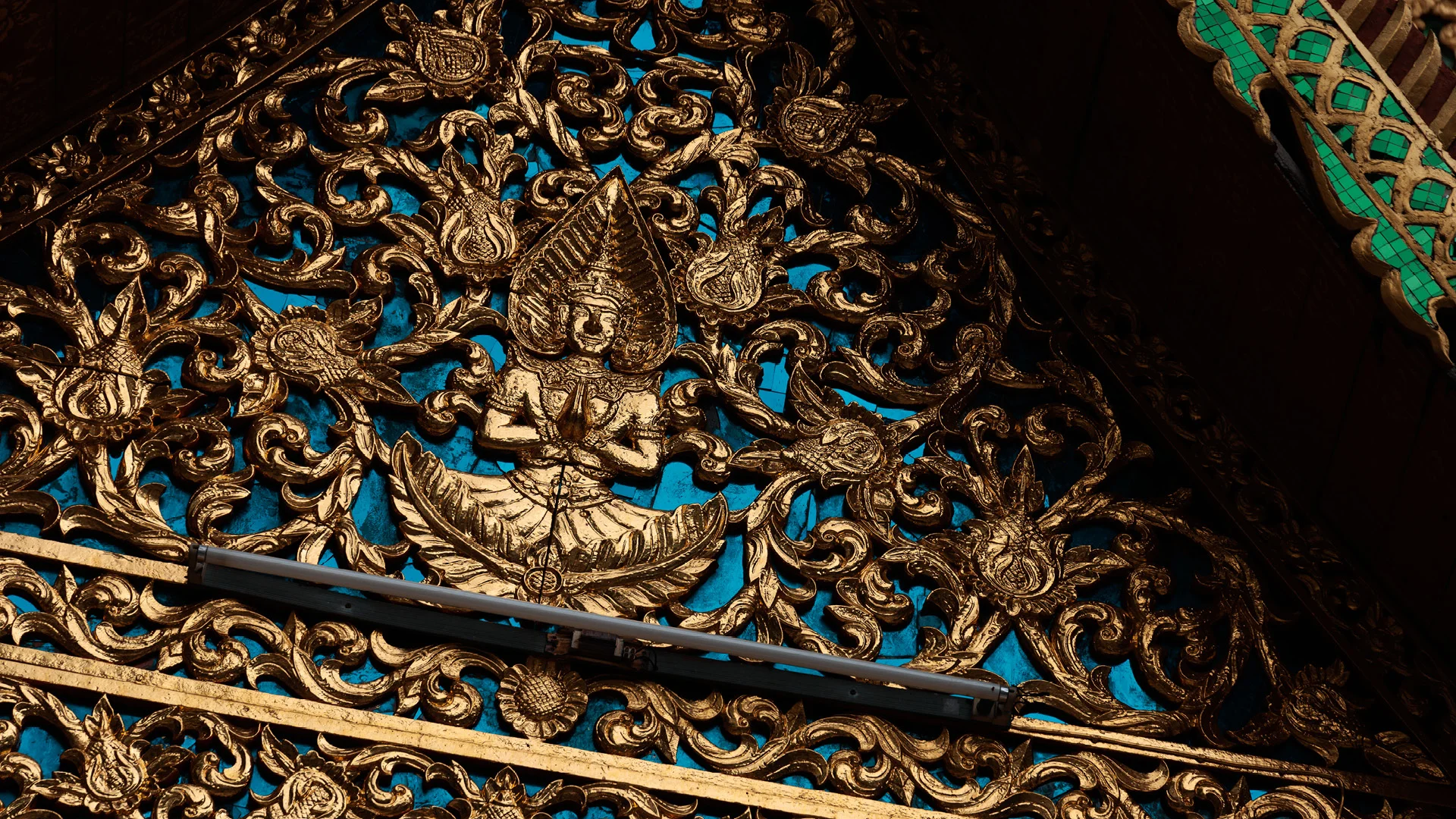 The Buddha statues are also gilded, and there are many of them lined on the perimeter of the premises. A string of gongs and bells is on the right side of the main temple. People follow one another in procession, praying, bowing, kneeling before the altars. They take off their shoes or flip-flops, light incense and murmur their prayers invoking the Buddha.
How much gold is to much gold?
It is very spectacular, as far as gold goes, but when thinking of Buddhism, its humbleness and non-possessive predicaments, it still feels a bit odd.
Gold has been used for Buddha representations, chedis and stuppas for centuries, perhaps with the idea that it can convey a sense of richness that translates to the spirit. However, it's hard to imagine that Buddha was particularly fond of gold. One of the main teachings of Buddhism is that all things are impermanent, and nothing can remain static for long without being corrupted by attachment or greed. But then, when is this too much? When does something become unnecessary in Buddhism?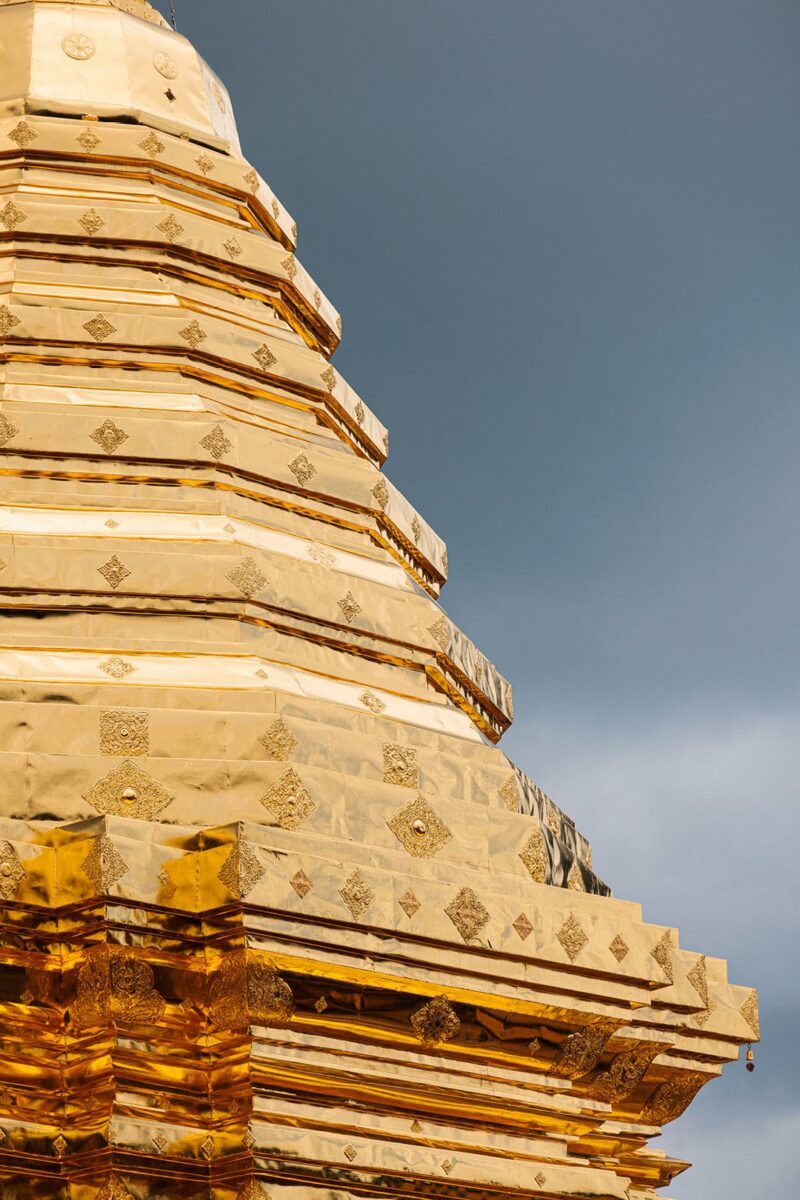 We discussed non attachment with our friend Jine, with whom we spent the day going around temples and villages. Jine is the Wat Pha Lat of the people we met during our journey; want to know why?
Unwrapping the temple, only nature is real
In over 7 months of travel, Wat Pha Lat has been our favorite temple so far. Both Jyl and I had a simply magical, almost mystical experience there. Nothing compares to that peaceful serenity, that sense of having recovered something we didn't know we had lost.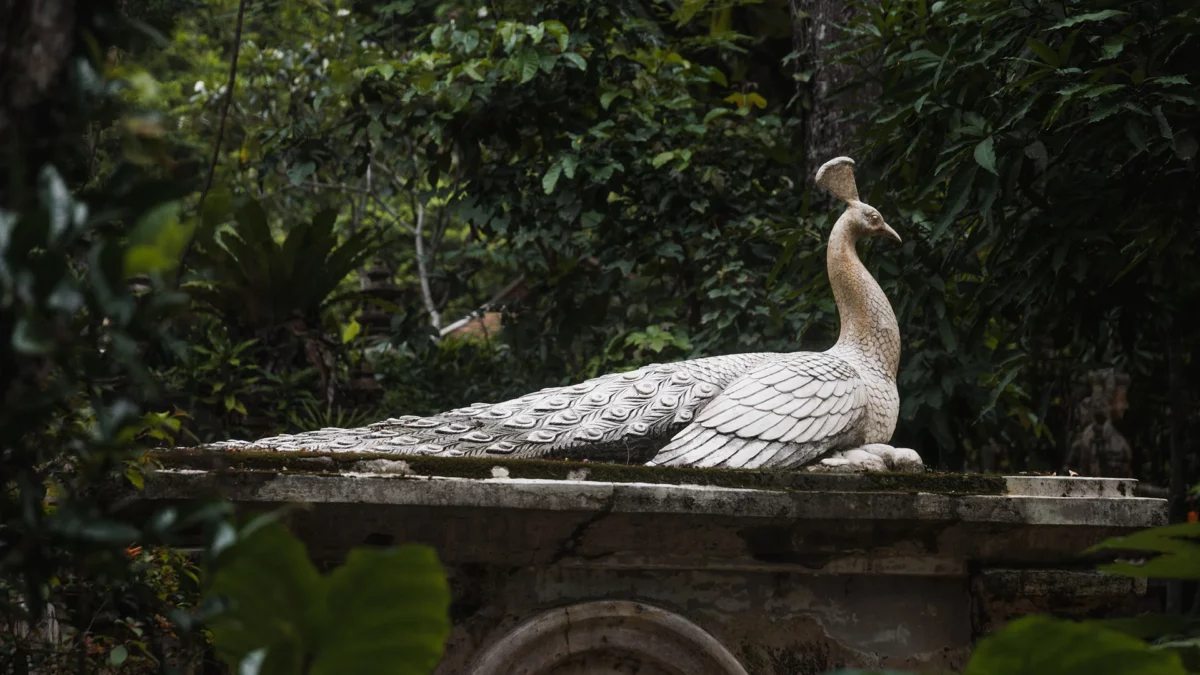 And like all things that are less flamboyant, that make little noise, this place requires time and attention, it demands that we open our innermost world to it. Only then can we can be part of  it. Only then can one receive its gifts. This invitation to prayer encapsulates well the essence of this space, and if you ever visit it seek the experience of the heart and not of the eyes, seek it through feeling, through the organ with which one investigates life in its deepest meanings.
The impression reverberated for a long time, lingering with us even after we left. It is a very different place compared to other temples we saw in Thailand: no gold, no opulence, no dazzling mirrors, no glitz.
Among these sacred places immersed in nature and silence, you'll find an opportunity for stillness that you rarely have while visiting stunning, bright and colourful Thailand.
---
Praying verse procedures from Wat Pha Lat – Invitation To Mindful Presence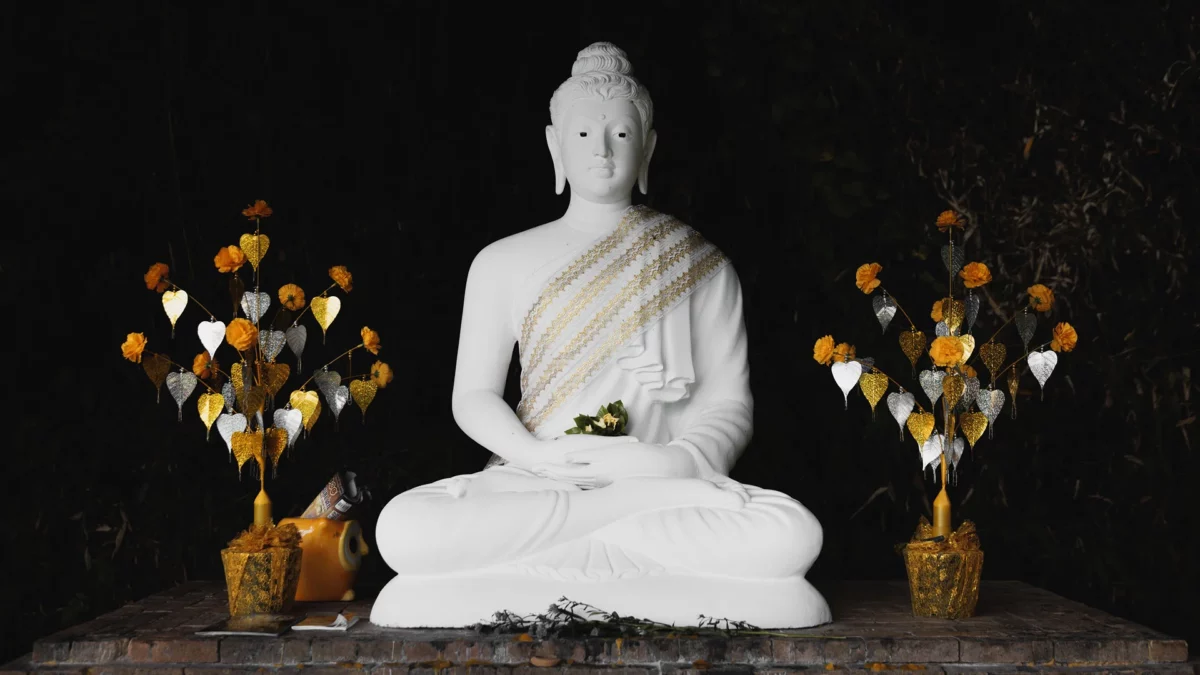 To all who aim to visit and pray at this holy place.

Firstly, you must learn how to hold your breath as as part of the practice of making merit.
Secondly, open your vision as far as your imagination. Open your mind, and breathe softly while you become calm and at ease.
Thirdly, concentrate in order to send out love, compassion and willingness to all living creatures, near and far, to your loved ones for they find everlasting happiness and harmony.
Last but not least, pray for yourself by closing your eyes slowly and opening your heart and mind to accept the immense power of nature. Take a minute.
Open your eyes slowly and send your love, compassion and willingness to your loved ones while while ringing the bell three times.

— Supported by Police Col. Seehanat – Mrs.Chatwadee Prayoonrat & family.
---
If you find this article useful please pin it!