You want to touch base with your pagan roots, do you? It's interesting how we unthinkingly follow the Gregorian calendar, as if it were a natural split. We barely question Julius Caesar and inherently agree on the fact the new year begins in January. However, in many cultures across the globe, April signified the beginning of the new life cycle. And this cycle is all about nature, food, harvest and human partying together. It is about a feeling that sleeps inside of us but that we too often leave dormant! New year in Asia is an invitation to shake it up and to reconnect with it! So, what are you waiting for? Put your bathing suit on, stick your phone in a waterproof pocket, and arm yourself with your favourite water gun. This is all you need to know to survive New Year in Cambodia!
---
How it all started for us
We got a first taste of the celebration on the tail of our last days on the Island of Koh Rong Samloem. The preparation for Choul Chnam Thmey, the Cambodian New Year, started early. We didn't know what to expect and this detail made it even more fun for us.
There was this sense of anticipation that was palpable in the air: children and adults alike were preparing for the festive days, some doing karaoke louder than usual, some buying talcum powder, some contributing to the creation of the setting for the collective celebration.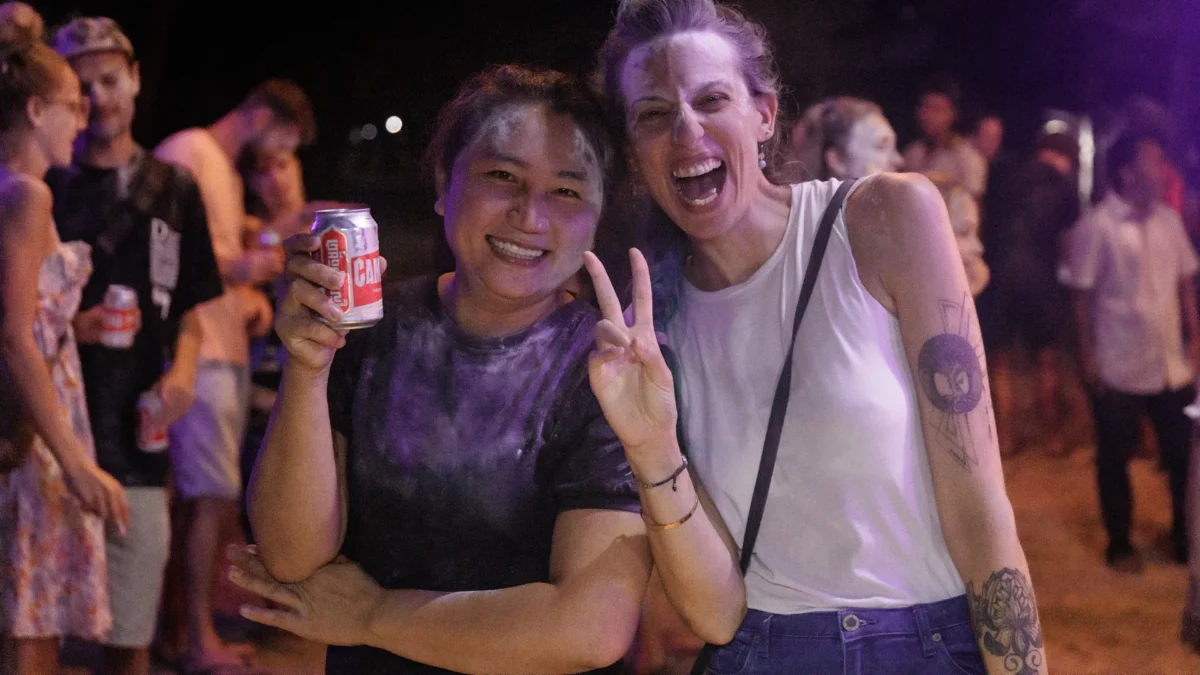 The construction of a splendid floral altar took place before our eyes and under a blazing sun, over the course of several days. Banana leaves both real and fake were used, and then, little by little, fruit plates were placed on top, and then snacks of all sorts, biscuits, money, booze and incense in quantity.
Post-Covid Aquageddon
The Covid pandemic shocked the life of everyone! People had no other choice than moving slowly, progressively freezing their social life, until togetherness became the rarest of animals. Hugs turned into text messages, drinks with friends turned into zoom aperitifs. It was as if a dam had been built which blocked the flow of human interaction. This new year was a turning point for many Khmer who didn't have the chance to celebrate this tradition for two years! So when the dam broke, it popped like a lid on a boiling pot, releasing a flood of celebration and connection.
We got soaked by water guns, then smeared baby powder. We got then rinsed with buckets of water, smudged with talcum powder again in an infinite loop. By the end of the day our entire body was purified and ready for the year ahead (2565, in case you wonder). We found so much beauty in the care that the Khmer people put in this celebration and the evident joy they found in the simple things! We got splashed by grandmas, fathers, sons, and even toddlers.
Water, baby powder, the cleansing of the soul!
Baby powder and water are staples of east-Asian New Year celebrations. People run around the streets smearing talcum powder on the faces and bodies of friends and strangers. After that, everything is washed away.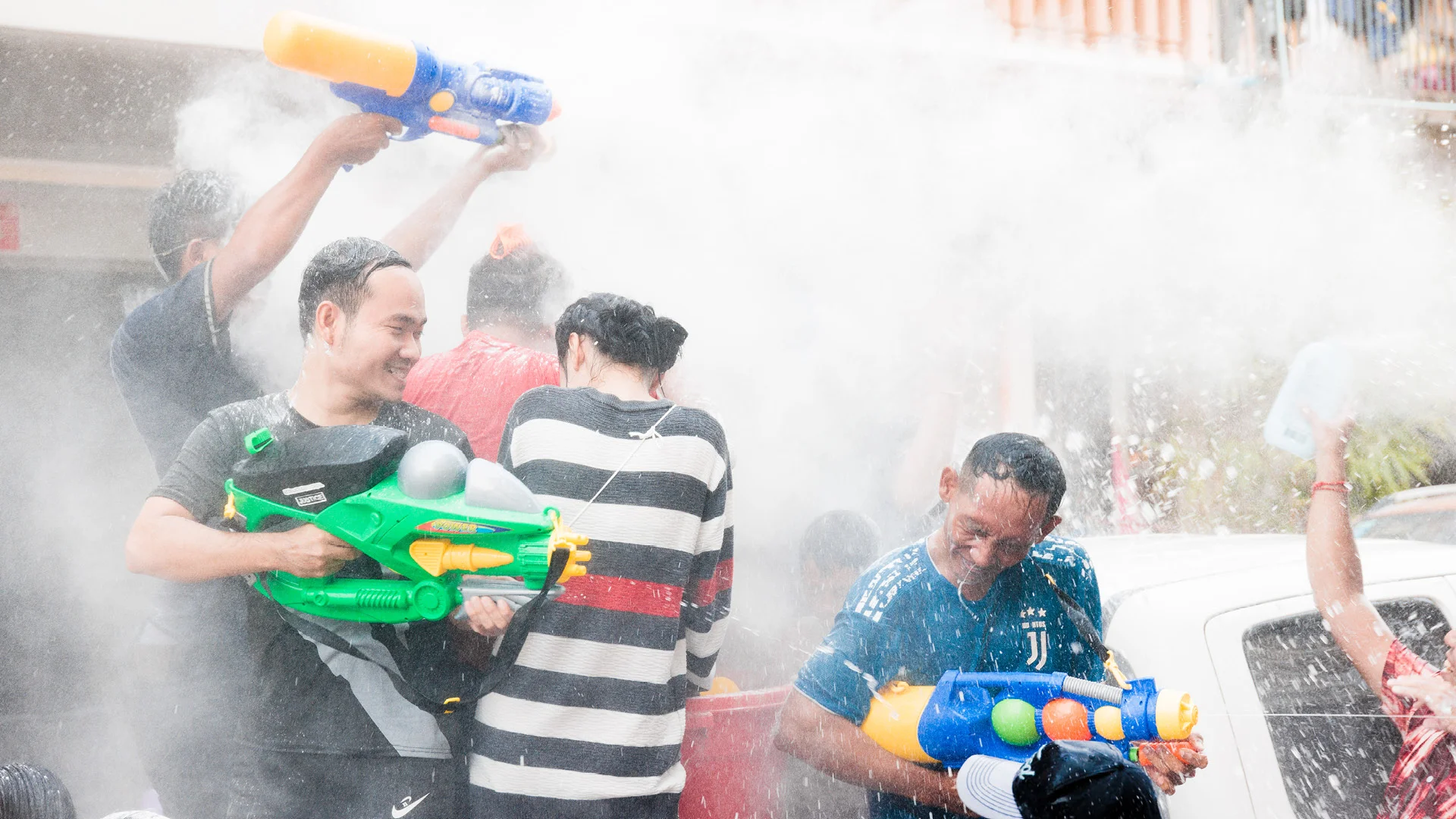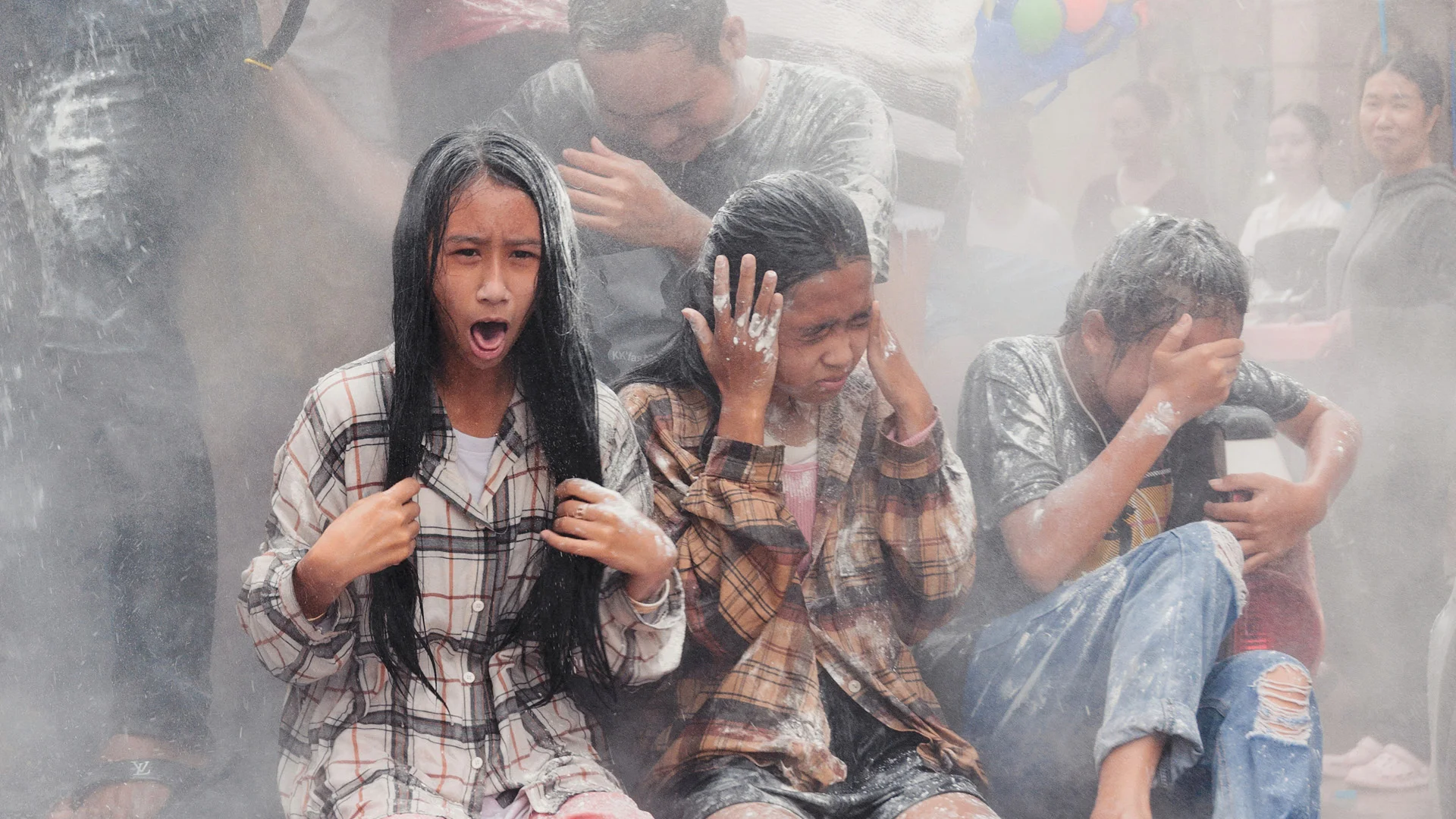 Water is used as a cleanser, a way of giving blessings and wishing people well. It is also a must to fight the heat of the Asian sun of April! But why do east-Asian use white powder at New Year's?… We tried to figure it out, we asked around, left and right, to bartenders and passers by, young and old, local and expats… All we got is vague and very different answers. While researching, we stumbled on various reasons too. But this is not an article made for knowledge, this is an invitation to experience!
Gangs of Kampot
We were lucky enough to join the madness in the streets of Kampot on the last day of the festivities. The streets seemed to be in the midst of a purge. It became clear that walking alone was not the way to go, as it would've been impossible to find each other again. Observing around, we started to see the trends and started to learn more about the gangs of Kampot!
The house gangs
Rightfully confident, the house gangs are the most prepared of any gangs. Every container that exists in the house, from the bin to the beer cooler, has been requisitioned. Filled with water, they are the perfect ammunition. All the garden hose available are connected to a faucet, ready to shoot water to the other side of the street.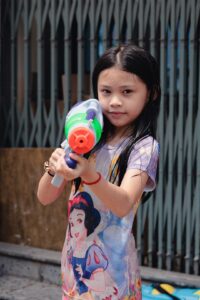 Parents often hide in plain sight, protected behind a row of soldiers from a younger generation. Kids and toddlers are placed in front of a puddle as a decoy! Do not trust them! Behind their cute smile they are ruthless and will throw water at you by any means! 
What they have gained in power they lack in mobility but they do not care, if you approach slowly they might offer you a fresh can of beer: this is also how you celebrate the New Year in Cambodia!
The car gangs
The car gangs are the most devastating of the Choul Chnam Thmey festivities! Picture a huge pickup truck, and in the back, stuffed like a regiment, up to 10 friends in the prime of their youth armed with water guns. In between them, a huge bin filled with 100 litres of ammunition to reload. In their pockets, bottles of baby powder.
They patrol the street in slow motion, fearless. In tow they often have a mysterious and deafening source of music which, if you are familiar with Cambodian hits, you will know is a perfect distraction to strike. If you find yourself between two of them RUN! There is nothing else you can do but hide somewhere or be drenched to your core. Do not engage!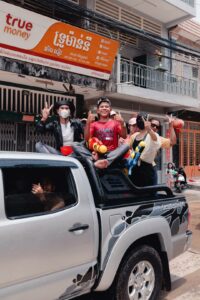 They are by far the most fit soldier of the all celebration, cunning and fast, they work in teams shooting you with water and talcum till you don't remember where the north is. House gangs will ally to take down the full car in a strategic attack. Those attacks are fast, coordinated and deadly. A cloud of white, rise in the air and as the fog disperses, the only things left will be a bunch of blind and disoriented coughing teenagers.
The assassins
They are the fastest acting units, three to four people on a motorbike or a bit more on a tuk-tuk, small amounts of ammunition but really deadly. They drive down the street in all directions, come from nowhere and empty the splash of a gun straight into your face before speeding off, the sound of their laughter louder than that of the engine!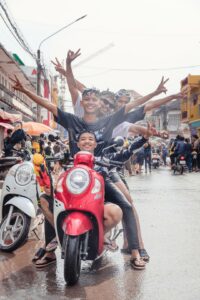 Woop-woop! That's the sound of da police
Well, what was the police doing? It's a good question, we are glad you asked! They made sure everyone ended up on the Durian roundabout where, on top of the fire truck they happily join the festivity with water cannons.
On the round about, an incredible sight: thousands of people around partying together, dancing, laughing, running, in a western movie from a parallel universe where there are no cowboys or Indians, and ammunition is a blessing of good luck! I wish you well with my garden hose, and you wish me health with your bucket and we all wish each other fortune with our water guns!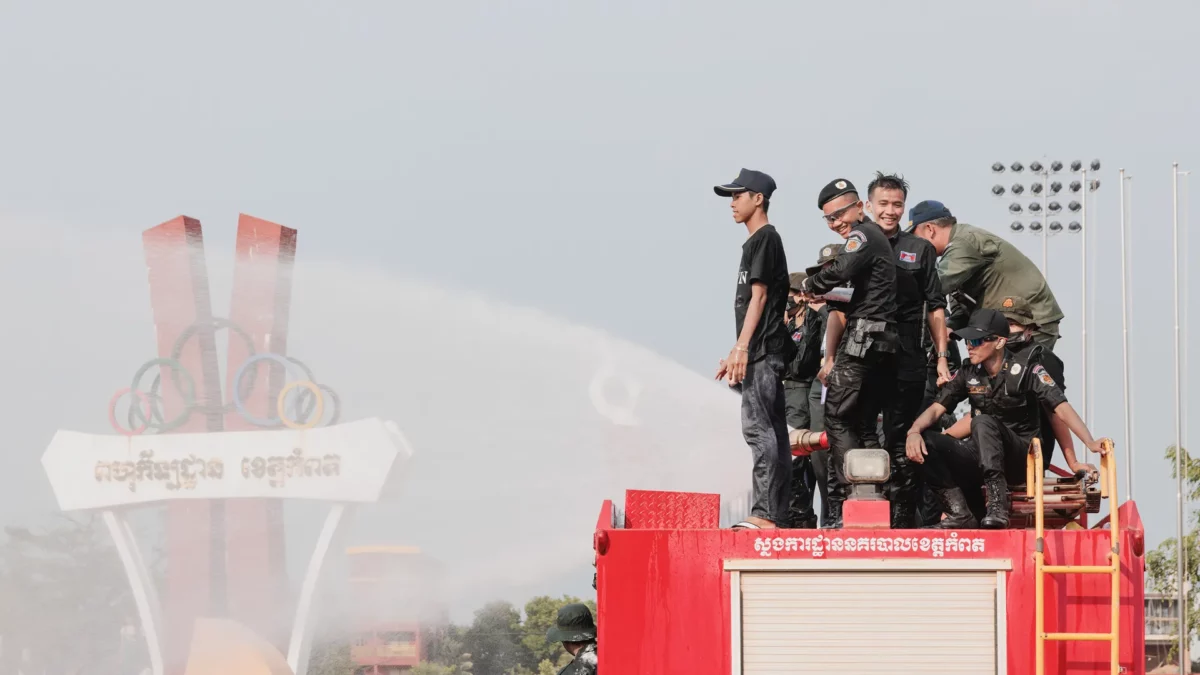 That is how we started the year 2565, what a way to celebrate the strangeness of this life and the beauty of living it!
---
New Year in Cambodia, a celebration for life
Life is energy and this energy grows in cycles. A new year is one that ends and one that opens! And this is true in our outer world as much as in our inner one! Celebrating it with so much strength and so many people we have never met, learning new customs without knowing their origin, was a wonderful experience of reconnecting with others.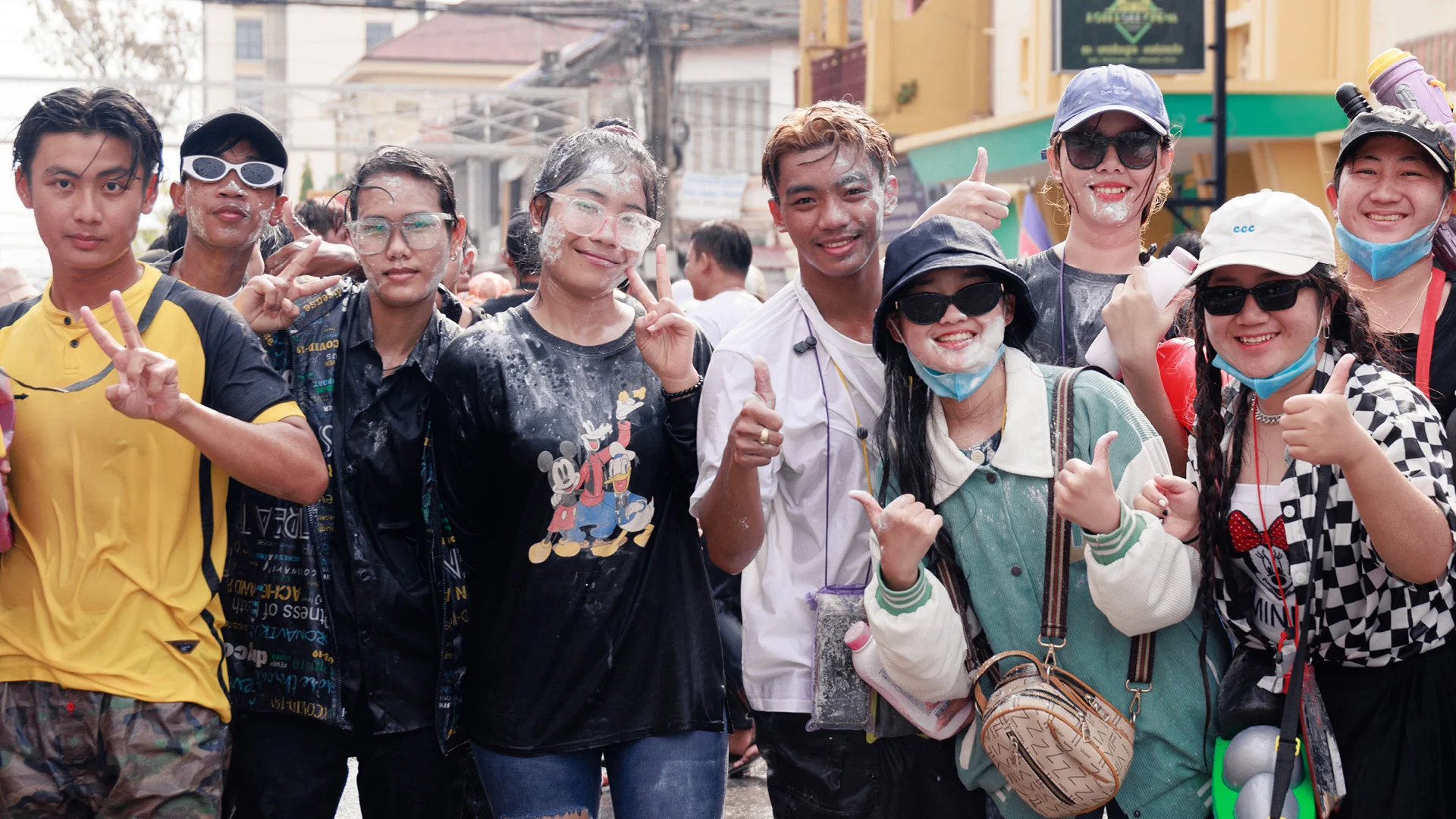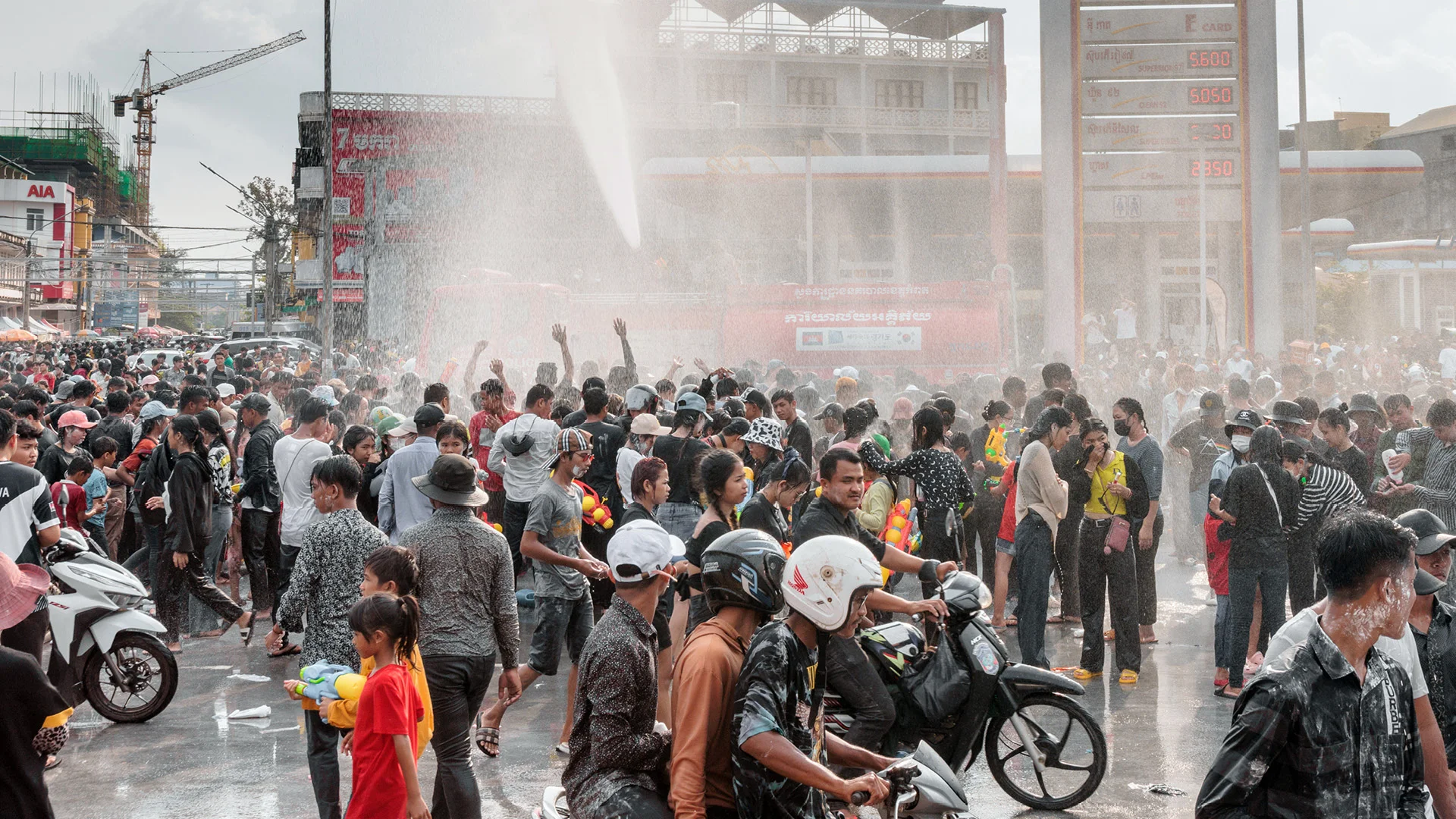 The celebration is an invitation to reconnect with your inner child and let go, to be part of a bigger energy that belongs to humanity itself, the one that rejoices in being alive! That energy does not have boundaries.
We feel so blessed to have been welcomed, baptised and cleansed by the water of this year, and by the welcoming people of Cambodia. Wherever and whenever you are, we wish you all the same! If you would like to see more photos don't hesitate to have a look at our facebook album!
---
If you enjoy this article please pin it!