Life in Laos was like a silent walk in nature.After an intense month in Thailand, we were looking for some peace and quiet. And we found it in Laos.
---
We took an overnight train from Bangkok to Nong Khai, just on the edge of Thai territories. Then we hopped on a small bus, with which we passed the Friendship Bridge and crossed the border.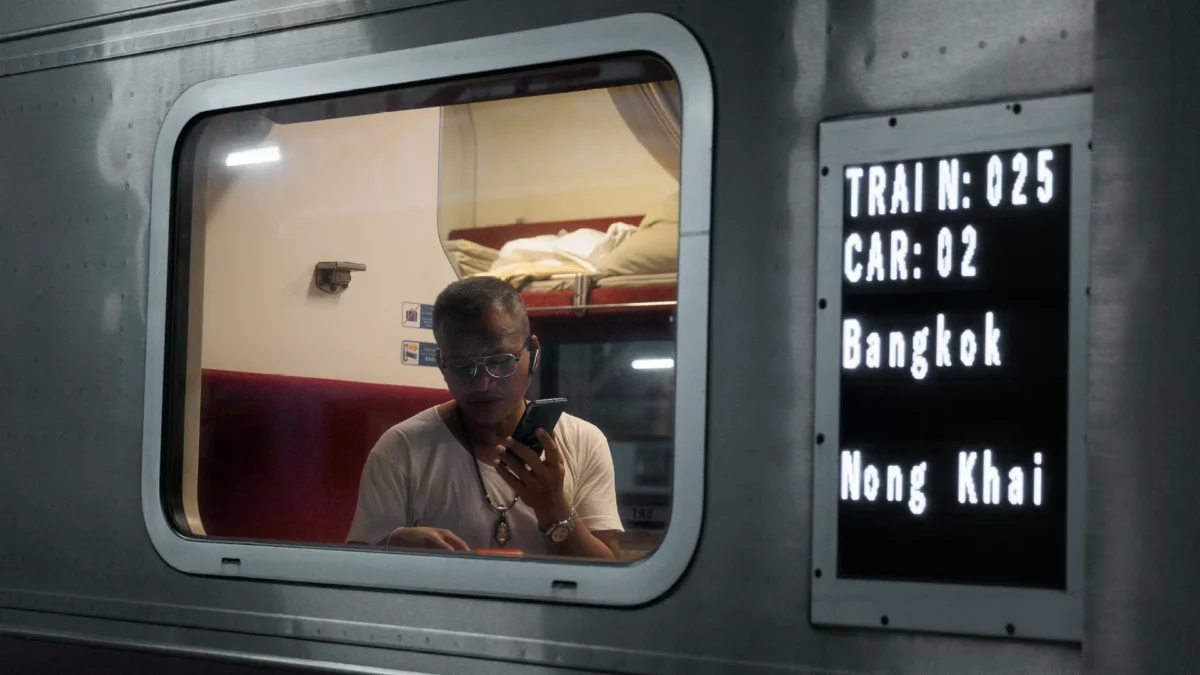 Back and forth to Vang Vieng
Tucked away in the valley, amidst mountains resembling huge Ferrero Rocher, is the city of Vang Vieng. A single main road and the vestiges of what, until three years ago, was a must-see destination for backpackers. Given the month spent on the road, we chose a place a little more comfortable than the usual guesthouses. A housing complex with three buildings set in a semicircle around a swimming pool. We had fresh fruit, pancakes and omelette with bread for breakfast every morning. A somewhat quirky staff gifted us a week of relaxation, undisturbed work and jumps in the swimming pool at all hours.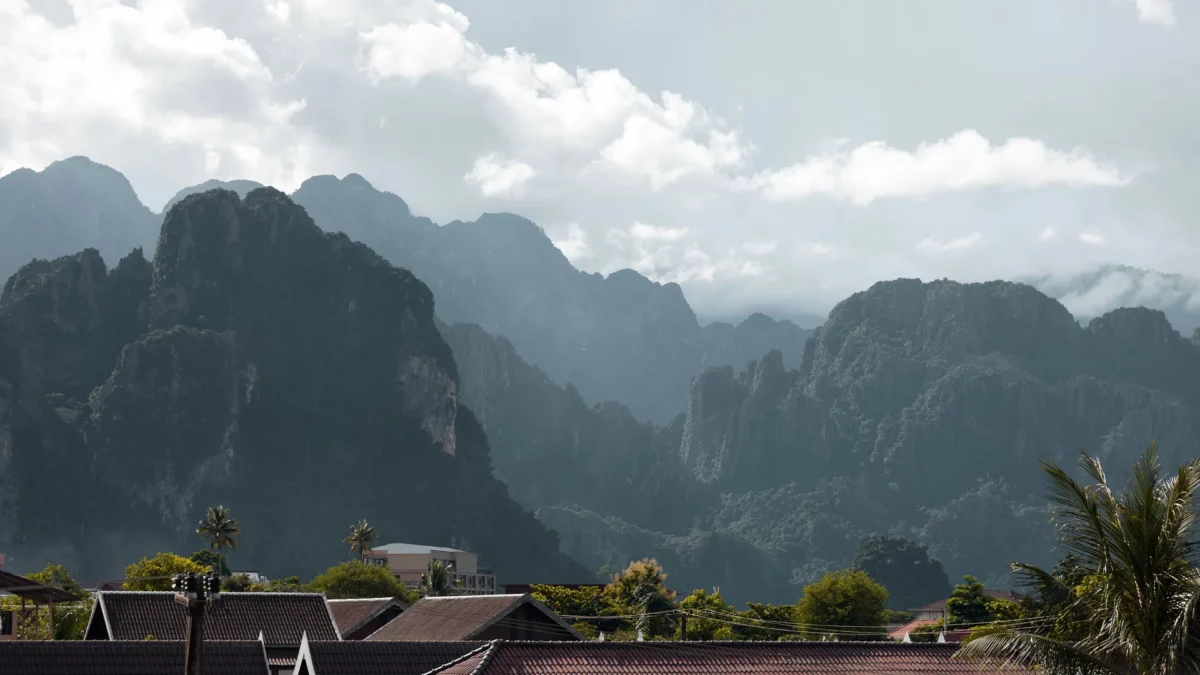 We devoted an entire day to excursions and group activities that included kayaking, a cave ride inside a huge inflatable doughnut, an hour of zip-lining through the trees (screaming, of course) and kayaking again.
The next day I couldn't lift my arms, but it was worth it, we had a lot of fun!
Up north, between nature and spirituality
Later, we decided to go to the city of Luang Prabang by train.
However, Jyl couldn't get a ticket, so he had to take a mini-bus, and oh boy, what an experience! Bumping and banging around, wading through stretches of puddle-lakes, passing the edge of a cliff unscathed, Jyl arrived safely at the destination, along with 17 other local travellers, who were unbothered by the road conditions.
Upon reaching our destination, we were greeted by lush jungle, mountains and pristine waters. A place of such serene beauty that we immediately felt calmer, as if a balm had settled on our nerves.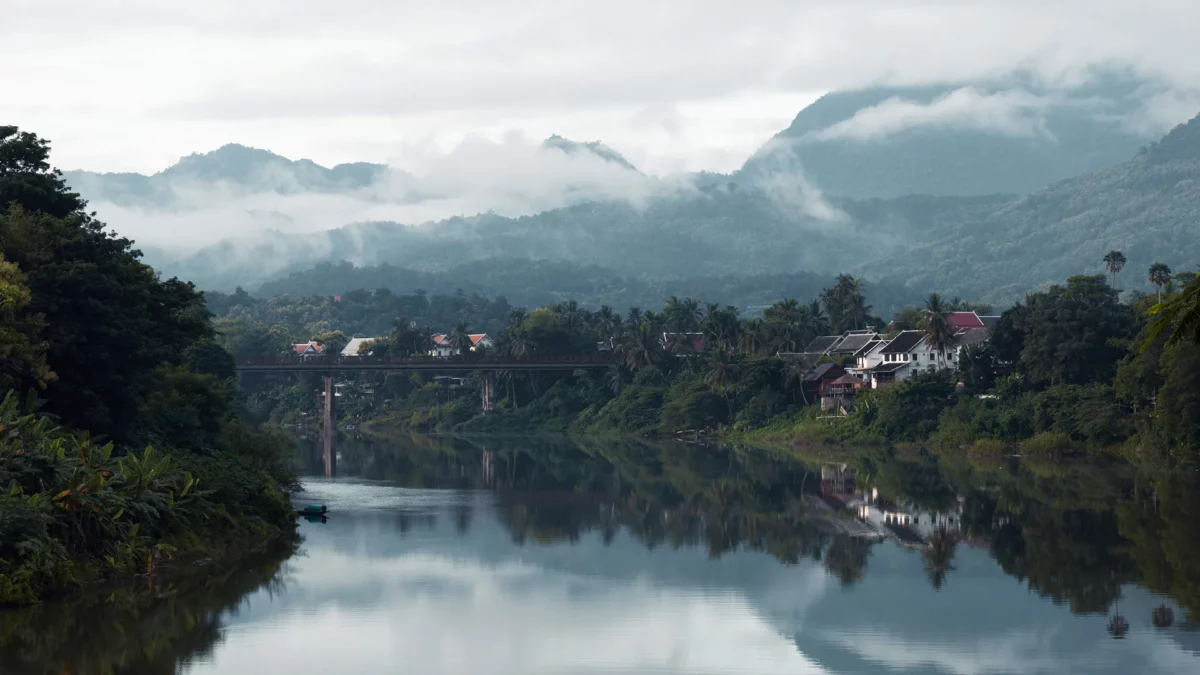 The city is a UNESCO World Heritage site, consisting mostly of solid dark wooden houses. Streets and narrow lanes are full of flowers, trees and plants sprouting around bars, restaurants and guesthouses.
Luang Prabang serves as home to numerous Buddhist monasteries, scattered around the city. This is where the Mekong and the Nam Khan river meet and merge.
Our life in Laos: alms ceremonies and waterfalls
The religious tradition here is particularly flourishing. A surprising number of tourists from neighbouring countries come to honour these ancient spiritual customs. The best known is certainly the alms ceremony, which takes place every morning at dawn in the city's monasteries.
Small plastic stools are placed equidistant around the perimeter of the monastery. In front of each one, there is a basket full of fruit and food. The devotees sit on the stools and wait for the monks, carrying a large bowl while trailing in tow with their orange robes. Everything goes into the bowl, indistinguishably. So many people are involved in this daily celebration of tradition.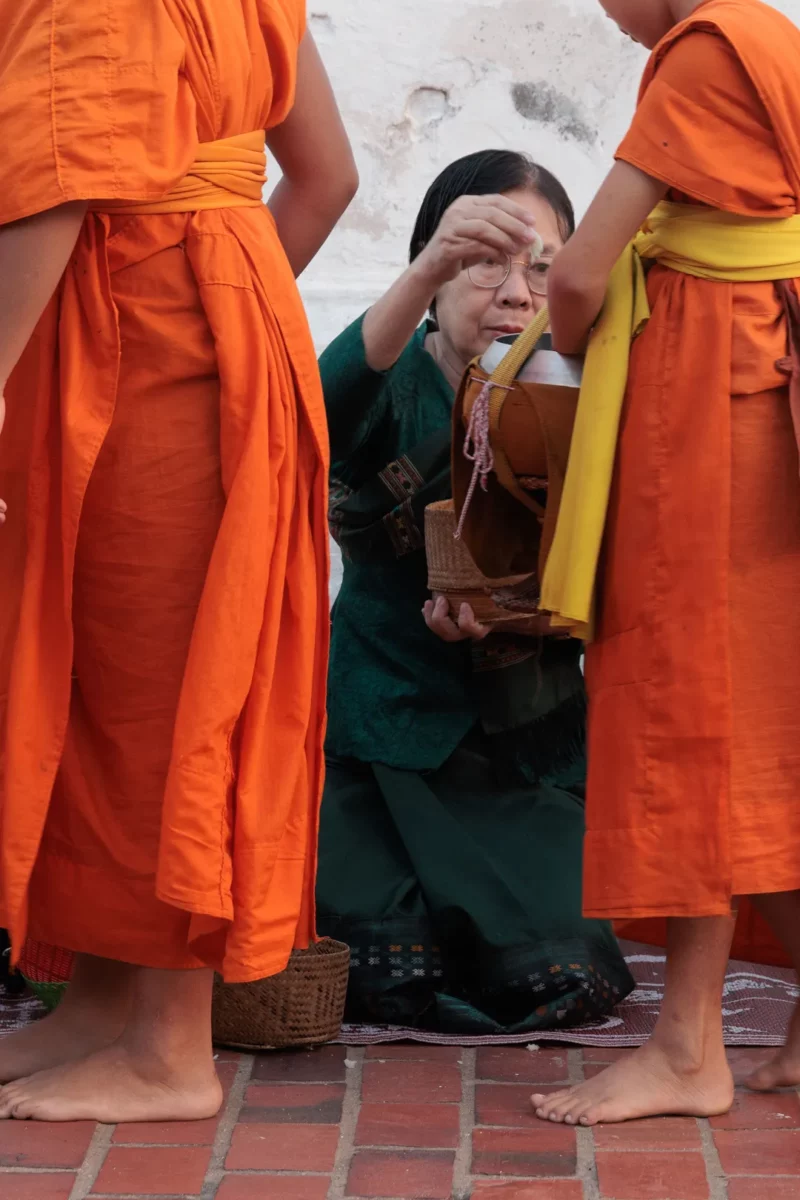 We wrote a first article about The Alms Ceremony of Luang Prabang and we are currently finishing a second one in which we will dig a bit deeper on the impact of tourism on tradition and religion. If these topics pick your interest, head over here and stay tuned!
To take advantage of the natural beauty of Luang Prabang we spent a day cycling around. We made it a goal to see as many temples as possible. In the following days we rented a scooter and went to visit some of the many waterfalls in the area.
One of these is Kuang Si Waterfall, located just outside Luang Prabang. From its top there is an incredible view of the city. With its fairytale-like appearance, incredible turquoise waters and luxuriant surrounding jungle, it looks like a scenery right out of a Tolkien book. Climbing up the waterfall, we reached the top of the small mountain. Amidst the stillness of the river, we found a secluded and dreamy waterhole, complete with a wooden bridge and water swing.
A few days later we went to the Tat Sae waterfalls, another paradise carved out of nature. We were not disappointed by its blue-green water and a wonderful forest area around it. There we met a group of young monks busy jumping repeatedly from the huge boulders above the falls. Curiously, it is customary here to bathe clothed. The monks in their orange robes, the civilians in just the clothes they came in.
What friends are for
Luang Prabang was a time for rest, nature, and minful travelling. But most of all, what made our time there special were the people we met.
For a couple of weeks we stayed in a charming little guesthouse. We shared common areas, dinners, drinks, and late-night chats about life, love, and death with other travellers. With Alex, from Romania but living in Bangkok, Jasper from Australia, Silke and Stefan, a couple of travellers from Germany, we formed an unlikely but close-knit little group. It was nice to get to know them, to share walks and meals and, for Jyl and me, to be with other travellers besides the two of us.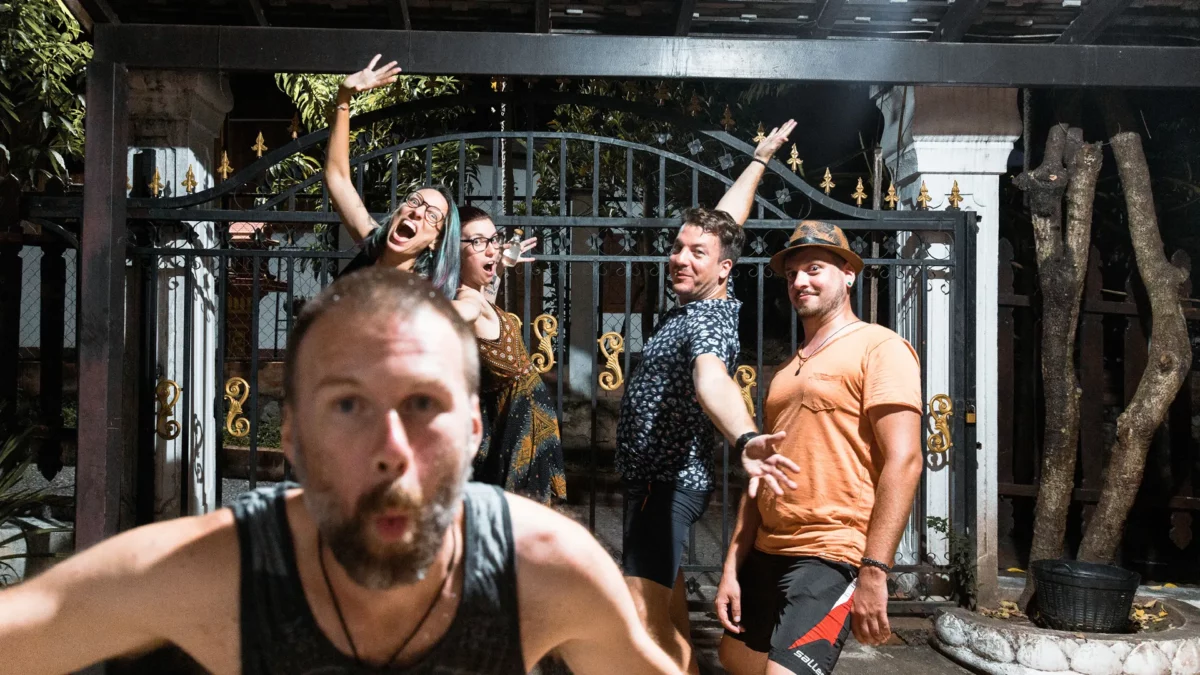 I always find it amazing that you could be on the other side of the world, with the most majestic sight you've ever seen in front of you, and yet what will always make the biggest difference in your life is simply the people. Thank you to the friends we met in Luang Prabang. Thanks for the friendship and joyful simplicity of the times we spent together.
In addition, we enjoyed playing tag with a family of Portuguese travellers. From Vang Vieng onward, in every town we set foot in, we found ourselves in the same hotel, bar, or café as them. Wind family, if you are reading this, we'll see you soon, we are sure!