This is the chronicle of our Vietnam adventure!
Our month in Vietnam was a challenging one, where a lot of things happened. We almost felt like we were in a bizarre video game, complete with quests and levels to pass!
But we also enjoyed fresh coconuts almost every day, countless jaunts through the rice paddies, and a lunch by the sea with -drumroll- Alessio, my big brother who came with Anna all the way from Italy to take a tour of Vietnam!
---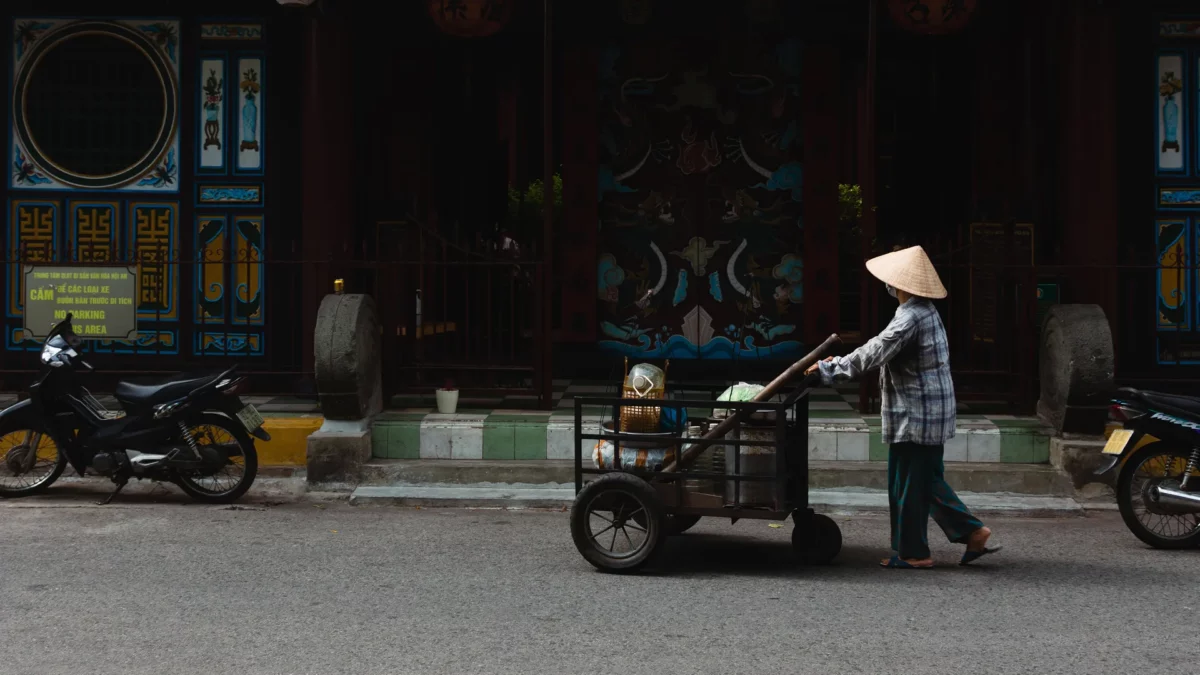 Da Nang in the rain
A continuous downpour, with puddles spreading to eat up entire intersections. Monsoon season in Vietnam was there to stay! Our windbreakers always at the ready and our toes perpetually wet. Arriving in Da Nang, we immediately looked for a café to work from, and found it not far from our hotel. A small, family-run place whose managers were always friendly and affable. Little did it matter that we could not communicate easily because of the language.
Monsoon season in Vietnam goes from May to September/October in northern and southern Vietnam, and from September to December in the center.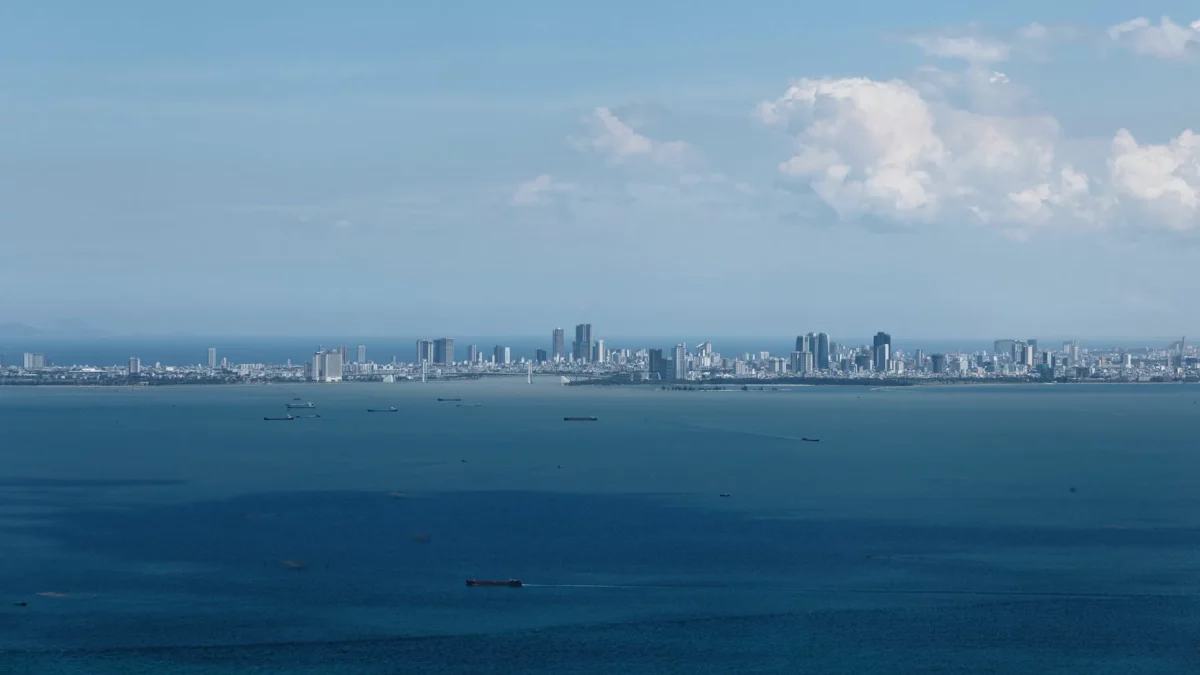 Unfortunately, my computer started to show some issues and I couldn't risk losing all my precious writing. I decided to be proactive and get a "new" second-hand one. One positive thing came out of all this. A few days later, at a restaurant, I told the owner about my pc and asked if he knew where I could recycle it. For some reason, he seemed quite interested in the laptop. I explained that if he had a use for it I would rather give it to him. I am happy to report that I traded my laptop for a 2 person lunch. In the name of simplicity, I found this to be a nice gesture to exchange.
Among the floating lanterns in Hội An
When we arrived in Hội An, we met up with my big brother. It was bizarre and heartwarming to meet so far from home, how many times can you say to your brother 'see you in Vietnam'? We explored the city by bike and on foot. We got lost in the lantern-lit lanes, trying to figure out where tradition had been lost.
Groundhog Day
We arrived just in time for the full moon celebrations. We watched the city fill up with floating lanterns and ecstatic tourists. For days, the same things seemed to happen in the old town: old ladies sold lanterns to tourists, who sailed down the Mekong in a small boat, letting their lanterns go on the water while making a wish. But in all this, it was difficult to understand and learn about the traditions behind these celebrations.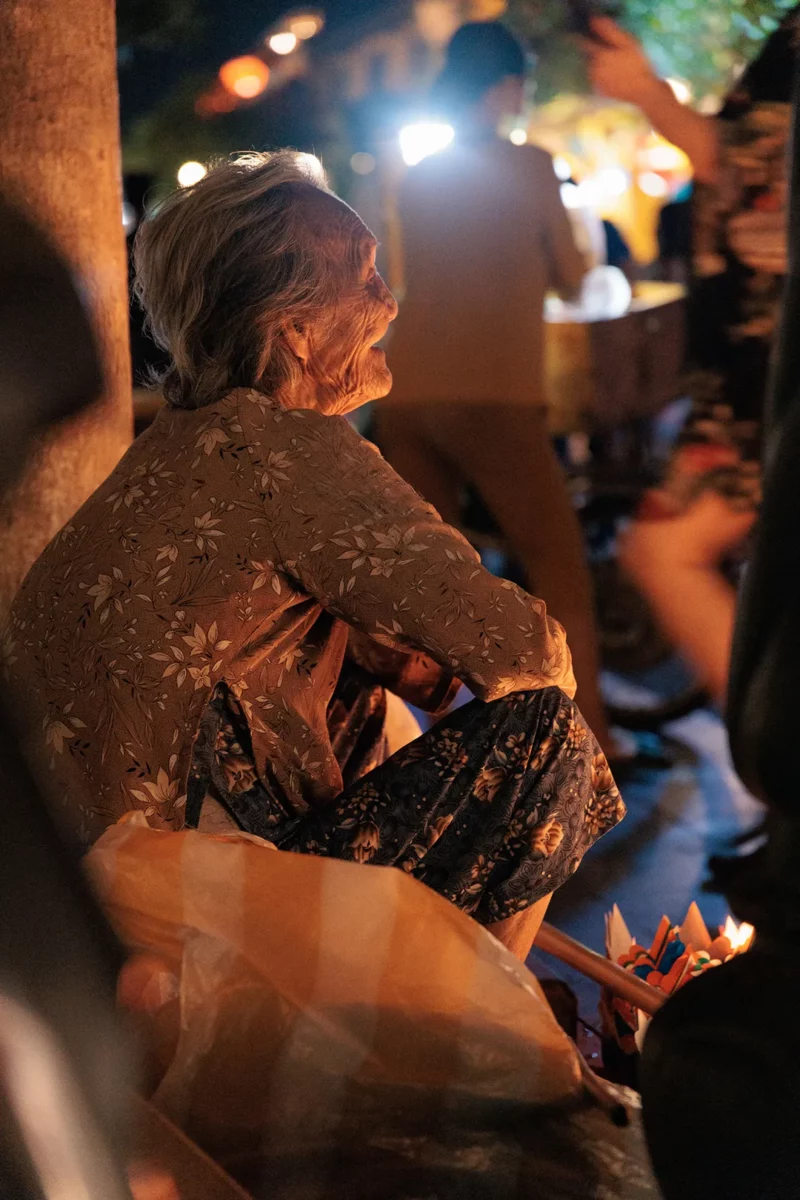 On one of those days when you just want to lie in front of a fan, we plucked up our courage and went to explore the old city. We visited antique houses and temples, cared for and kept like small museums. The descendants of the original families were still living in some of those houses. We learned that there is a colourful spirituality, rich in Chinese influences, dotted with offerings, often in food and money, resting on red and gold altars. Large spirals of incense hung from the ceiling, as they propitiously burned prayers that someone had entrusted to a piece of paper, also dangling from above.
Hue, the old capital
After several days in Hội An, we hopped on the scooter, destination Hue, the ancient capital. We drove along the Hai Van Pass road. We dodge storms and stopped when possible to drink a fresh coconut and enjoy the priceless views. Our Vietnam adventure continued despite the weather.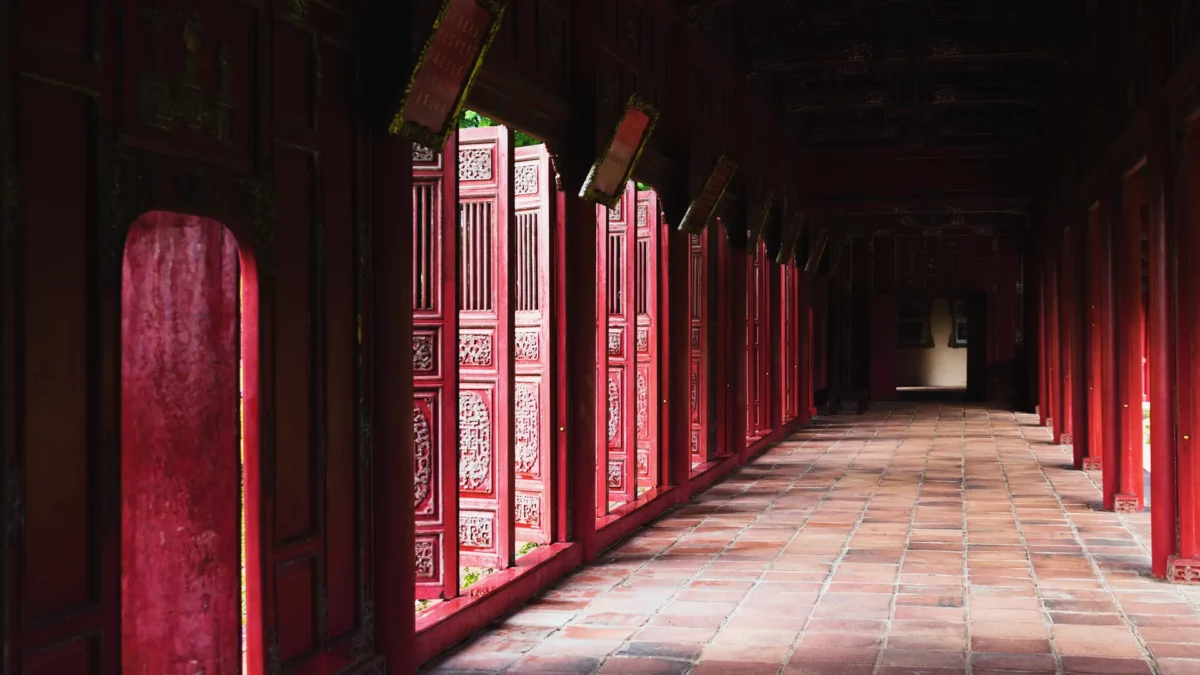 Hue was designated capital for about 150 years. Luckily, it has managed to retain some precious crumbles of its former glory. Wandering around the imperial citadel, although partially rebuilt, leaves you wanting to understand what life was like in those days. Sadly, of 150 historic buildings, only about 20 have survived after the French and then the American bombings.
A train to Ninh Binh
This time, on an overnight train, we travelled from Hue to Ninh Binh, a province in the Red River Delta. In truth, the city of the same, name is not a particularly cosy place. But all around is a magical place, peaceful and surrounded by nature. We stopped for a while amidst the quiet and strolled through the mountains. We looked at ourselves in the expanses of water and walked by the light of fireflies on sleepless nights.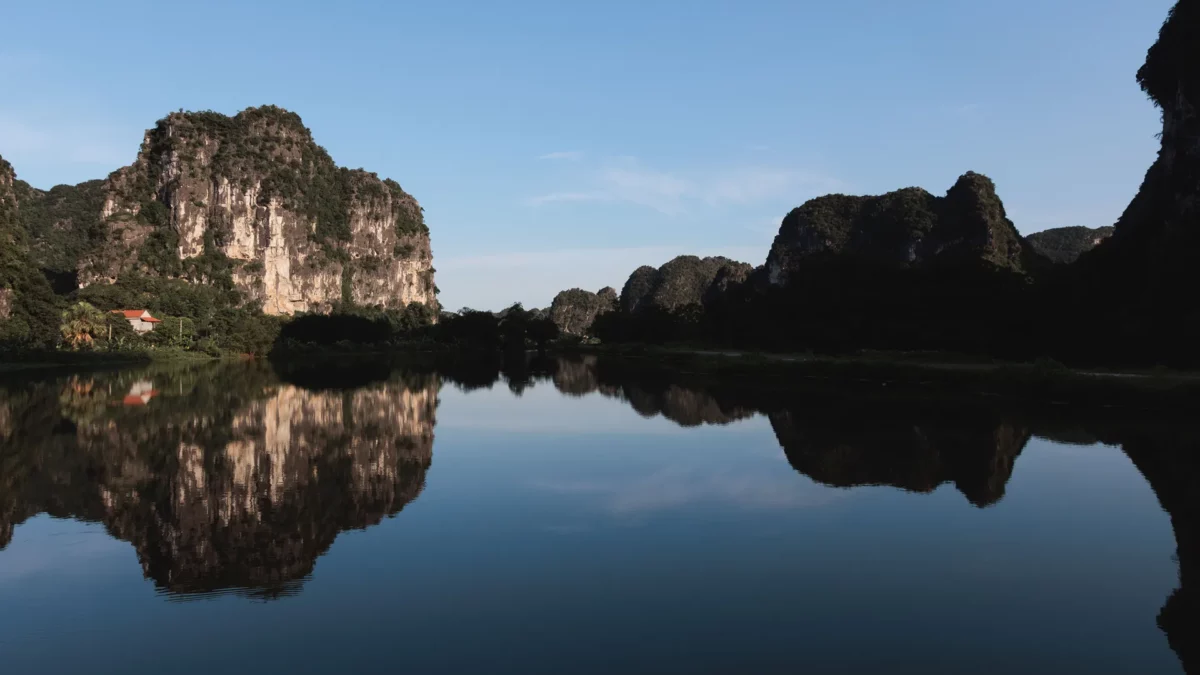 The landscape of Ninh Binh is extraordinary, with green-covered limestone mountains rising from verdant plains and rice paddies. The province is also rich in waterfalls, rivers, lakes, streams and springs. It is not the most popular place for tourists, but there is something about this place that speaks to those who know how to listen, and what they hear is a symphony.
Hanoi, slowing down with the moon
Our last stop, where we stayed until the end of our visa, was Hanoi. Part of our Vietnam adventure, turned out to be learning to be ok with things going wrong. Luckily, there was always a variety of dishes, breads, and sweets to cheer us up. Vietnamese cuisine is quite interesting, with almost every dish serving a side of fresh greens of herbs. We often ate at a little place near our hotel. There, we tasted a crab soup with noodles and a whole range of local herbs that was really delicious.
I fell in love with moon cakes, Chinese round or rectangular pastries filled with lotus paste, or red bean paste. These delicacies are a feature of Mid-Autumn Festival, an important and very heartfelt celebration that honours the Moon cult. I liked them so much that I went on a hunt for moulds. I am determined to learn how to make them at home.
We spent our time there visiting temples, beautiful cafés and exploring the bookshop district packed with people. A taste of a plant that looked like mint but wasn't and turned out to be toxic (that was my fault). We stood with a beer to watch the train passing in the middle of train street, 25 centimetres from our nose.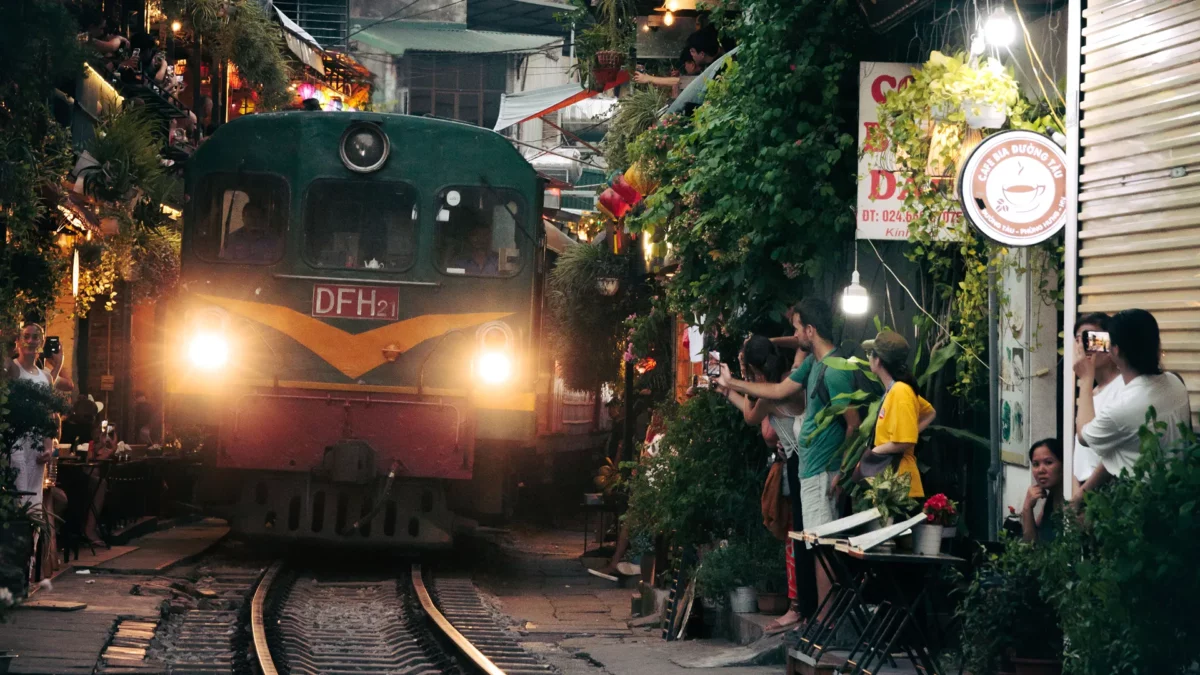 We got carried away by the crowd in the street fair full of screaming children, met a group of Indians, a French missionary, and had a thousand coffees, after buying our own Vietnamese coffee pots.
The end of our Vietnam adventure?
It was a month that tested us a bit, Jyl and I came out of it a bit exhausted. Apart from a few minor inconveniences that are as much a part of travelling as they are a part of life, we struggled to understand this country. We had the impression that the attitude towards tourists was very sales-oriented, a dry and intense approach that was a bit too much. And we get it, perhaps 2 years of pandemic and no tourists made things very hard in these hyper touristy places.
Nevertheless, we missed the human connection aspect. It seemed to us, that too many things were packaged for tourists, as is the case with many cities in Europe as well. We are always sad to notice when the authenticity of a place is lost. This unpleasant feeling of places and experiences manufactured around the average tourist's imagination is something that, unfortunately, accompanied us throughout the trip.
We know that we are not the easiest travellers. We do not think that there is anything wrong with this beautiful country and we realise that often the tourists themselves, no one excluded, are co-responsible for creating certain dynamics.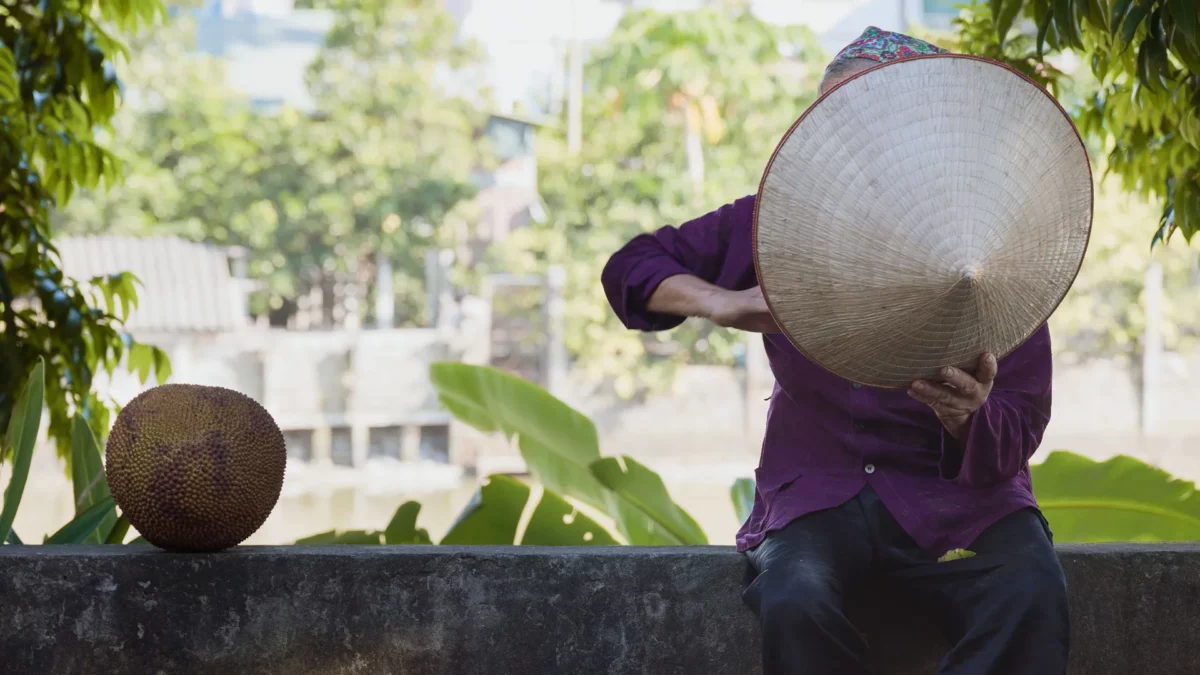 Sometimes it is us who are not made for something, and there is nothing wrong with that. We think we don't understand. So we conclude our Vietnam adventure hoping to go back, one day, and go a little deeper. Travelling as we do, trying to keep the human aspect as the thing that, in discovery, is worth more than any other, as a parameter of respect that cannot and must never fail, we would always like to find a way to be the first ones to do the right thing, for a truly more sustainable tourism. And the truth is that we do not always succeed, we are not always part of the solution. But we put all our effort, all our heart into it.