Visiting Angkor Wat and Siem Reap, learning about Cambodian heritage and vibing in our first home away from home.
.We left Phnom Penh on the back seats of a tiny bus, especially uncomfortable for tall people like us; but, hey, who said travelling across the country with a backpack that weighs like one of Hulk Hogan's limbs should be comfy? Exactly, no one!
After about 8 hours folded like Swiss knives, and 20 minutes on a tuk tuk, we finally arrived in Siem Reap, precisely at Treetop Bungalows, our first workaway home.
---
Vibing in Siem Reap
Siem Reap feels immediately more laid back, relaxed, compared to hectic Phnom Penh; the number of Pagodas around every corner seems to be exponentially higher, but the unmistakable signs and colours of Cambodia are all there: red, rusty earth, immense banana trees, pseudotropical flowers and the sound of the incredible, elastic, Khmer language, bouncing in our ears like a pinball machine.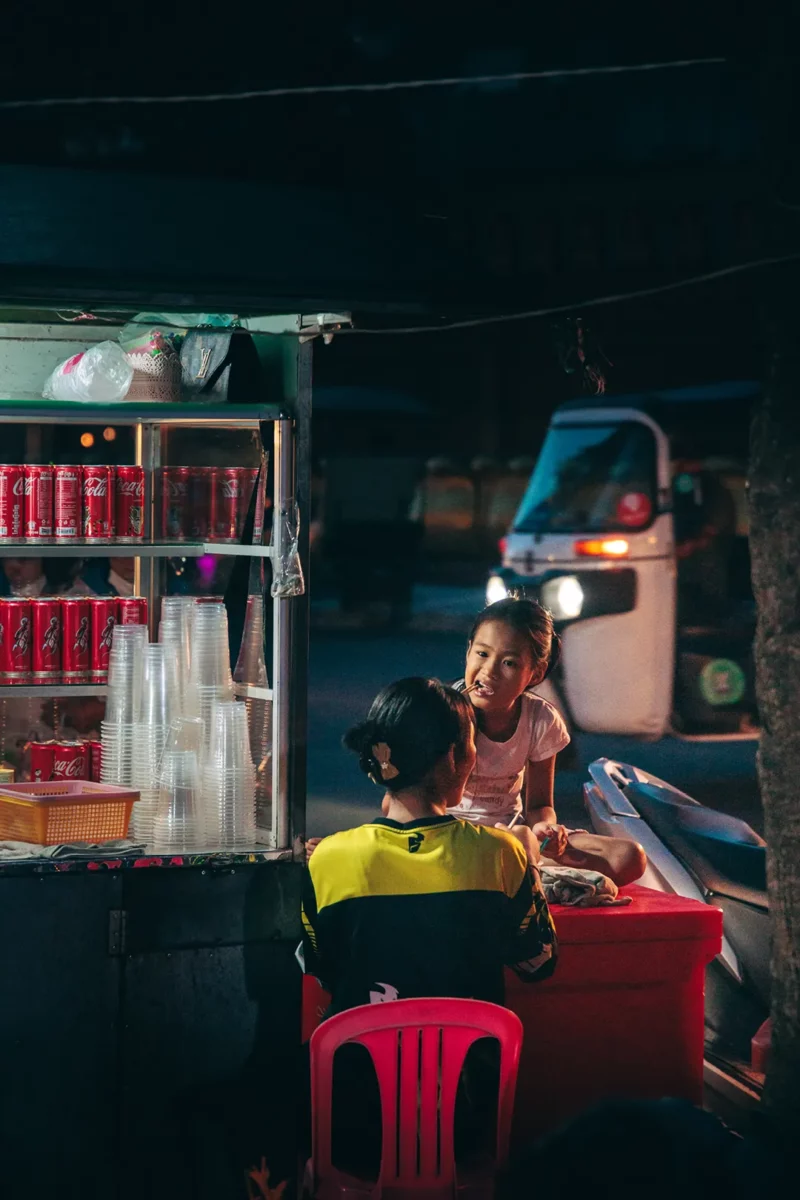 Party of five (and counting)
The funny thing about moving around, hopping from one living situation to another, is the people you'll meet along the way. Take now, for example, we are staying with a family of 5: Sok, Christy and their kids and we are having a blast, getting to know each one of them is like stepping into a different world.
We have our own bedroom and bathroom, but the kitchen is located in a communal space, where Christy, Sok and other guests and friends gather daily around a big wooden table for a drink and a chat.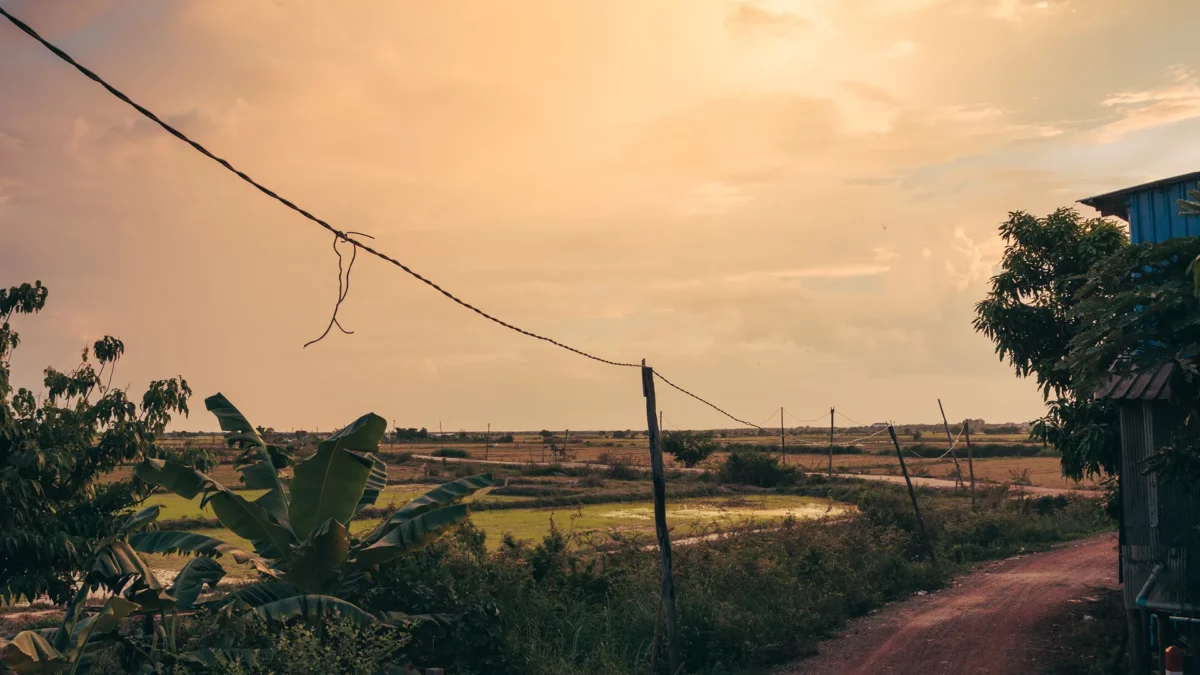 Treetop Bungalows is a small, lively apartment complex located in a very special neighbourhood (check out our IG post about the hood), the right place if you're a curious wanderer who loves to mix up with the local crowd and keep it real!
Who said Angkor Wat?
We thought we had an idea of what to expect after walking past the invisible gate that separates this world from the other world.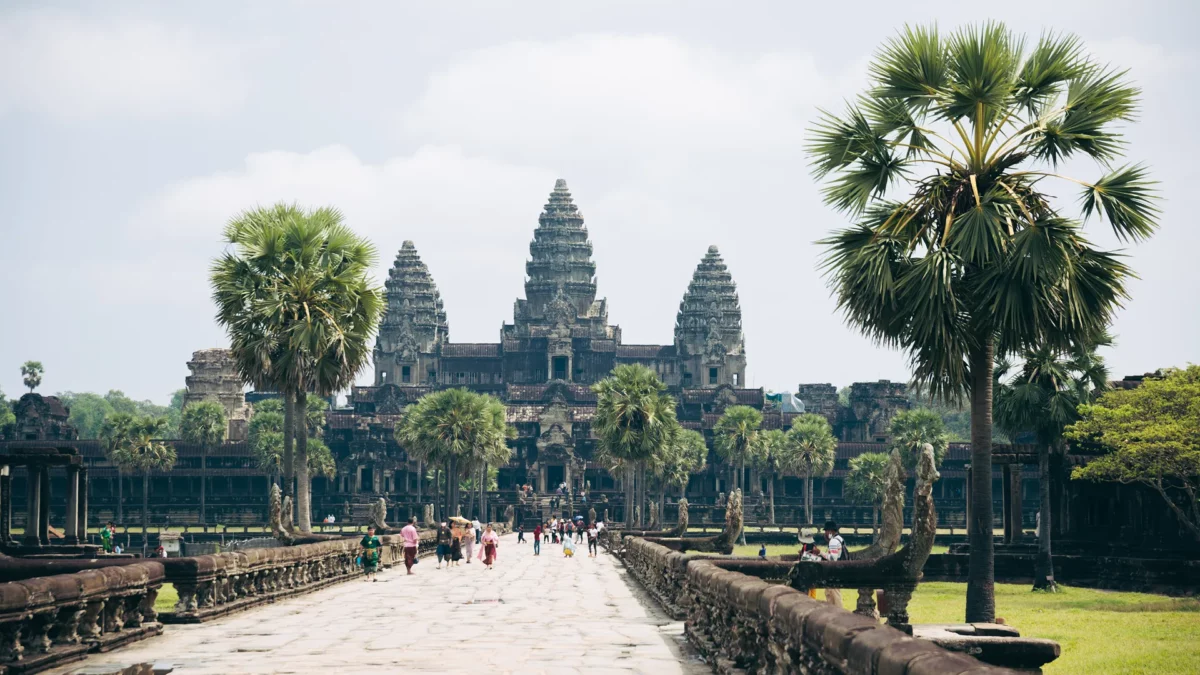 But if Jyl had been briefly there 4 years ago, I personally wasn't nearly prepared for how incredibly big, mesmerising and moving this sacred place would have been.
Angkor Wat and Siem Reap, one inside the other and yet, very different places to visit. Siem Reap is a charming Cambodian city, known for its vibrant nightlife, bustling markets, and delicious street food. It was once the capital of the powerful Khmer Empire, which ruled over much of Southeast Asia.
Angkor Wat is a UNESCO World Heritage Site and one of the most impressive ancient temples in the world, featuring intricate carvings, towering spires, and breath-taking views. Upon entering, you are greeted by endless forests, dotted with temples and ruins, columns decorated with Hindu or Buddhist motifs, Buddhas adorned with golden bands sitting amidst vaults of sacred stone almost a thousand years old.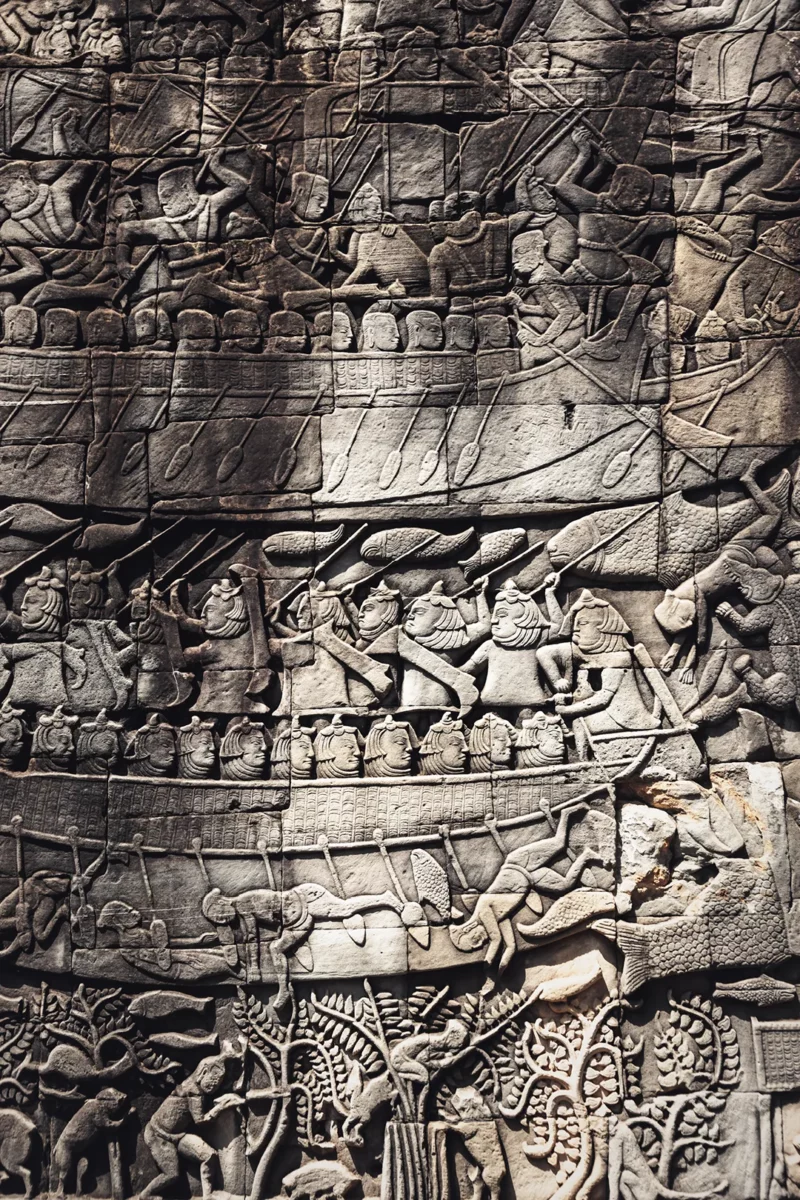 Here, nature is powerful and domineering, it takes everything back – rightly so – as soon as it can; you can feel incredibly small and humble in places like this, and we certainly did.
We feel like we barely scratched the surface of what there is to see. We hope to come back some time, visit again in order to dig deeper. And, for sure, we will write more extensively about it on our website.
Bargaining at the old market
My grandmother would have loved the old market: being the queen of negotiation that she was, I bet she could've bargain like a local in no time!
I, unfortunately, did not inherit the negotiation gene and I' m a clueless seagull when it comes to bargaining. Jyl is way better than me; I observe him with admiration when he buys a t-shirt or negotiates the price of our hats.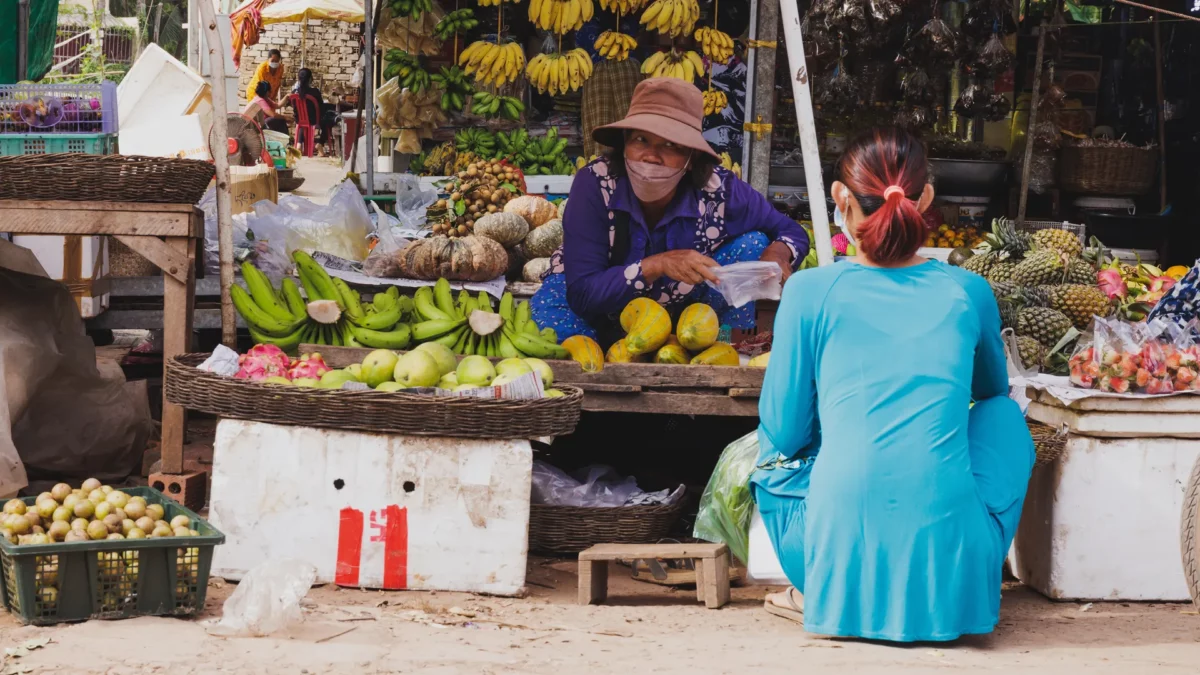 Regardless of your negotiation skills, a trip to a local market is like taking a crash course on Cambodian etiquette: watching people greet each other, buy, apologise, tailgating others on a scooter, or trying to give you 600gr of eggs instead of 6, was a tremendously interesting experience. The market breathes and is alive, like a mythological sea creature you once read about in a magazine.
We loved our life in Siem Reap, especially our quaint neighbourhood. We liked it so much that we wrote a piece on it. Read it over here!
Stitches and swabs
You didn't think a whole month would've run smoothly, right? After all, it's us!
While Jyl was on a bicycle checking a map, he crashed in the butt of a car the size of my first apartment, which taught him to pay more attention to the road. In his defence, the humongous beast was parked in the middle of the road. He got a glorious flapping knuckle and some stitches and he is now on full recovery, wondering if the scar will look like Mickey Rourke.
As for me, I stuck an annoyingly long Q-tip up my nose, just to find out that, yes, the 15th letter of the Greek alphabet, finally caught up with me. I've had Covid for a week now. The first few days were hard but my health is improving fast. I'm living isolated but, luckily, I'm a flight of stairs away from Jyl who dodged the virus like Jean-Claude Van Damme dodges kicks and has been so kind to bring me food, medicines and some lovely meals!
Next adventures
After Angkor Wat and Siem Reap, the next stop on the itinerary will be the island of Koh Rong, south of Cambodia. There, another workaway awaits us, this time it's a blue house a stone's throw from the beach. Given the current circumstances, however, we had to postpone our departure; we still have to decide what to do, how to proceed and which way we will take to get there.
But, guess what? This is also part of the fun!