He is the picture of perseverance. Someone who does not give up, determined to seize every opportunity, playing the wheel of destiny, which had a thousand and one adventures in store for him. From Restaurant Sihanouk ville to hostel in Koh Rong Sanloem, food tour in Phnom Penh to tour guide in Siem Reap.
Meet Kem, who is not afraid to try, to grow, to live, and who has taken matter into his own hands, carving his own tree of life out of each piece of wood that came his way.
---
I was invited by one of my friends from the island to follow a food tour in the streets of Phnom Penh. The idea was for me to take some photos to promote the business of his Cambodian friend; "he's good stuff, make sure you have a beer with him" Darren had told me, and indeed my time with Kem was full of good stuff!
Off to a good start
Two weeks later, I jumped on a bus from Kampot to the capital city and met him for some street food, but on top of sampling dishes we chatted for the entire day. Not only I learned a lot about Cambodian culinary culture, I also had the chance to understand the path of a young Cambodian that left the countryside in search of a different life, and his take on a country which, for the past 20 years, has been transforming quite fast.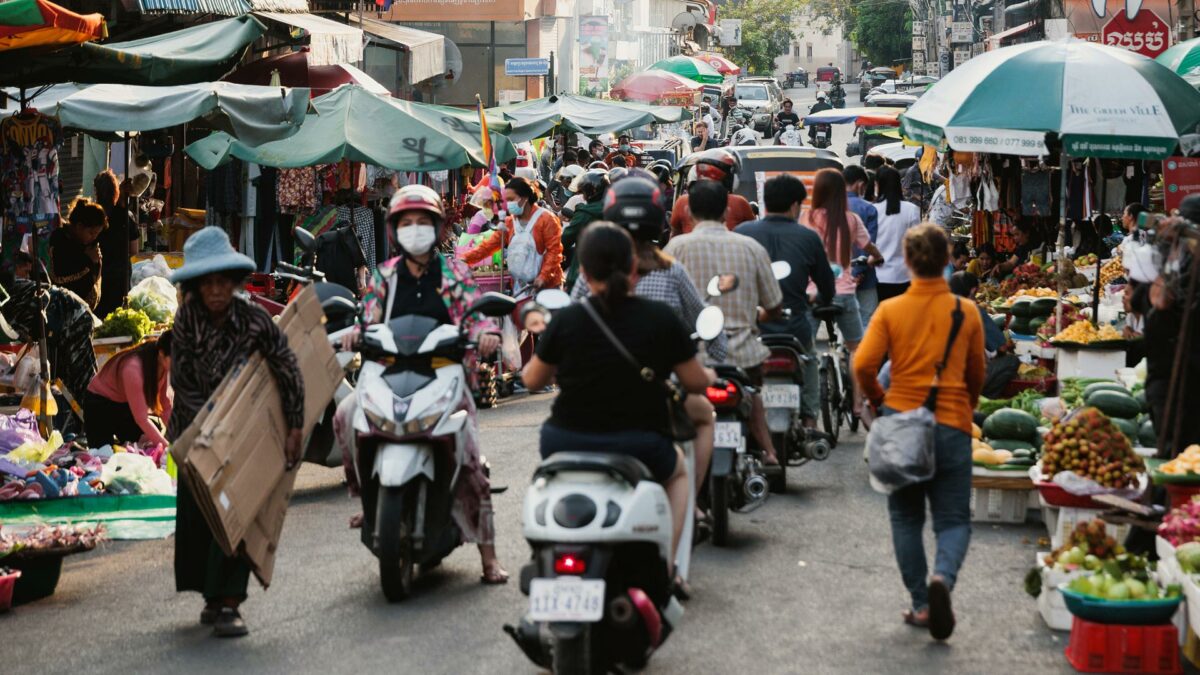 I met Kem, for our Phnom Penh food tour, on one of the corners of the Russian Market. After exchanging hellos, we crossed the chaos of the street and entered the market. We zig zagged in the narrow isles filed with fruits, spices, vegetable, incense, t-shirts and freshly chopped meat. As we reached the centre of the market were the food corner is located, he started to point at different food stalls while explaining the different types of dishes. I was surprised by the quality of his English, when the younger generations in Phnom Penh usually have a quite good level, people in their late 30s usually speak a funky broken English.
Taking a couple of snaps, I found him seated in front of a woman who was stirring a big steaming pot. He was busy decorating a bowl of stew with flowers and spices. I just took a coffee and some water as I was slightly struggling with a hangover. Traditionally Cambodians have savoury, nourishing breakfast, usually hot meals with lots of meat: "You know, for four years meat was a rarity. Somehow, after Pol Pot's regime where good food was scarce, people became obsessed with eating meat!", he tells me.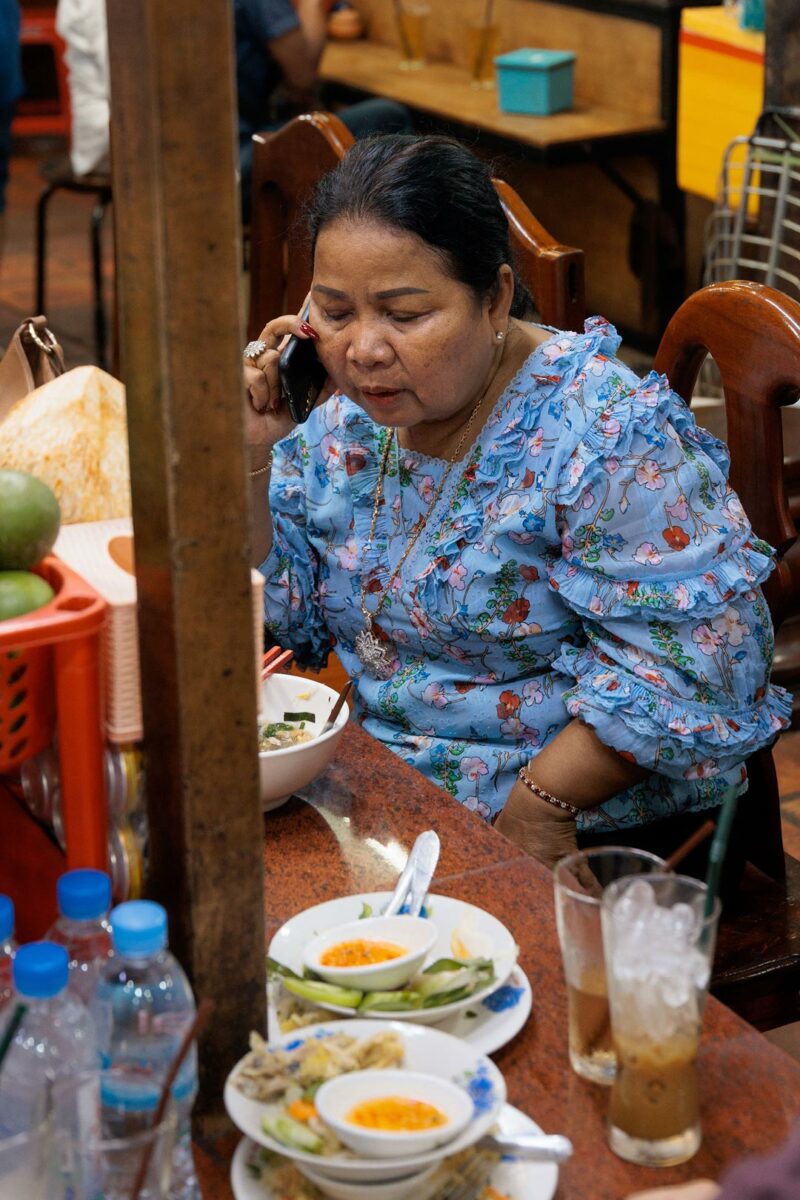 He then threw at me a couple of practical information about the market: "people here start cooking at around five in the morning", "customers come, shop and eat, then go back home", "the younger generation is eating less and less in these places"…
Sitting in front of the wok (hangover not helping), I was boiling. The 20 years old fans didn't really make the air cooler, they mostly made sure flies didn't stick around! As soon as he finished eating, we headed out of the market and sat for a cool drink in a cafe nearby. Deciding to learn a bit more about him I asked: "Where are you from, exactly?" and Kem spontaneously started to tell me his life story.
The seed who wanted to grow in the neighbour's garden – Countryside
Kem was born in 1983, in the village of Ha, in the district of Srok Preah Sdach, he is the third of four kids. Both of his parents, his two big sisters and his younger brother are still living in that same village.
When he turned 16, like many boys in Cambodia, he went to live in a pagoda as a monk. Although, to this day, he doesn't consider himself 'religious', he confessed that he still practises some of the rituals that are relevant to him. As with almost every Cambodian man I spoke with, when asked about what they learned while living as monks, the answer is almost always the same, "I learned to be happy!".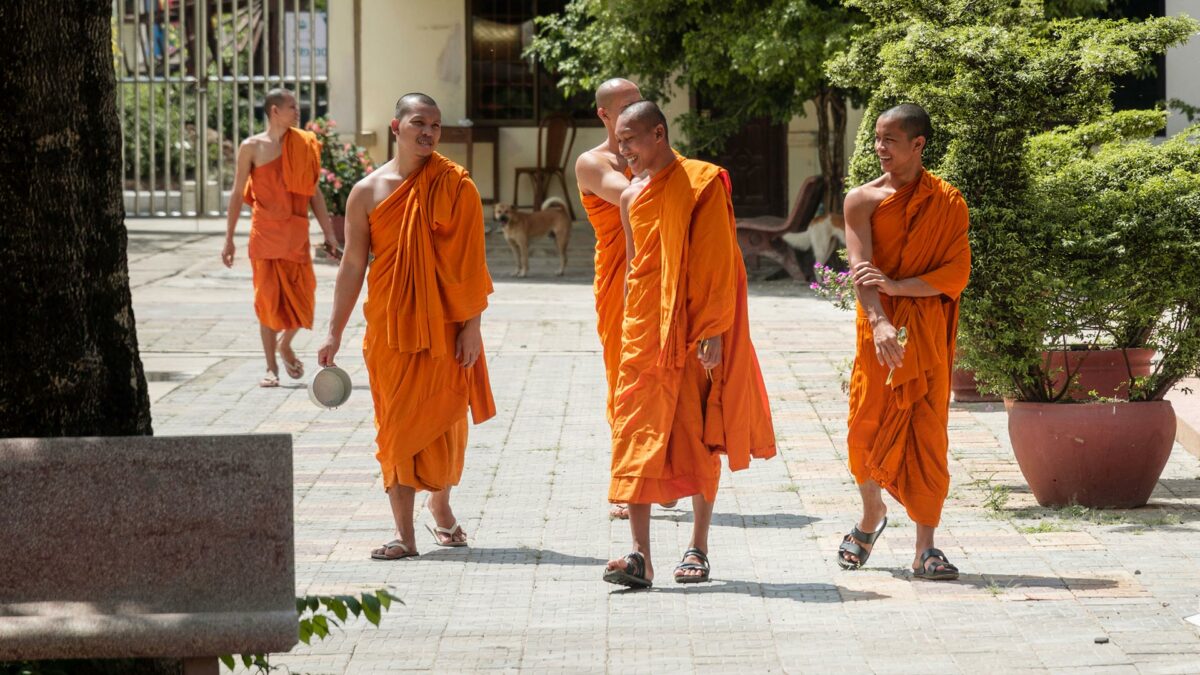 People born in small villages often marry really young, but Kem didn't feel like doing so, and after the year spent in the Pagoda he knew he had to leave.
Changing pots – Phnom Penh
First opportunities
Kem Arrived in Phnom Penh at 18 years old, and quickly found a job in constructions for the meagre pay of 1,25 US dollars ($) per day. At the time, he was sleeping and eating in the very same building he was working on, a practice still quite common in Cambodia, (if you see a hammock and a small gas stove inside a half finished house, you know some of the workers are living there).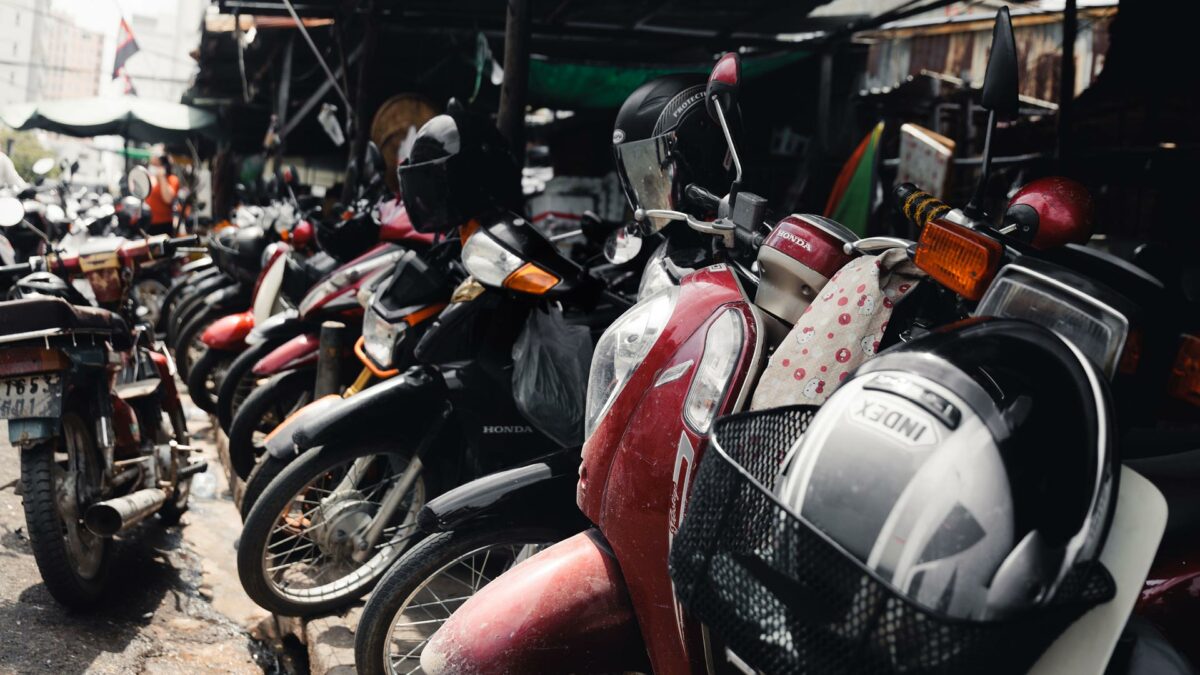 After a year, he changed job and became a security guard for a restaurant, parking vehicles and looking after the client's motor bikes. His salary then was 20$/month plus tips, free food and a room above the restaurant. It was a small upgrade but significant enough for him to be able to relax a little, he was treated fairly and felt like the owner of the restaurant had taken him under his wing.
Back to school
One day, he told his employer that he wanted to go back to school, study and learn English. His boss, touched by his dedication, offered to cover school tuition and books, allowing Kem to keep his job.
That was something that really changed things for him as it gave him a quite rare opportunity.
With his English improving, he found another job as a bartender in a restaurant on the riverside, for a salary of 50$ per month; it might not seems like much but in 3 years time he managed to multiply his salary by two. He started saving money, put enough aside and bought his first motorbike for the sum of 150$. While pursuing his studies and working at the restaurant he started using his motorbike to run small errands on commission or working a few hours as a taxi driver.
I was surprised at how accurate and transparent Kem was in talking about the money he earned, but somehow it must have been important to him that I really understand what living conditions were like in Cambodia. I realise that, even today, people often have to juggle two or more jobs to make ends meet.
A job in a factory, for example, will grant people a salary of 192$ per month (2,304$ per year). Even if the wages grew over the past decades, they didn't do so at the same rate as the prices of food, accommodation, electricity. Knowing this, equals to barely scratching the surface of a complex, layered social and economical situation, but provides powerful insight into the difficulties of supporting one self in this country, let alone an entire family.
This explains how vital it is to be resourceful, and Kem made sure to fire the arrows in his bow at the right time, grabbing opportunities and surfing the moment in order to make the changes he needed.
Reaping the fruits – Sihanoukville
At this point, we had been talking for over an hour and were both hungry, Kem suggested to go have lunch. After a 10 minutes walk, we stopped in a corner restaurant; fives, six dishes to choose from: fish soup, duck soup, pork and fish paste, stuffed bitter melon with pork… I looked at these dishes with attention and curiosity; I would not have been able to identify most of them if he was not there to explain! We sat and enjoyed our meal with a big glass of freshly crushed cane juice and, after talking a bit about the food, we circled back to his life.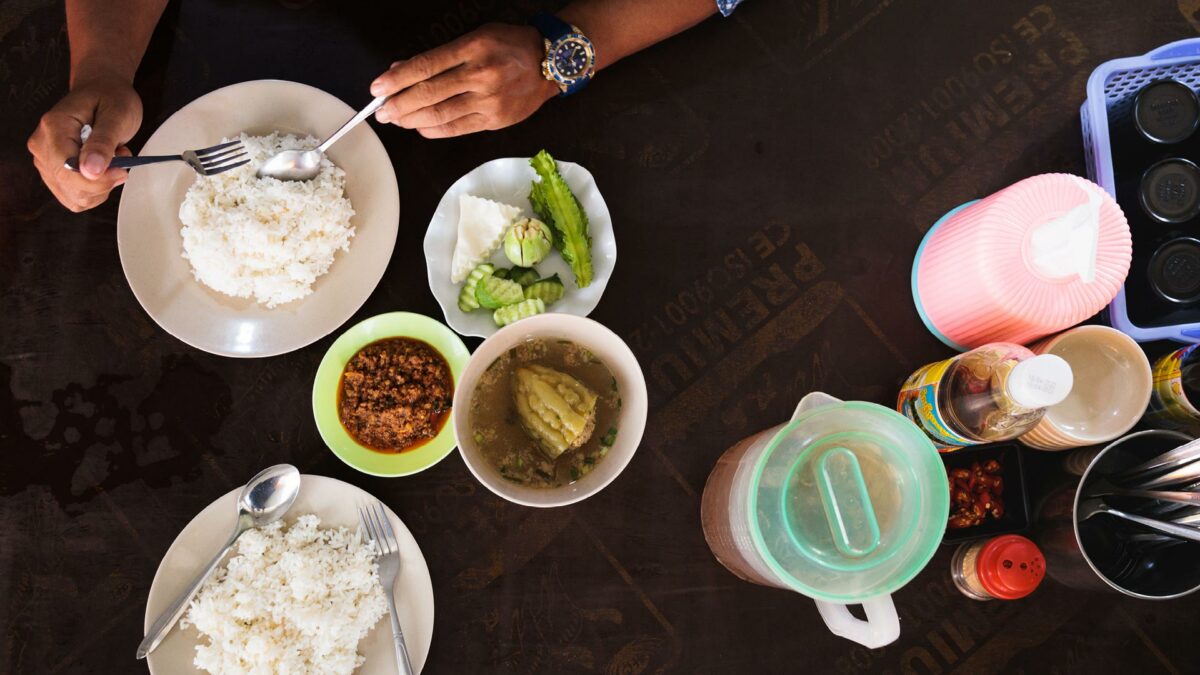 Becoming your own man
In his mid 20s, he moved from Phnom Penh to Sihanoukville which, at the time, was still booming and thriving. With the money that he saved over the years he could afford to buy a tiny restaurant; "For the first time in my life, I was not working for someone else, I was my own boss and that made me happy, so happy that I started to do everything myself, from the shopping to the cooking".
Later on, he hired a chef to enhance the menu, while he begun making cocktails again. At the same time he bought a long boat, which he used to take people out for fishing trips or to enjoy the sunset over the sea.
Meeting other cultures
With the growing success of the restaurant, Kem began to earn enough to be able to afford to travel during the off-season. He went to Thailand, Vietnam, Laos and Malaysia, curious to discover and learn about the world, curious to feel what it was like to be a Cambodian abroad
For a time, he dreamed of starting a new life in Europe, but apparently missed that train and that wish had died out as he reached the age of 30.
Our lunch was coming to an end, and we agreed to continue the conversation in the late afternoon, for a drink on the Mekong river.
Growing – Siem Reap
We arranged to meet on the river bank, right in front of Phnom Penh Nigh Market, Kem already bought our tickets, we picked our free beer from the huge orange cooler and hopped on the boat. With us, a handful of Monks, a couple with a baby, some tourists and a bunch of teenagers.
Too wild
As the boat slowly begun to move forward, so did Kem's story. It was the time when Sihanoukville started to transform for the worse. After many good years in the southern city, Kem decided it was time to move to another place, trading the thin white sand for the coarse red soil of Siem Reap.
Once settled there he launched a tour business, organising bike rides of the countryside and the temples of Angkor. It was a nice life but, according to him, a bit too easy, too shallow. The downside of places that are too successful in terms of tourism is that you easily get caught up in a routine, different faces, different days, and yet everything looks the same: countryside bike ride, temples bike tour, party at pub street, sleep and repeat… And before he had the time to realise, the loop was spinning so fast that he couldn't tell the days apart.
Too fast
As the boat reached the confluence of the Tonle Sap and the Mekong river, there was an impressive view of the city, a mixture of old and new, tradition and modernity. I asked him what he thought of the expanding city. He took a moment to ponder as he watched Phnom Penh reflected in the water.
He then proceeded to explain how banks are investing capital in building towers and skyscrapers, the last one taller than the one before. Important temples like Wat Phnom get lost in the cityscape and entirely new neighbourhoods, targeting the rich, are sprouting in the South West of the city. Phnom Penh is the fastest growing city in Cambodia, but things are happening too fast, with no planning and no control, and sadly we've seen one too many times how terrible the consequences are on an urban and, most importantly, human level.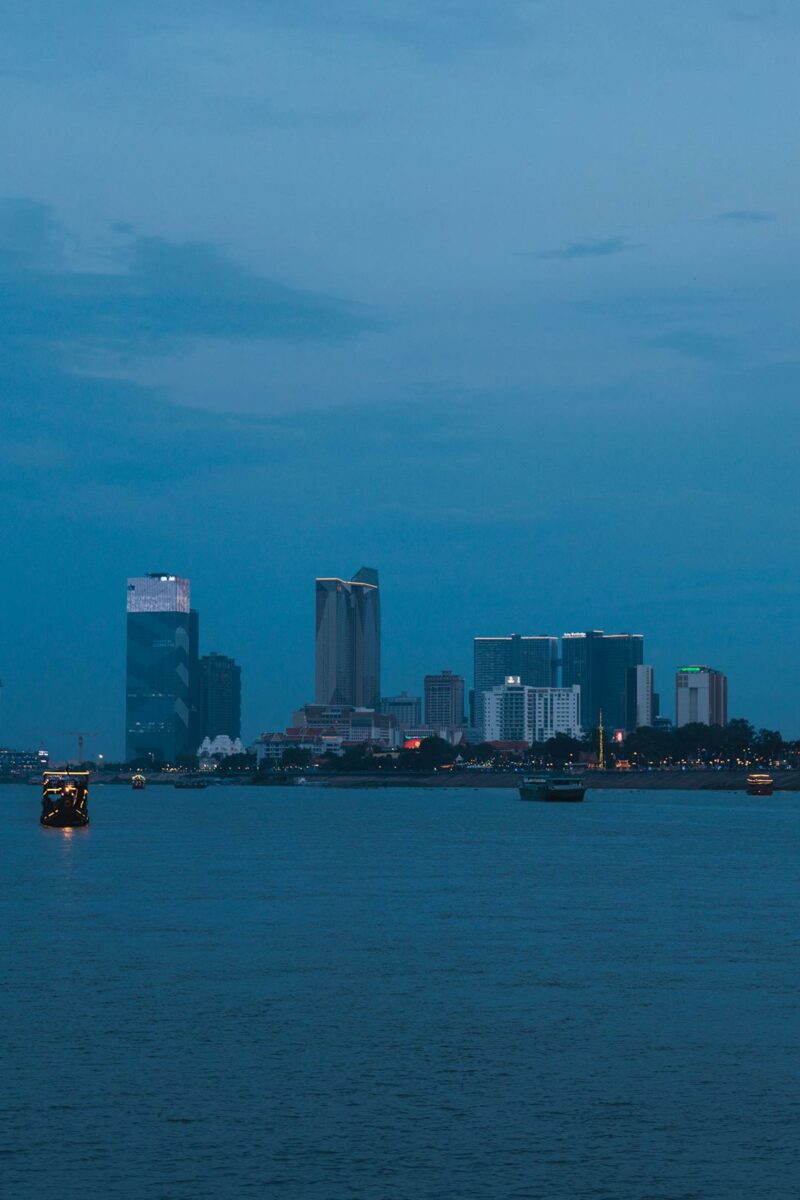 There is a weird connection between these two stories, when things speed up we often lose control; in the case of a macrocosm like a city, it is hard to change the trajectory of its evolution, so many groups of people holding a corner of the blanket and pulling it in their own direction. Hopefully, on a personal level, it is a bit easier to let go and redirect the course of our lives, because with enough introspection we have a chance at understanding that we are the ones with the power and we are the ones making the decisions, we are the ones holding too tight or not tight enough.
And this is how Kem decided for himself, and grew again. After a couple of years reliving the same day he felt like it was time to regain control and left Siem Reap for another adventure!
Sowing new seeds – Koh Rong Sanloem
As we came down the boat, we crossed the street and entered Phnom Penh night market. The blue hour had left place to a dark sky and electric lights.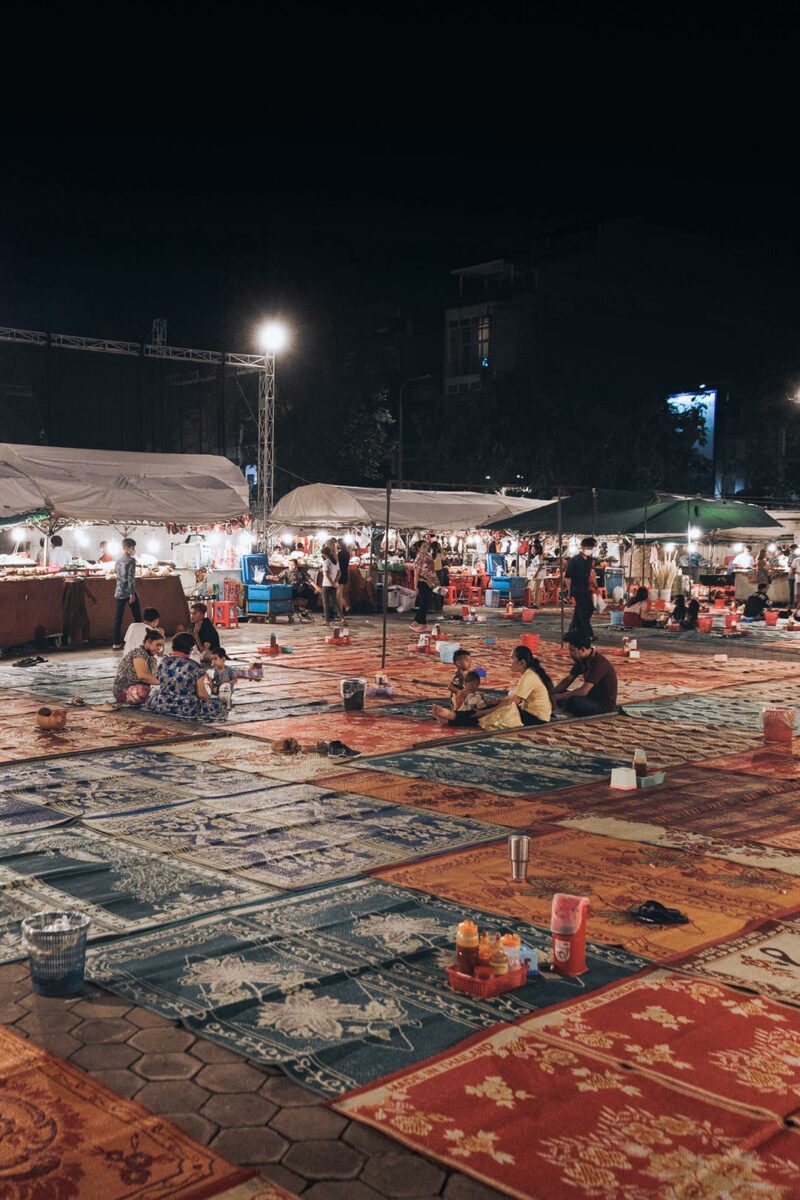 The market is a huge picnic area surrounded by food stalls, blankets on the floor, families and friends eating barbecue or sipping smoothies. We walked while watching busy people prepping meals all around, we ordered food, drinks and sat on the floor. There was a beautiful energy there, the light was warm, people seemed joyful, it was the perfect place for Kem to finish his story!
A new cycle
After Siem Reap he moved back close to the sea, to Koh Rong Sanloem, the island facing Sihanoukville. He found a job on the main beach of Saracen bay, working in a bar, and doing boat tours for tourists. With his long boat he was sometimes taking people fishing for no less than 20$, making, in a couple of hours, as much money as he was making in a month 10 years before!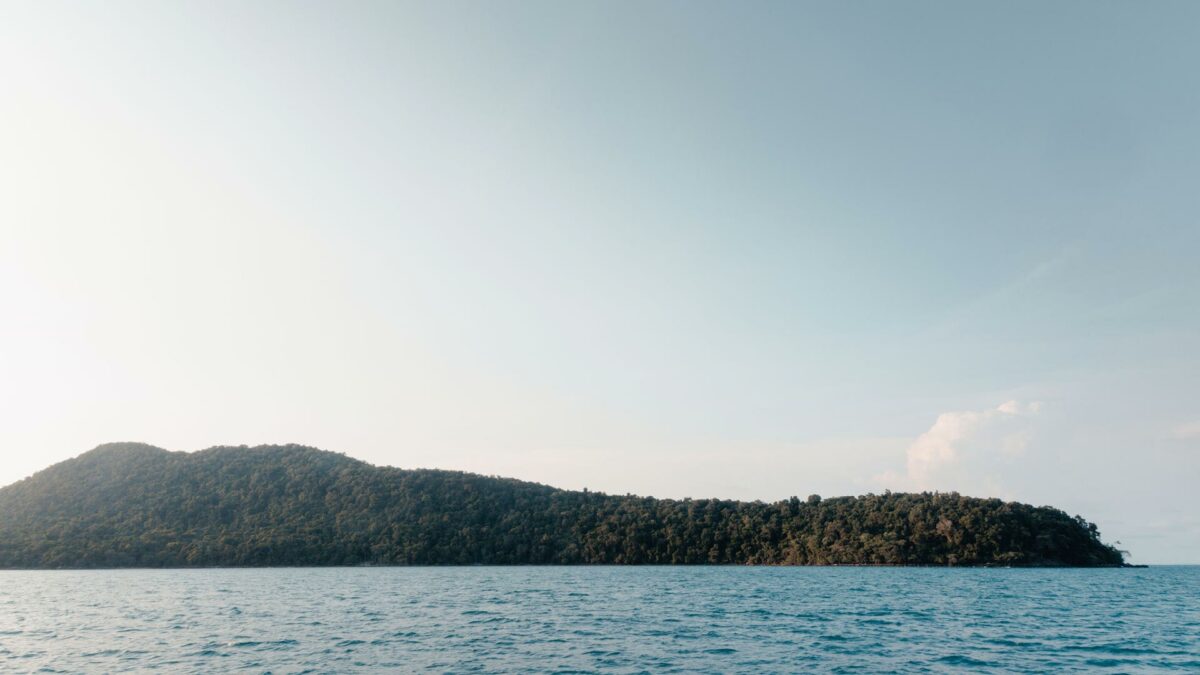 He then moved to M'Pai Bay, the small (and only) village of the island, with a western business partner he bought a guest house, "The Sleeping Buffalo", becoming once again his own boss. He kept the business for almost 4 years but decided to leave when the pandemic started to affect tourism.
If you are interested to know more about the island, Francesca and I lived there for a month and wrote two articles on it. One is more of a general feeling of what we learned there, the other one is a description of the different things you can expect to find on the island.
During the Covid crisis, Kem moved back to his home town, close to his parents, brother, sisters, nephews and nieces. He enjoyed the break and the relaxedness of spending some time with his family after so long apart. And just like this, Kem completed a full cycle.
---
A food tour in Phnom Penh, the new life!
Kem recently moved back to the capital city, starting a news business venture, organising street food tours in Phnom Penh for tourists.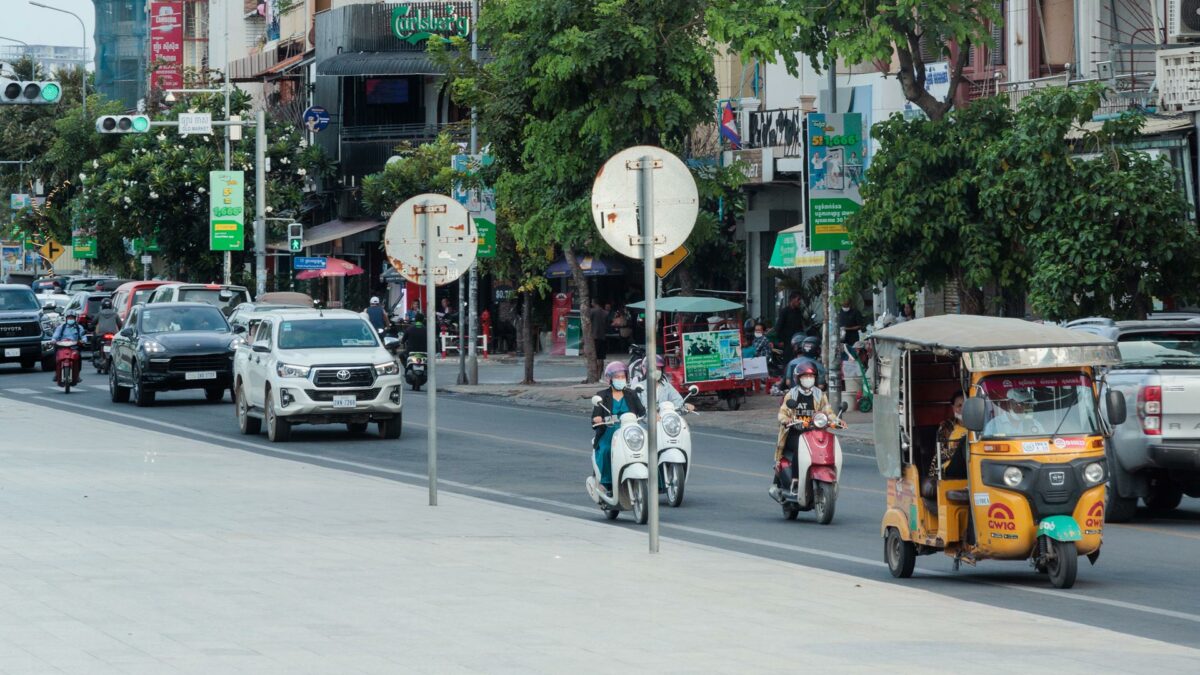 It was a real privilege to spend a full day with someone so keen to share, I admire his strengths. He seems to have grown during every experience that life threw at him. When he fell he never complained, and seemed to always have found a way to land safely.
It's inspiring to be reminded that not every moment of our life need to or will be enjoyable, but each moment, every person we meet, is an opportunity to learn about the world and about ourselves.
Kem seem to have mastered the skill of finding balance, of adjusting as he goes, holding in his hands a pretty good recipe for happiness: it takes a good dose of calm and resolve, sprinkled with a pinch of chance, and let the rest up to life.
Happiness is not something you pursue, but something you experience along the way, and we believe this a lesson worth sharing.