Is there a better baptism to adventure than a yoga retreat in Nepal? I arrived in Kathmandu at night, and taxied my way to my homestay. I went straight to bed, since I was quite exhausted. On the following day I woke up early, climbed to the rooftop and took in the view of Kathmandu's valley! On the menu, layers of mountains, dust, a temple on top of a hill, eagles and crows in the sky of a city that seemed to have been built with lego blocks! Waking up in a new city without knowing much of it became one of my favourite things,… This one feels chaotic but it feels homey!
---
I spent my first day roaming the streets of Thamel, the tourist hub of the city, searching for warmer clothes. Next it was time to plan these two months: step one yoga retreat, step two trekking, step three learning to paint. Once things started to be mapped out, the day in the hectic capital was already over.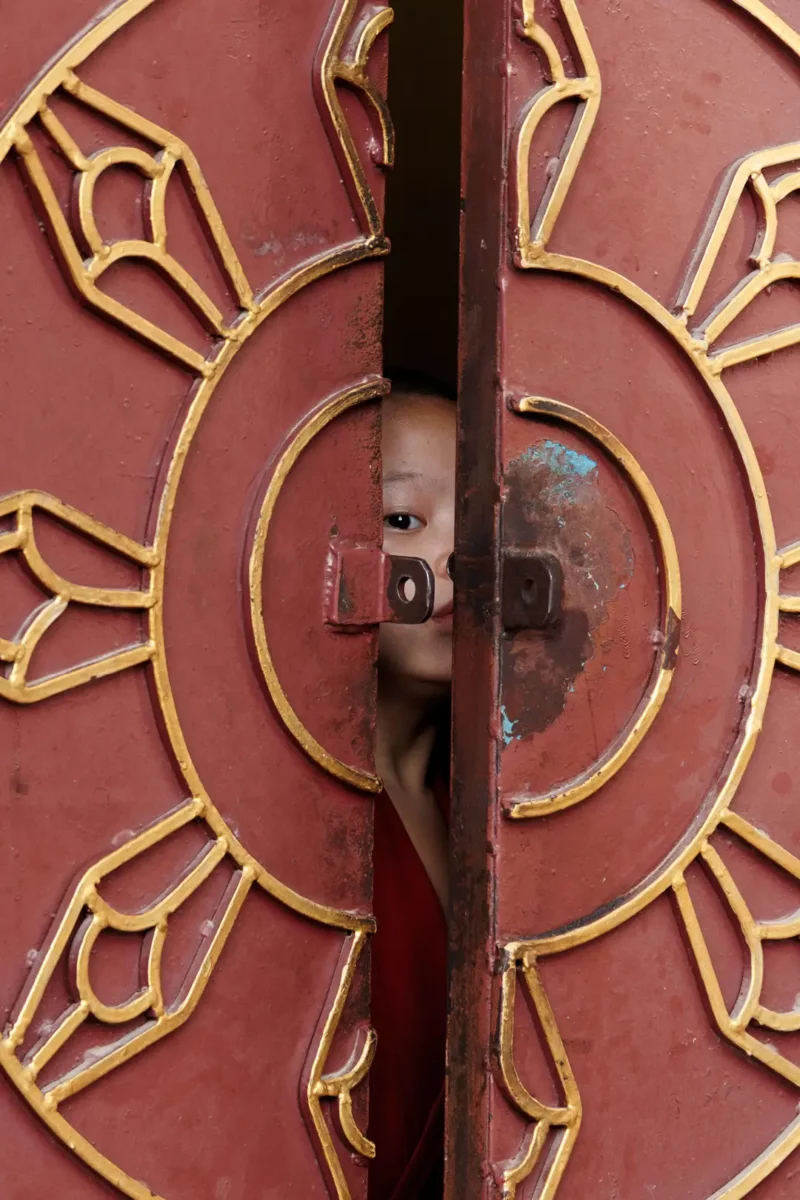 The 'Top of the world', Nepal is mostly known for its high altitude trekking. But there is so much more to Nepal. Many places focus their activities on well-being and spirituality. Yoga workshops, Vipassana retreats, Ayurveda treatments, the choice is quite wide. There are Hindu temples, Buddhist stupas and entire towns dedicated to the art of painting mandalas from dawn till dusk.
There is so much to do! I am glad I browsed upfront before picking out a list of things to do.
Yoga retreat in Nepal, cleaning the body and the soul
On my second morning in Kathmandu, I went to meet Amrit, a yoga teacher who specialises in full body and mind cleansing!
The morning unfolded with different types of Ayurveda practices. We started with Shankha Prakshalana and a Kunjal Kriya, I won't go into detail about these methods (perhaps you can google that for your own enjoyment), but I can guarantee, after 5 intense hours and 32 glasses of salty water, my body was cleaner than ever. Then we spent an hour and a half working with Shirodhara technique, a massage that connects the body and the soul. After that, I was fully prepared for the 5 days of yoga asanas that were waiting for me.
In the evening I joined Amrit in his house, where I met other yogis, and part of his family. After a simple meal, tired in the best of ways, I went straight to bed in my bamboo room.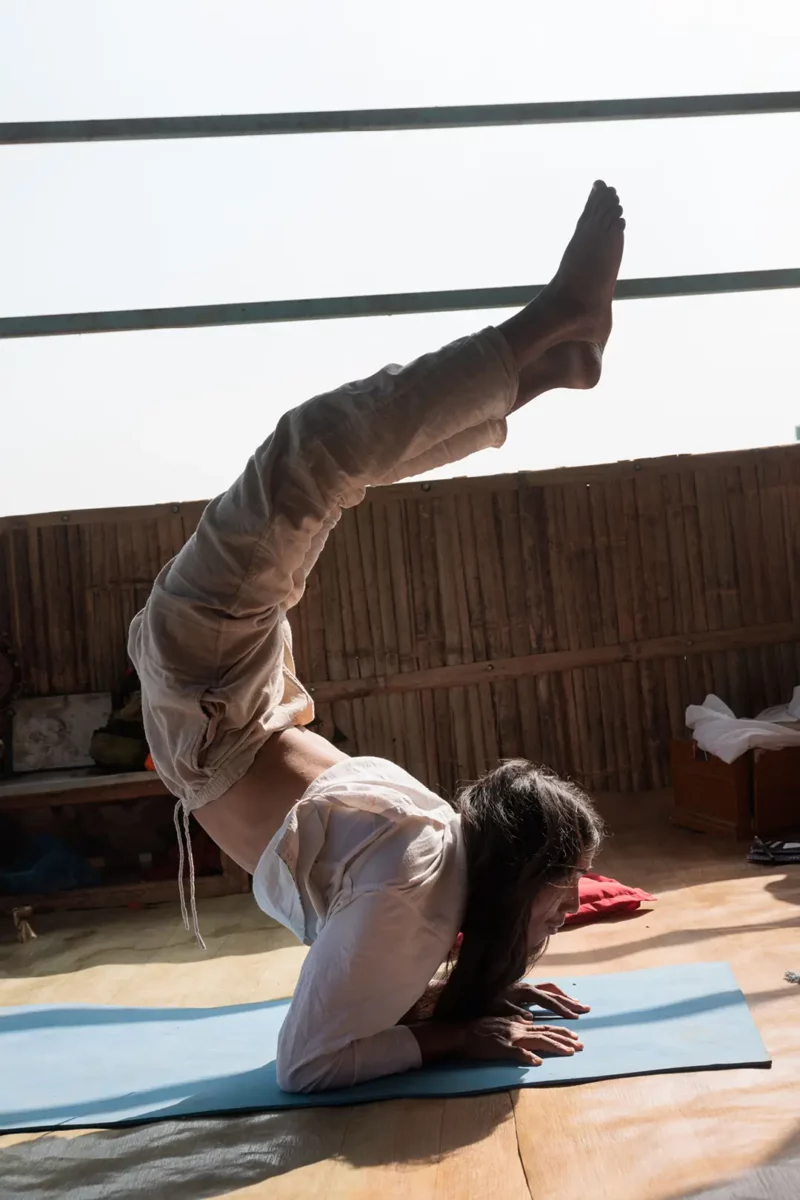 A day in the life
I spent five days there following a strict program. Though the timing was a tad flexible, the planning of the yoga retreat looked something like this:
• 6h00, wake up and tea
• 6h30, arti, mantra and meditation
• 7h30, warming up and yoga practice
• 10h00, breakfast and free time
• 12h00, theoretical class
• 14h30, lunch and free time
• 16h30, yoga, arti, mantra and meditation
• 18h30, dinner and free time
If you feel like this is something for you and you are heading to Nepal, don't hesitate to have a look at the retreat online!
On top of improving my yoga skills, I learned self discipline and the practice of singing mantras. I also discovered the strength of Ayurvedic food and met amazing people, travellers and locals alike. Moreover, I learned to live without privacy, experiencing what it feels like to be instantly like part of a family! So, when Amrit invited me to go with him and his cousin Binita for a 3-days-trek I gladly accepted!
Going to 27°27'34.7″N 85°58'18.1″E
Amrit grew up in Gagal, in the Ramechhap district. This village is so unknown that no Nepali I spoke with knew where it was.
It took us 6 hours of Sumo (the local jeep) to cross the 120 kilometres separating it from Kathmandu.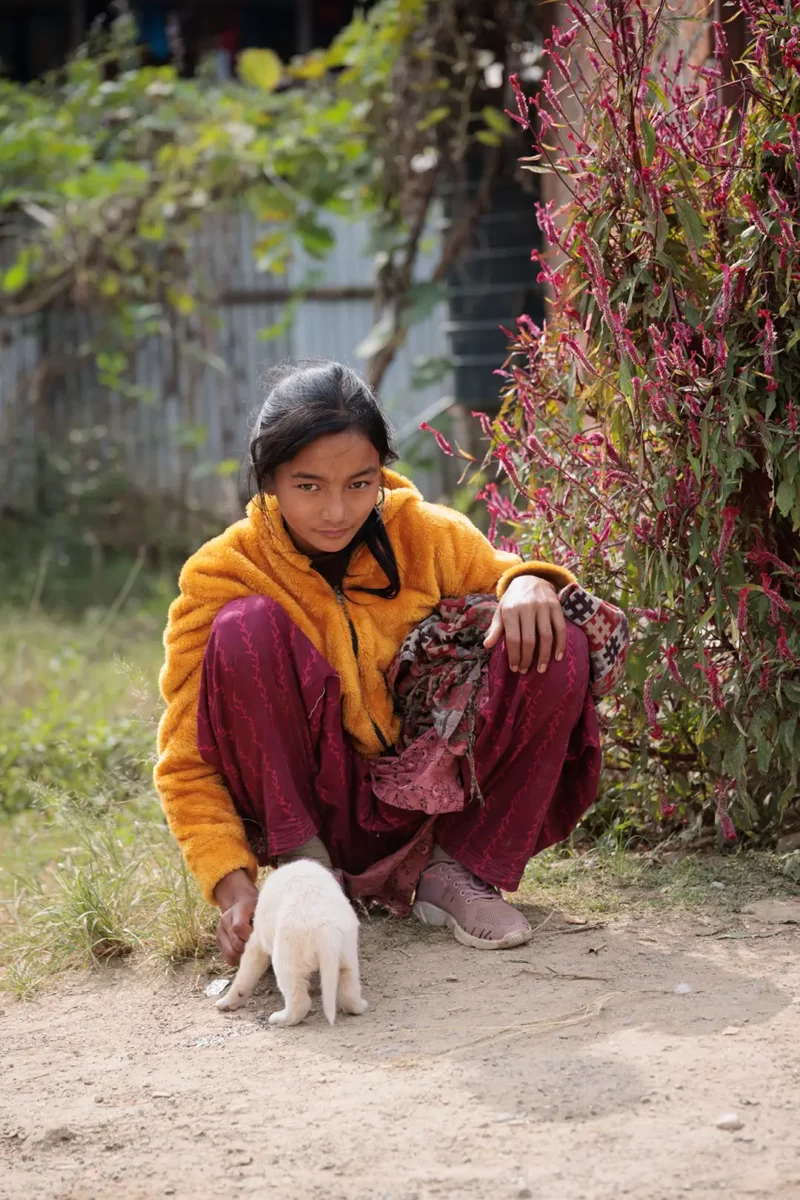 The locals are part of the Tamang caste, and unlike the majority of Nepali, are mainly Buddhist. Their traditions are primarily shamanic and they almost could live in complete autarky as they are growing crops and vegetables, herding sheep and brewing their own alcohol.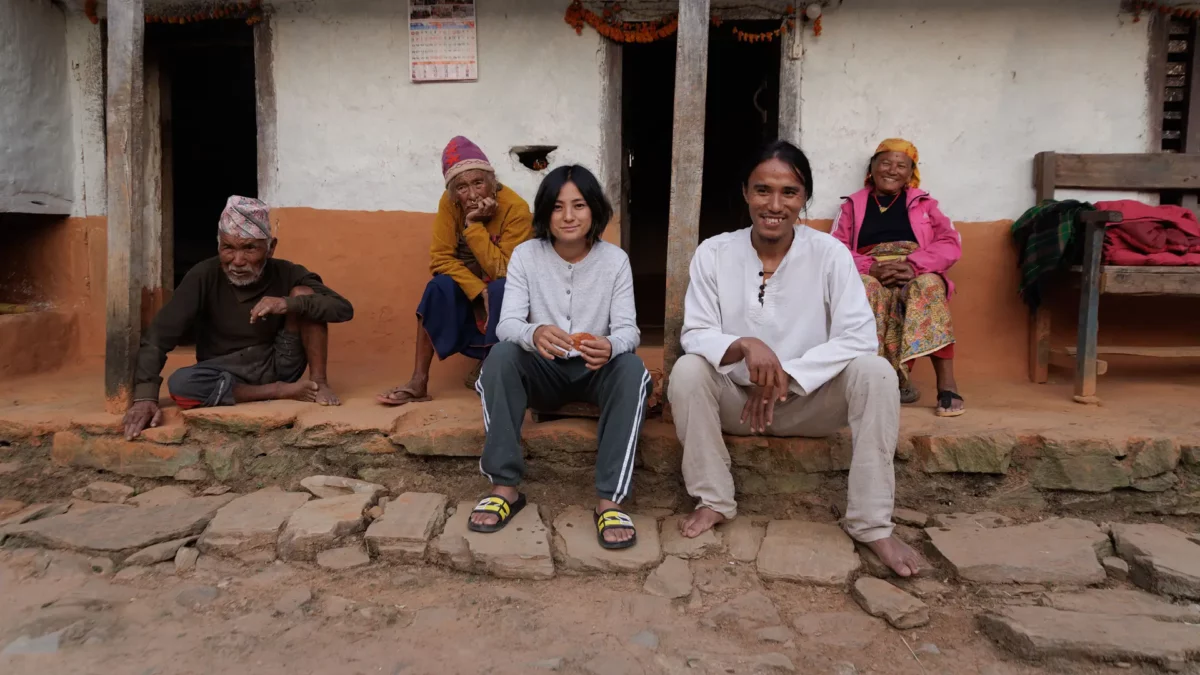 In the afternoon, we smoked the local tobacco with Amrit's grandmother who's around 93 years old. In the evening, since it was a full moon night, Ama performed a shamanic ritual, chanting and calling on the Gods for 2 hours. Then she wished them good night and as the spirit went to bed, so did we.
The next morning, after yoga we headed for our two day trek toward the Sailung Stupa.
Land of the hundred hills
It was my first experience of trekking in Nepal. Though you can go to Sailung in two or three days, the 2000 metres we had to climb to reach the 3100 metres peak were a good way to test my stamina. We took steep shortcuts and occasionally took breaks in small shops in villages for tea and some food.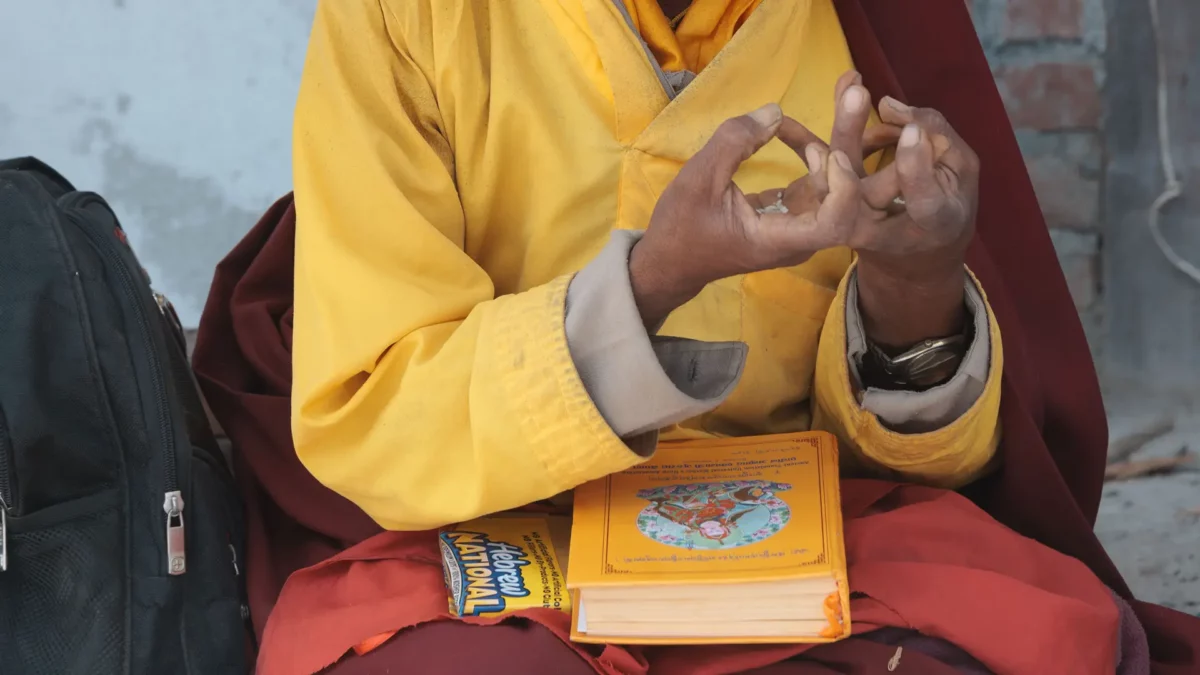 On the way, we took the time to meditate and do a yoga class with some villagers, all part of the program 'Healing for Humanity' organised by Amrit as a way to bring yoga and mindfulness to remote parts of Nepal. The program started as a way to help and support people suffering from trauma after the earthquake of 2015.
After an agitated night in a hostel, we finished the hike to Sailung and reached the top of the mountain where we enjoyed the view and improvised a yoga photo shoot.
Of Lamas and men
As the team started to go down, I could hear ritual music and Monk chanting close to the older stupa. I arrived in the middle of a ritual and, as it's often the case, I was invited to walk around. The Lamas were reading prayer scrolls seated in front of an altar. They were giving blessings of rice and Mountain Dew, as the devotees were gathered around the Stupa. As I needed to meet my group back, unfortunately I couldn't stay and sit with them.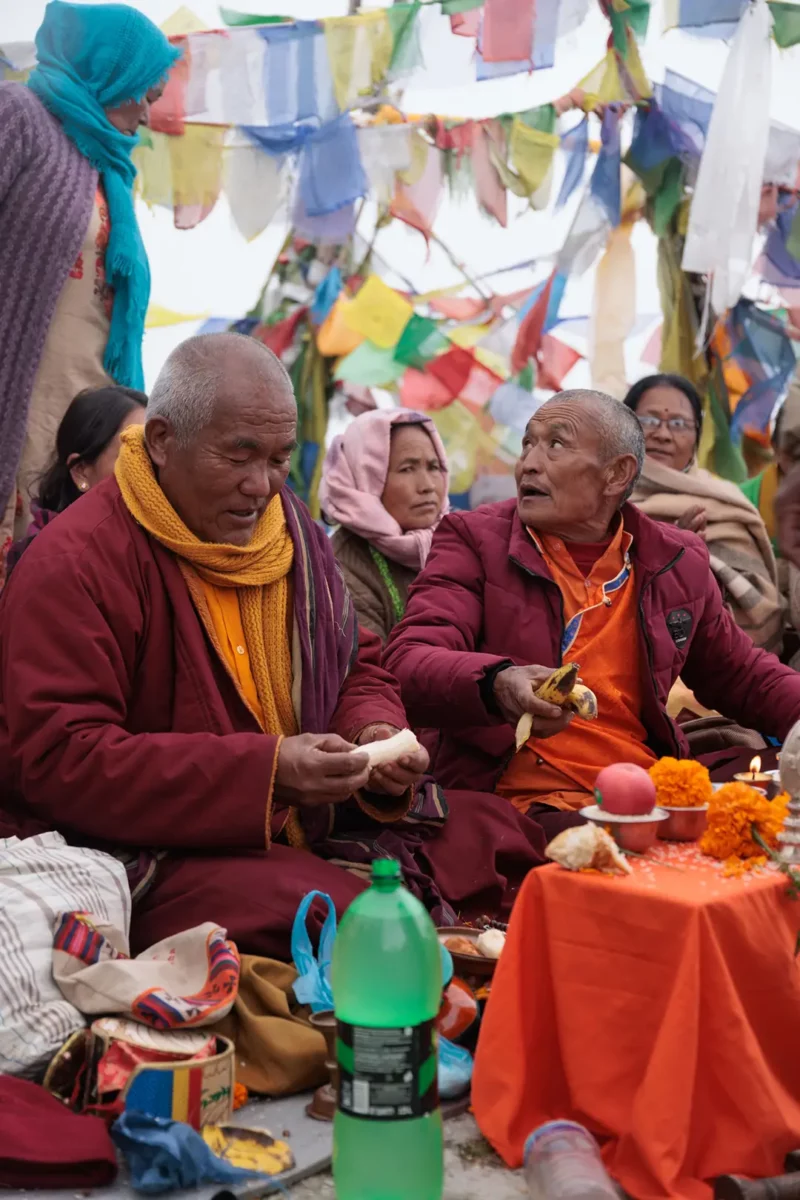 It took us the rest of the day, a minor accident and a small jeep ride to go back to Gagal for a last evening with Amrit's family. I felt sad to leave the village! The next morning I decided that I would try to come back to this village and spend more time here, meet the people and learn how they live. A month later I did. Weirdly enough, I learned more about how they die; but this is a story for the next newsletter.
After a couple of days resting in Kathmandu, I was ready to go climb again!
One does not simply walk into Langtang valley
Aishing, my guide picked me up at my hostel in the morning! We spent the 7 hours bus drive towards Syabrubesi to get to know each other. This moderate trek takes approximately 6 days with an average ascent of 1000 metres per day.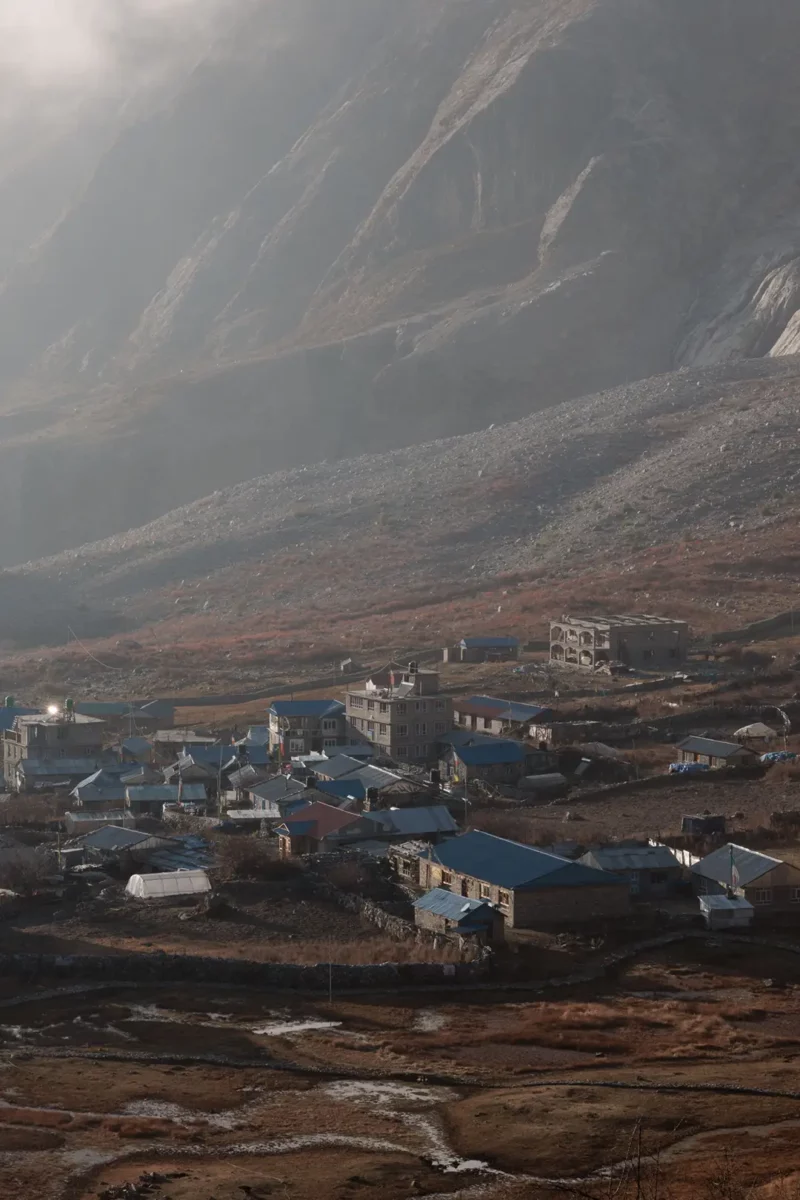 With the altitude the vegetation changes slowly, the forest transforms, as if a giant replaced the trees while you sleep. The valley is home to various fauna, different types of monkeys, red panda, and snow leopard to name the famous ones. It is also sprinkled with villages, around which donkeys and yaks are a quite frequent sight.
On the way I met other hikers and though we were all walking at our own pace we bumped into each other at different moments of the route. II became fascinated by the reasons that motivate people to hike: some see the challenge, others the communion with nature, some appreciate the time spent with friends, while others emphasise the importance of walking alone. I realised that I had not asked myself what my reason was!
The end of the path is another path
On the fourth day, following a sleepless night due to the altitude, we climbed to the top of Tsergo Ri, which peaks at around 5000 metres. I found the experience truly humbling. As we reached the top it got really hard to breathe, the last stretch was icy and slippery and it became clear that the mountain was not there to help me nor to make my life harder. The mountain simply was.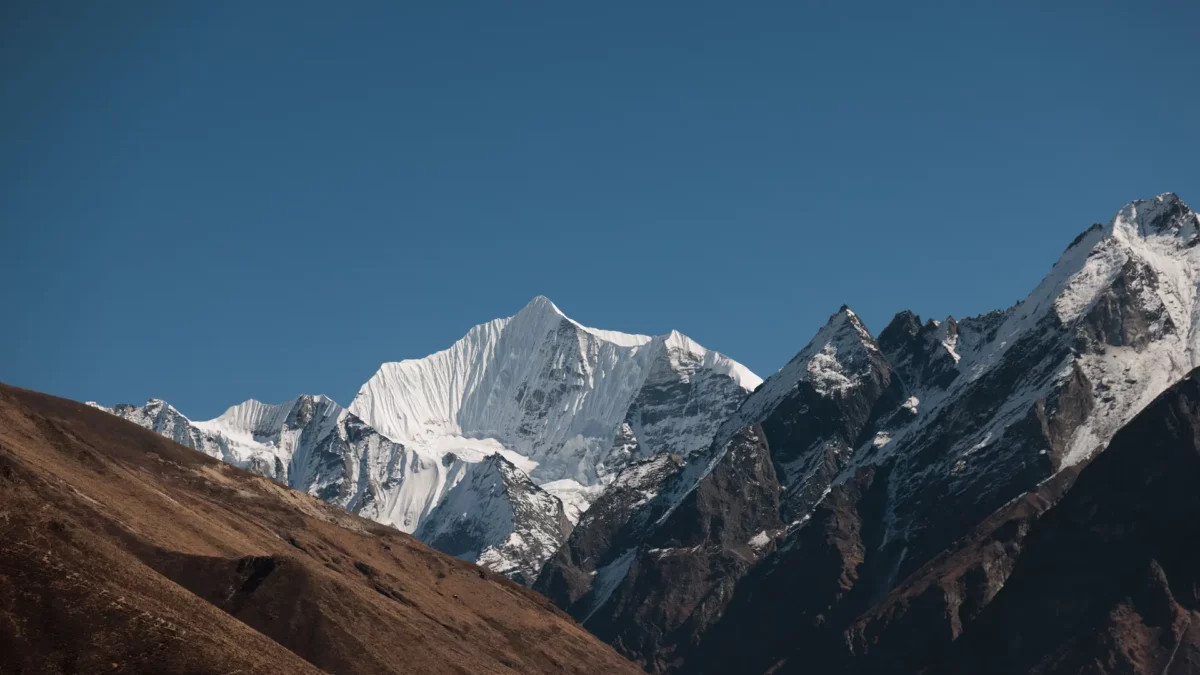 Four hours earlier, I was looking up from the valley, observing the arc of stars that we named milky way, painting the navy blue sky, reminding me of the immensity of the universe. Now, at the top, the rocky nature of our natural spaceship became so vividly clear. I found my reason there with a literal reminder of my position in the universe. It is inspiring and it is something that made me want to respect the mother ship even more.