Life in Indonesia is much more than you'd think.
This is the largest country in the world consisting exclusively of islands. It is the fourth most populous nation in the world (a staggering 238 million people), after China, India and the United States. It's also the largest Muslim country on the planet.
Yet, when someone says Indonesia, all we can think is the happy-hippy, swings-in-the-sky, yoga-oriented idea of Bali.
But even in Bali itself, which is the only island in the archipelago to follow Balinese Hinduism, there are Muslim-majority villages and towns.
There is a world outside the mainstream Bali. and we went to see it.
---
Amed, things that make a home
After completing a writing project for a client, I was finally freer to move around. So we rented a scooter and set off in the rain, directed to Amed, on the north-east coast of Bali.
There, we stayed with a family, in a bungalow next to their house and right in front of a primary school.
Right away, life in Amed seemed very different from the touristy Bali of Ubud. Certainly less comfortable and glossy, but for that very reason also more real and picturesque.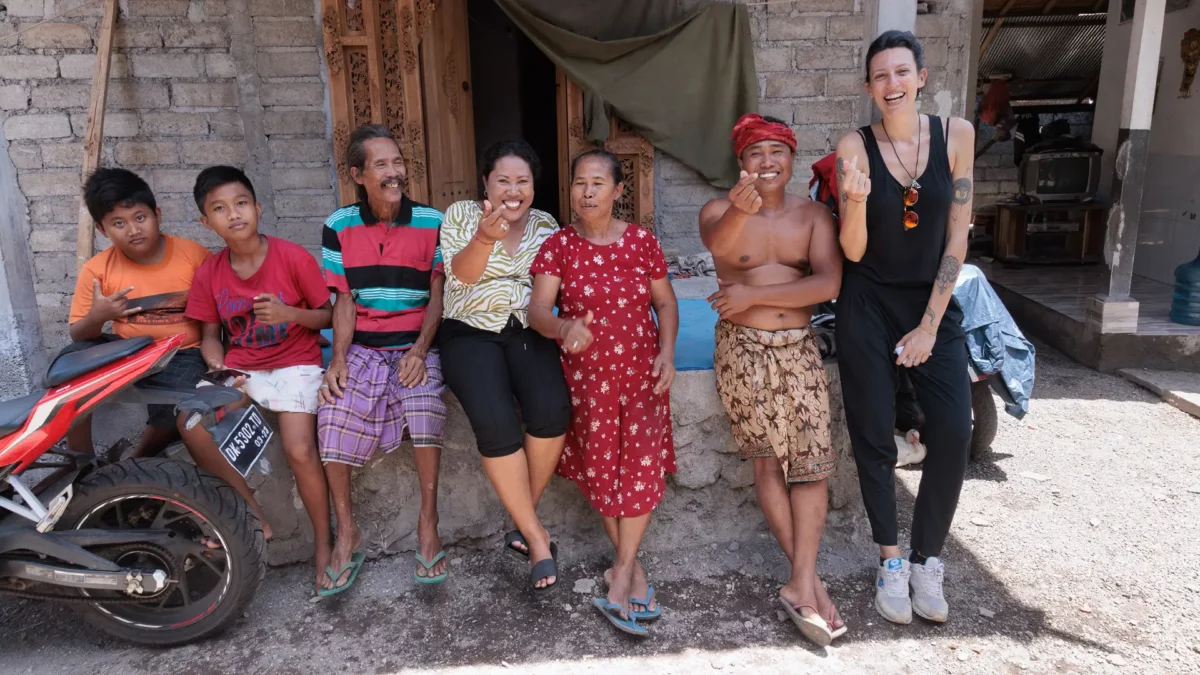 We only stayed for four days, but Gede and his family welcomed, pampered and spoiled us, opening their home to us and telling us about their life.
One evening, we receive an invitation to dinner, and Ni Wayan (Gede's mother) cooked real local delicacies. We enjoyed some fresh fish, spicy peanut sauce, rice, and a fish soup to die for!
Jyl spent the evening learning how to make rice leaf baskets, and I chatted using all the languages I know. And when languages weren't enough, I relied on the remarkably effective Italian gestures.
The best thing about life in Indonesia was really the loving hospitality we received. Origin, language, even the abysmal economic differences are things of little importance, which fade into the background when placed next to the genuine purity of these encounters, of these smiles and the warm feeling of uncomplicated sharing.
If you're ever around Amed and you look for an authentic experience, don't hesitate to reach out to Gede and book your stay at his homestay!
Bye Bye Bali
After Amed, we took a tour of the temple of Pura Ulun Danu Bratan. It's an extremely well-kept and busy place, situated on a small inland lake and surrounded by greenery and colours. The true specialty for me was the huge flower garden that embraced the whole complex. Plants of lily of the Incas, dragon's breath, and cymbidium orchids danced in the expanse of green, along with Peruvian lilies, azaleas and scenographic Indian shots.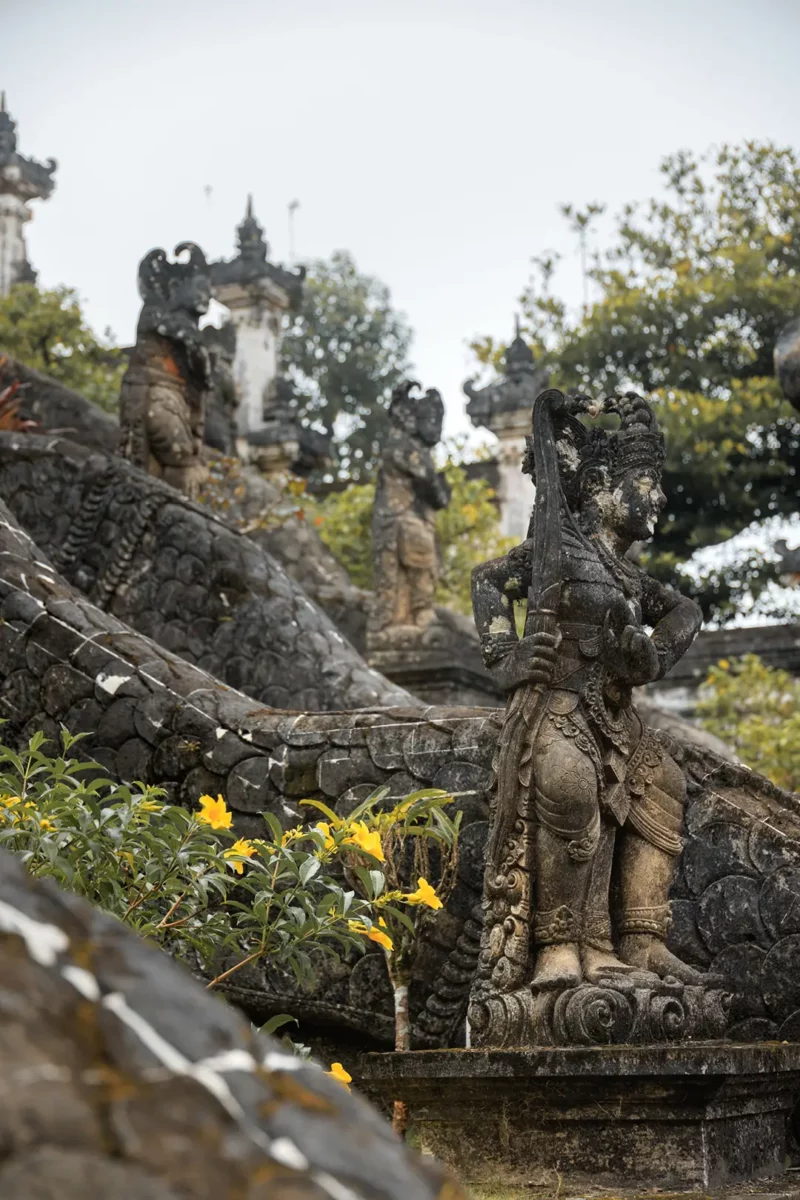 At the end of this trip it was time for us to say goodbye to Bali and leave for Java.
Close Encounters
On a sunny morning, backpack on our backs and hours of travelling ahead of us, we reached the bus stop. It was nested in a dusty little street, where there were only a few half-empty shops.
Here, we waited for hours, fortunately in an open-air warung, where we could enjoy lunch and many many coffees.
It was an hour before departure when a praying mantis flew into my hair. I'm ashamed to say that, instinctively, I chased it away. But then something happened. Jyl went to check on her, in the grass where she landed. And slowly but surely, she started climbing on Jyl's arm.
I say a little prayer
The mantis was very curious, and so were we. We started playing, observing her while she observed us. We were getting acquainted, with a mutual interest that I had never encountered in insects. Perhaps because I had never stopped to look, for real, before.
I don't know why, as adults, we become so myopic in the face of the richness and diversity. There is a true undergrowth of lives around us.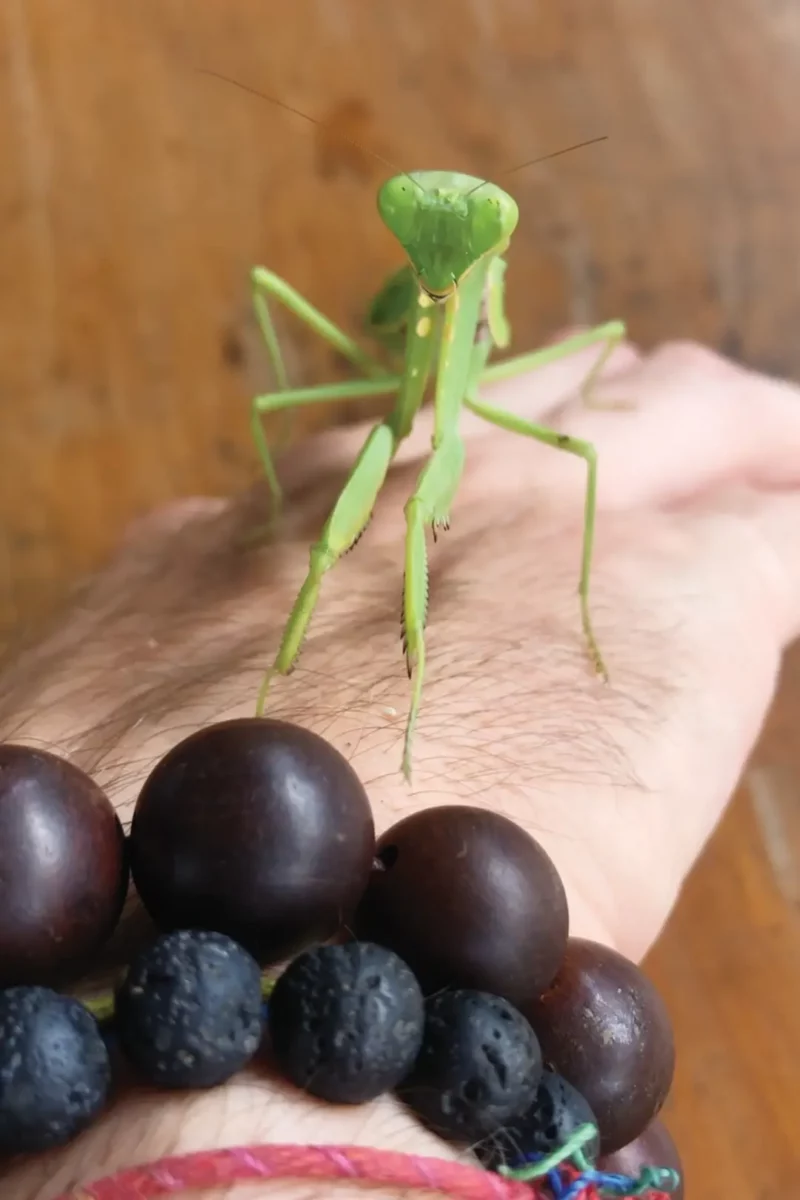 Our mantis friend was injured, and after being with us for many hours, she passed away. We said goodbye to her and left her in the grass. And thus, a question rose to our hearts from I don't know where: is it possible that even mantises don't want to be alone when they leave this world?
What colour is marvel?
We arrived on the island of Java after many hours by bus and a couple of hours by ferry. Java is very different from Hindu Bali; for starters, the predominant religion here is Islam. What punctuates your days and nights is the chant of the call to prayer, coming from every corner of every city. And, in the end, this is also how life in Indonesia looks like. People still smile a lot, and I can confirm that Indonesians are amongst the most smiling, welcoming people I've met. The landscape is dryer, in the kitchen almost everything is fried and vegetables are scarce.
Cuisine, religion and geography merge into the unrepeatable cauldron that is the culture of a place, of an island.
The baptism into this diverse land takes place on Mount Ijen, an active volcanic complex within a 20-km caldera. The volcanic lake, already an intense aquamarine colour, glows an intense electric blue during the night.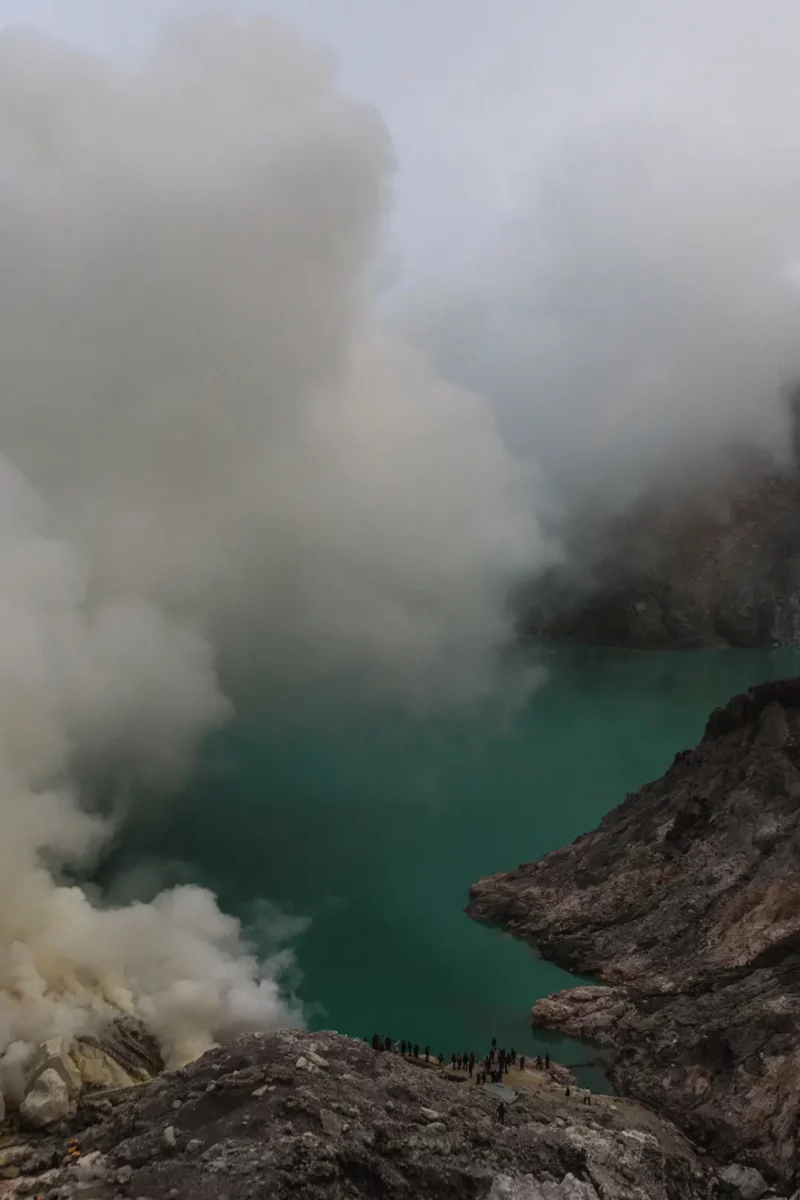 These are the flames that ignite with sulphuric acid, a natural wonder that is truly unparalleled. This is one of two 'blue volcanoes' in the world. I feel so grateful for the chance to see one up close.
Switching gears
On our way to Yogyakarta we made a brief stop in Surakarta, where we met one of our Instagram friends. It was more to break up the long journey than anything else, so we don't have much to report.
Once in Yogyakarta, we found accommodation in a small hostel run by a group of young locals. In a few half days, we made friends with the staff and practically all the guests. It was that feeling, of having found our place in the world, among kindred spirits. And so, we decided to stay there for the rest of our time on the island, because there is nothing like making good friends while travelling.
Yogyakarta, but you can call it Yogya
A lively, bustling city, animated not only by tourists, the hustle and bustle to and from the mountains to climb and the waterfalls to explore, but above all by a vibrant, varied cultural life.
Shops and batik (the technique of dyeing fabric) workshops alternate with remakes of stories from classical Indonesian mythology in a modern dance key. Plus theatre, music, puppet shows, and ultimately a tradition that, it seemed to me, was not afraid to lose itself.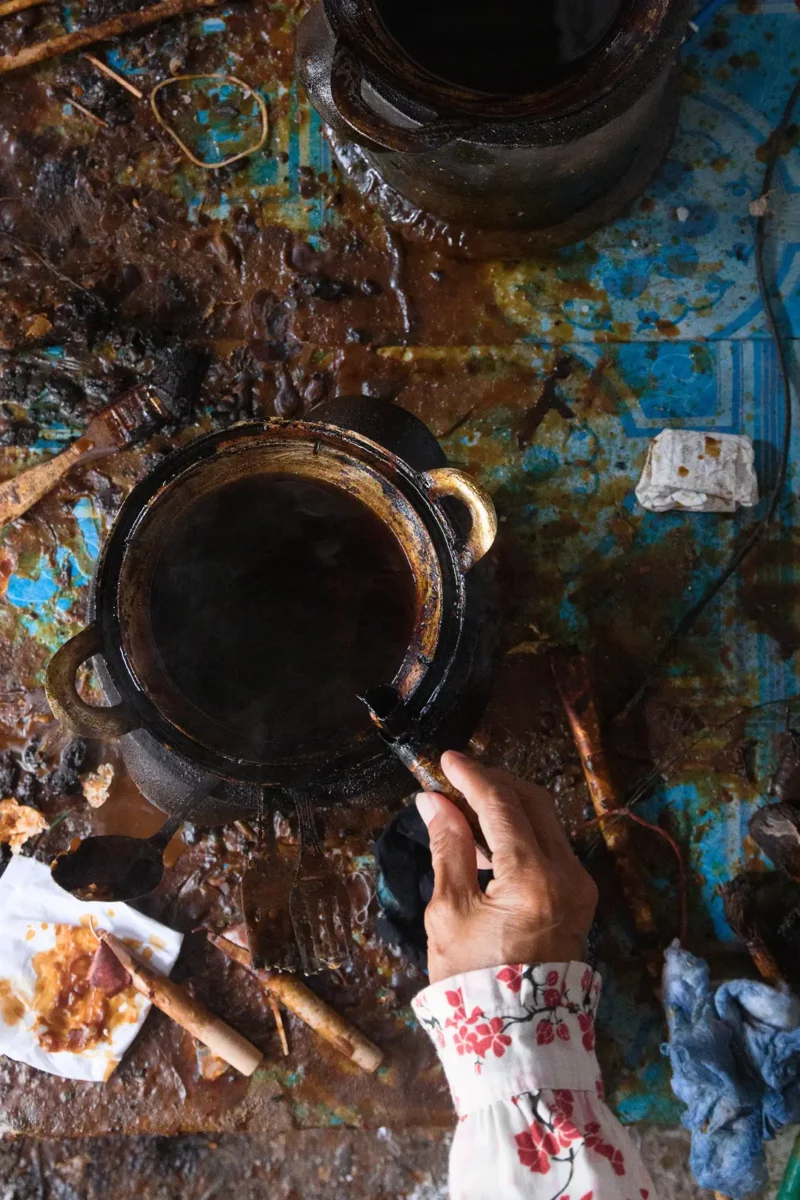 While at the hostel, we searched for ingredients to make pasta for everyone. It turned out terrifying because of, well, not being in Italy! We tasted local specialities brought by our new friends, we went out to eat gado gado (a rich dish made of rice cakes, spinach, and a deliciously spicy peanut sauce), we played, we sang, we talked about life and love.
And this is how we ended our time discovering Indonesia. Crossing the nine-month milestone on the road, leaving behind a few new friends, and some tears that were lost in the echo of our laughter.
What now?
Indonesia was further proof, if proof were needed, that we know nothing.
What we take home, apart from the photos and memories, are the experiences. In each one there was something to learn, both during and afterwards. And we promise to treasure them, to use them to remain more humble, rather than to say 'I have travelled the world'.
As I edit this, we have both been back for a while. But the adventure is far from being over, travel is still entirely in our mind. After almost a year on the road, sometime changing rooms on a weekly basis it was time for a break!
We are in the process of writing, editing, working on thousands of photos. No experience can be complete without integration. Integration of what we've seen, done, and learned. And there is so much of all this on the road, that it is important to take a break to draw lines between all the adventures we have lived.
---
You can't embark on a journey outside of yourself if you don't also do it on the inside, otherwise it's not a journey, it's not discovery, fear, wonder, rupture, reconciliation, return.
To all the journeys, within and without,